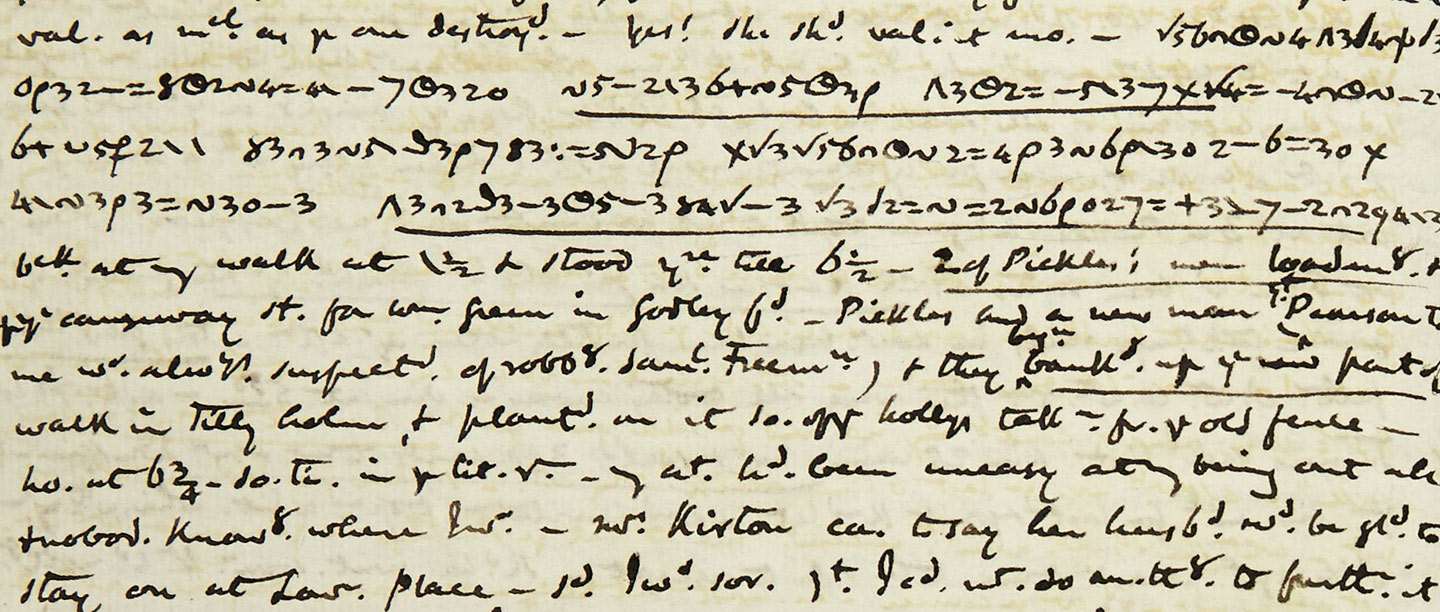 Researching LGBTQ history
The lives of LGBTQ people are often invisible in history. This is in part because of the suppression of same-sex love and gender fluidity within society, but also because historians have traditionally disregarded LGBTQ experiences as worthy of discussion and research. But that is changing.
The study of LGBTQ history is now an exciting and ever-evolving discipline. Katie Burke, an MA researcher in Queer History at Goldsmith's University, talks us through how the discipline emerged out of the gay rights liberation movement in the 1970s, and how the focus of research has shifted over time.
What is LGBTQ history?
Originally called 'gay and lesbian history', LGBTQ history emerged from the 1970s gay rights movements in the UK and USA. Since then, LGBTQ history has diversified to study the historical experiences and cultures of all sexual and gender minorities around the world. LGBTQ histories seek to challenge the stories we tell about identity and the creation of social norms, and ask questions about how we analyse the past.
Early works in this field looked at the 'hidden' aspects of history in an attempt to reclaim the gay and lesbian past. Focusing on evidence which suggests that historical figures as varied as Julius Caesar, Michelangelo, Shakespeare and Virginia Woolf experienced same-sex desires and relationships, this early work sought to legitimise the rights of LGBTQ people by showing that divergent sexualities were by no means a modern phenomenon, but a natural part of human experience to be celebrated rather than prosecuted. It also challenged contemporary assumptions by affirming that sexuality was a valid historical subject, rather than something shameful or illicit.
It is important to consider that, in the 1970s, LGBTQ people did not have equal rights under the law. It was legal for an LGBTQ person to be fired or denied housing on the grounds of their sexuality, and homosexuality was listed as a mental disorder by the World Health Organisation.
By using historical sources to argue against the presumed heterosexuality of cultural icons, pioneering LGBTQ historians sought to ground the contemporary movement for gay rights in a longer history of sexual difference, arguing that same-sex sexuality has always existed.
LGBTQ lives in context
Of course, history is much more than a catalogue of famous figures. Nowadays many LGBTQ historians are more interested in looking at how society shapes individuals, and how we form different understandings of sexuality and gender depending on the time and place we live in – our historical context. They recognise that human understandings of gender and sexuality are shaped by the particular stories we tell and receive within our culture and society.
For example, being a woman comes with different rights, responsibilities and restrictions at different times across history, so we understand that what it means to be a woman is subject to change depending on the historical context. There is no 'right' way to be a woman at any given time, but our society nonetheless has certain ideas of what being a woman might or should entail. By acknowledging that certain ideas about our life that we may otherwise take for granted are actually socially constructed – that they shape us, and we shape them – historians are able to examine these ideas, question them and challenge them.
In order to consider the ways in which individuals are shaped by the sexual norms of their society, LGBTQ historians often look for examples of resistance to these norms – behaviours we would describe as 'non-normative'. Such examples can include not just evidence of physical same-sex relationships, but also the ways in which people in the past poked holes in the fabric of a society built on oppressive sexual norms. For instance, LGBTQ historians may find an example of non-normative resistance in historical figures who cross-dressed, or same-sex couples who shared their lives domestically for decades as 'romantic friends'.
By looking at these disruptions to the norm, LGBTQ historians are able to bring new perspectives to historical understandings of sexuality and normativity, and lift the veil of heterosexuality that has been cast over the past.
Reading silences in the past
A common concern within LGBTQ history is how to provide evidence of non-normative sexualities in the past. Historians have recourse to a variety of sources like letters, diaries, photographs and oral testimonies which preserve evidence of same-sex sexualities and subcultures. Legal and police proceedings are another common source, but unfortunately their focus on the 'offence' most often silences the real people at the heart of these documents.
In many instances, LGBTQ historians encounter gaps in the archives where historical material is missing, destroyed or simply not recorded. Anne Lister, now celebrated as a significant lesbian figure in British history, kept diaries which discussed her same-sex desires in code for her own privacy and safety. Initially, the descendant who cracked the code to the diaries after Anne's death sought to conceal their contents for the sake of the family's reputation and Anne's legacy. Where some historical material has been deliberately hidden, some has been deliberately destroyed – it was not unusual for LGBTQ historical figures to order their correspondence to be burnt after their death. In other cases, evidence has simply not survived because matters of sexuality were considered too taboo or too inconsequential to record.
LGBTQ historians have developed ways of surmounting these challenges by learning to read the silences in the historical record. A relative lack of historical condemnation of female same-sex relationships as opposed to male ones may not suggest that women in the past weren't sleeping together, but rather that women's sexual fluidity was seen as less of a threat if it didn't interfere with pre-existing heterosexual hierarchies – in other words, if a woman still got married and had children. We often see historical women condemned when they challenge gender roles more so than sexual ones – women who cross-dressed or lived as men were perceived as more of a threat to patriarchal society, and in several cases punished severely. On the other hand, scholars have shown that in some cases, same-sex relationships were permissible if a woman was married, widowed, or in some way adhered to a sexual hierarchy organised around men.
What's in a name?
How we talk about and label non-normative figures in the past has been a topic of contention for decades. Early LGBTQ historians were often unafraid to point to the existence of 'homosexuality' in ancient Greece and 15th-century London, even though the term itself did not exist in those periods of history, in order to show continuity between past and present understandings of LGBTQ relationships and experiences. Others have suggested that it would be anachronistic (ie, not belonging to the time period being discussed) to label a historical figure as LGBTQ if such an identity wasn't available for them to claim in their own time.
LGBTQ historians have responded with diverse strategies that range from using terms such as 'lesbian-like' to accommodate a broader range of behaviours, or using anachronistic terms strategically to give visibility to pre-modern sexual minorities. Some historians have pointed out that the anxiety around using terms like 'lesbian', 'trans' or 'gay' to describe figures in the past may stem from a homophobic unwillingness to alter the heterosexual legacies and understandings of these figures.
For decades, historians have been making use of the umbrella term 'queer' when talking about non-normative historical figures. Although historically weaponised against LGBTQ people as a slur, the word 'queer' has long been in the process of reclamation by parts of the LGBTQ community. It is used as a positive identity label which defies easy definition and encourages ambiguity and fluidity, emphasising the messiness of desire. 'Queer' not only describes non-normative sexualities, but can also be used to describe gender-nonconforming and transgender people, making it a useful term for historians to turn to when analysing people, societies or behaviours in the past which diverge from the heterosexual norm.
Queering LGBTQ history
The field of gay and lesbian history was given a huge shake-up in the 1990s with the emergence of queer theory. Where earlier LGBTQ historians were focusing on asserting the historical existence of LGBTQ people across time, queer theory shifted the focus towards the very structures of our society, challenging conventional assumptions about power, normativity and gender. Nowadays, queer historians are less interested in recovering queer 'heroes' from the past and more interested in studying how people conceptualise and navigate gender and sexuality in different ways at different times.
Queer historians advocate for a desanitised LGBTQ history which abandons simple stories about repression and progress, and instead retains the complexities and nuances of the lived experience of queerness. This approach also allows for critical scrutiny of the normalizing power structures (patriarchal and capitalist systems, for instance) which maintain the dominance of heterosexuality in both historical and contemporary societies.
Many queer historians understand that, within a marginalised community, some histories are even more marginalised than others, and so studies into gender nonconformity and transgender histories are increasingly given focus within the field of queer history. Queer historians may also consider the historical connections between colonialism, capitalism and queerness, telling the histories of queer people of colour in order to understand the power dynamics which structure society both past and present.
So where do we go from queer?
While it's fantastic that we celebrate LGBTQ History Month each February and Pride each June, it's important to incorporate more queer histories into the historical mainstream. Whether in museums or at English Heritage sites themselves, LGBTQ history deserves as much respect and attention as 'straight' history – in fact, critical queer histories help us to better understand history as a whole and to challenge the ways we imagine the past and present.
LGBTQ history is not just a project of recuperation. Queer history is transformative and transgressive, daring and often cheeky, with broader ambitions of changing how we talk about identity, discourse and normativity. Queer history encourages us to question the roles of sexuality and gender in our society, and how we learn to internalise these roles ourselves. As with all history, researching queer history offers its own particular challenges, but these challenges make the work all the more valuable. Why not take a look at some of the LGBTQ histories collected below to see for yourself?
By Katie Burke
Top image: A page from Anne Lister's diary, featuring a line in code about her feelings for Ann Walker: 'she little dreams what is in my head' (© West Yorkshire Archive Service, Calderdale, SH:7/ML/E/15/0107)
Further Reading
MB Duberman, M Vicinus, and G Chauncey (eds), Hidden From History: Reclaiming the Gay & Lesbian Past (New York, 1990)
R Aldrich and G Wotherspoon (eds), Who's Who in Gay and Lesbian History: From Antiquity to World War II (London, 2000)
S Stryker, Transgender History: The Roots of Today's Revolution (New York, 2008)
LJ Rupp, Sapphistries: A Global History of Love Between Women (New York, 2011)
M-J Barker and J Scheele, Queer: A Graphic History (London, 2016)
C R Snorton, Black On Both Sides: A Racial History of Trans Identity (Minneapolis, 2017)