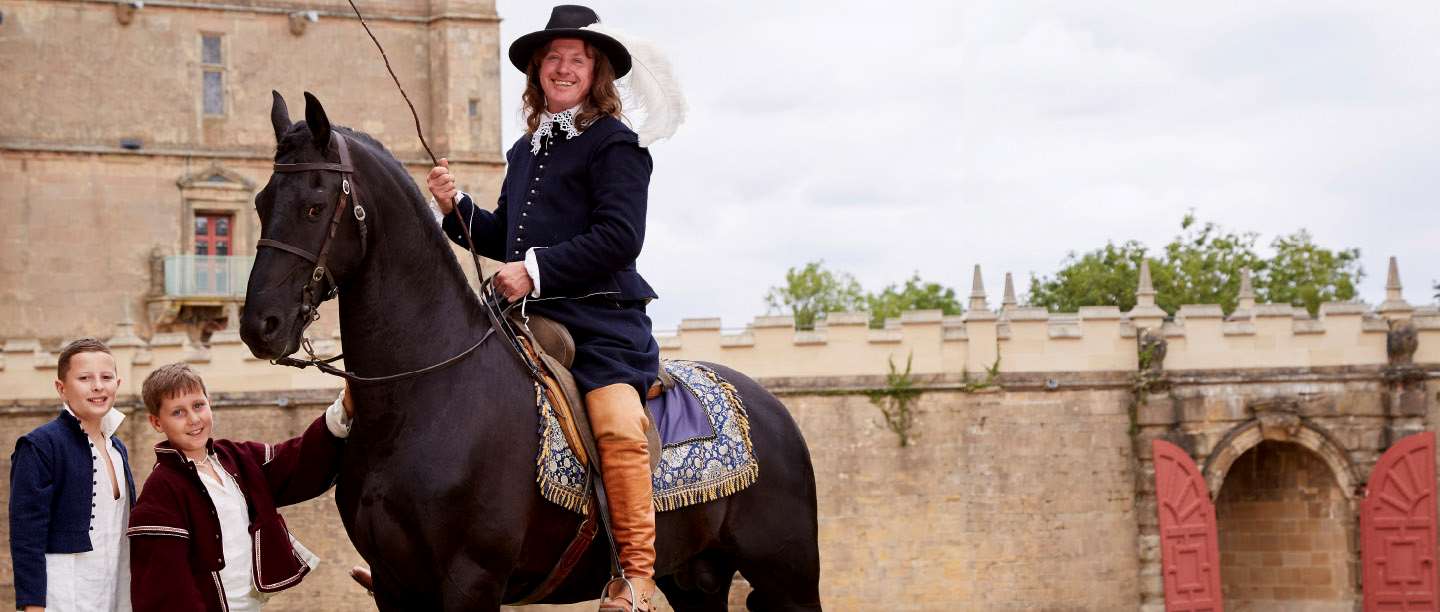 INTERVIEW WITH A MASTER HORSEMAN
William Cavendish, 1st Duke of Newcastle upon Tyne, is on the look out for some apprentices at Bolsover Castle in Derbyshire. We sent young English Heritage Members Elliott and Harvey to learn about the skills of horsemanship under his guidance.
Harvey: How do you care for the horses?
Horses are man's greatest asset, so we must take care of them as they take care of us. You will groom them, you will feed them, you will make sure they are well rested before you ride them.
Elliot: What is a switch and what is it used for?
A switch is a wand, a long piece of wood. We use it to communicate with the horse – never to punish! We use it to touch him in various places to ask him to perform a movement.
Harvey: How do you train a horse?
You must use the strength, spirit and disposition of the horse and nothing against its known nature. I am practising the art of manège: using complex patterns to train our horses to be supple and fit, and make them fly should we need to. You must teach a horse to be balanced so it carries not only himself but also his rider. I shift the weight on to his hind legs to make him nimble.
Elliot: What is your greatest achievement?
I am most proud and pleased to have served King Charles as general of the north during the Civil War. And though we were defeated in battle, my loyalty has brought me much reward.
About Bolsover Castle
If you want to see what a true Stuart mansion looks like, look no further than Bolsover Castle. It was already the site of a medieval castle but was rebuilt during the 17th century as an extravagant showpiece, ideal for impressing guests, including King Charles I himself.

Duke William Cavendish, who we met above, owned Bolsover and fought for Charles I as a Cavalier during the English Civil War. The castle was taken and damaged during the fighting, and so after the war he set about restoring it to the grand home you can see today.
Plan your visit
A Royal Welcome
As we have seen, William Cavendish really liked his horses, so if you go to Bolsover Castle make sure you visit the Riding School where you can sometimes see displays of historic horsemanship. Be sure to check the Bolsover Castle web page to find out what events are coming up.

You can also explore William's showpiece mansion, enjoy the views from the castle walls, and marvel at the furnishings of this amazing Stuart extravaganza.
Find out more