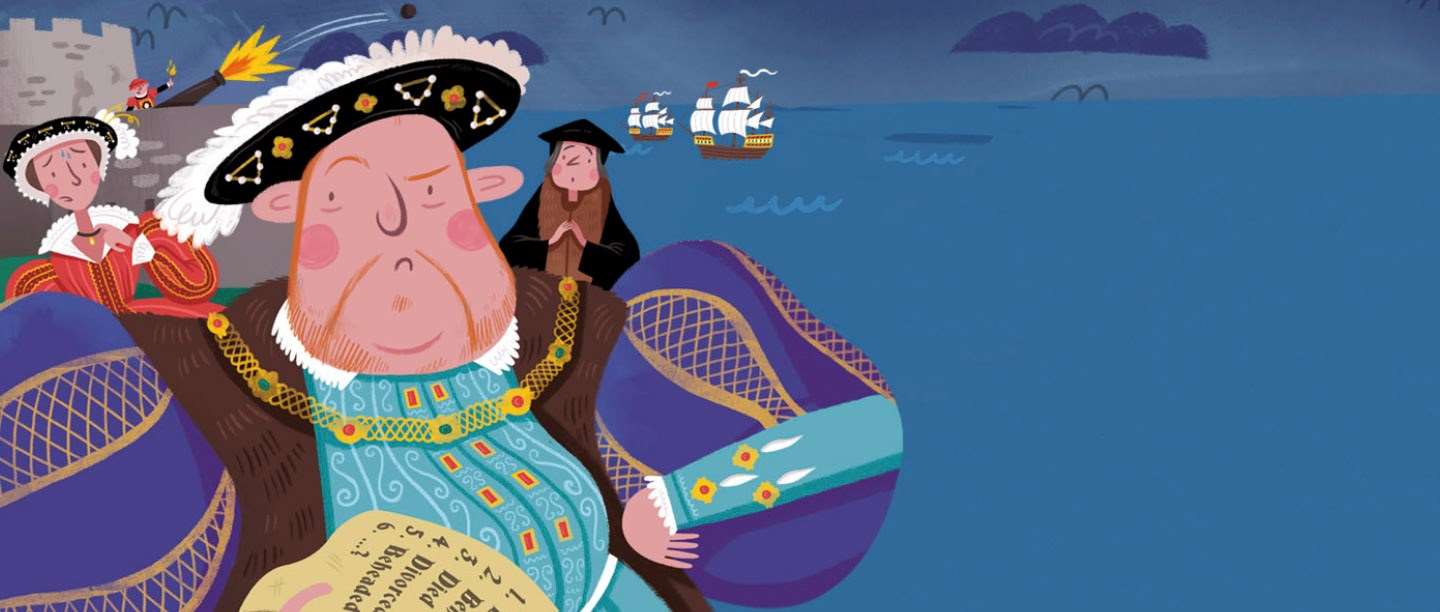 The Kids Rule! Guide to Tudor England
Welcome to the Kids Rule! guide to Tudor England, where you can learn about England's history, discover more about our sites and find loads of fun things to watch, read and do! Here's what we've got in store for you:
Interview with a Tudor cook
We sent young Members Olivia and Adham to Gainsborough Old Hall in Lincolnshire to interview Tudor cook Thomas Griffin and find out how to prepare a feast fit for the lord of the manor.
Watch the video to find out what working life is like in the kitchen, how to make delicious Tudor biscuits, and what on earth marchpane is!
WATCH THE VIDEO
The Kids Rule! guide to Tudor England (Issue 1)
Read Kids Rule! magazine online to learn about life in Tudor England, including the kings and queens who ruled the country, Henry VIII's castles, the food that was served at royal feasts and what life was like for people who lived at that time.
This is part of the Kids Rule! magazine series following the history of England, designed to help you discover more about the past, through fun facts, illustrated stories, games, puzzles and competitions.
READ KIDS RULE! ONLINE
Things to make and do: get creative with our Tudor themed activities
Colour your own Tudor town
Colour your own version of our Tudor town poster. Download the sheet, read through the introduction to this period of history, then bring the scene to life with pencils, pens or paints!
Download your colouring
Tudor Teasers Quiz
How well do you know the Tudors? Test your knowledge with our fun quiz!
Take the quiz!
WATCH: AN INTERVIEW WITH HENRY VIII AT ELTHAM PALACE
We sent young English Heritage Members Damon and Amelia to Eltham Palace to meet King Henry VIII.
Find out what Henry VIII was like, why he beheaded Anne Boleyn, and watch Damon and Amelia take him on at his favourite sport.
Watch the video
SPOTTER'S GUIDE TO HENRY VIII'S CASTLES
After separating from the Catholic church in the 16th century, Henry VIII prepared to defend his kingdom by building lots of castles, also known as 'device forts', along the English and Welsh coasts – many of which can still be visited today.
Read our guide to learn more about these fascinating forts, discover what you need to look out for during a visit and how to tell them apart from other castles across the country.
Download the guide
TUDOR POSTER: MAKE YOUR MEGA TIMELINE
We've created a series of posters showing how people lived in England through the ages, like this one showing life in Tudor England.
Each of the posters follows on from each other, so that when you download them all from the Kids Rule! pages, you can create your own mega timeline of English history!
DOWNLOAD YOUR POSTER