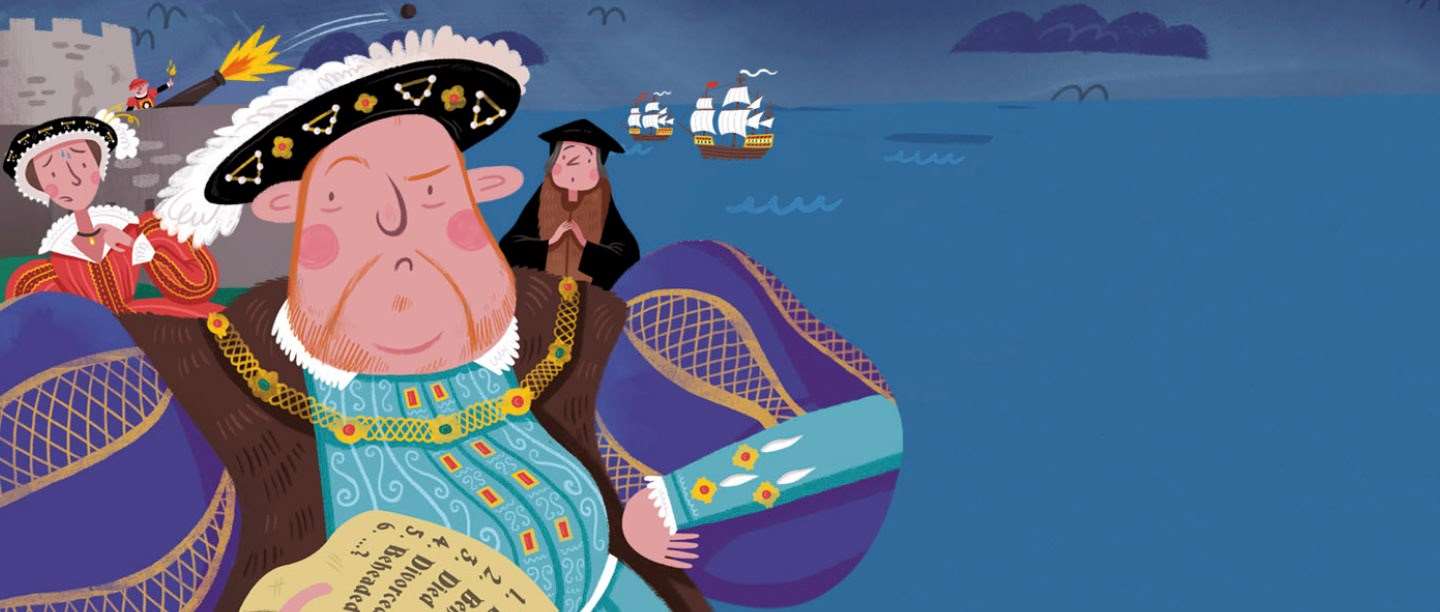 INTERVIEW WITH A TUDOR COOK
We sent young Members Olivia and Adham to Gainsborough Old Hall in Lincolnshire to interview Tudor cook Thomas Griffin and find out how to prepare a feast fit for the lord of the manor.
Watch the video to find out what working life is like in the kitchen, how to make delicious Tudor biscuits, and what on earth marchpane is!
WATCH THE VIDEO
THE KIDS RULE! GUIDE TO TUDOR ENGLAND
Don't miss the latest issue of Kids Rule! magazine to learn all about Tudor England, including the kings and queens who ruled the country, Henry VIII's castles, the food that was served at royal feasts and what life was like for the people who lived at the time.
This is the seventh in our series of Kids Rule! magazines following the history of England. Each issue is designed to help you discover more about our properties through fun facts, illustrated stories, games, puzzles and competitions. So, what are you waiting for?
READ KIDS RULE! ONLINE
FOLLOW OUR RECIPE TO MAKE TUDOR SMARTARD
Prepare to have your taste buds tickled with this recipe for sweet cottage cheese fritters. This traditional Tudor dessert combines cottage cheese, eggs and double cream, which is then fried and topped with a sprinkling of sugar… sort of like a centuries-old pancake!
Download our recipe, but don't forget to ask an adult to help you!


Download the recipe
PLAY TUDOR BATTLESHIPS AND TAKE ON THE SPANISH ARMADA
In July 1588 Queen Elizabeth I won a famous victory over King Phillip II of Spain in the Battle of Gravelines after the English fleet defeated the invading Spanish Armada.
Now it's your turn to recreate this epic sea battle at home by downloading our cool Tudor battleships game. After printing out your game boards, ask a friend to go to war with you and decide who is playing as England and who is playing as Spain. Then secretly position your ships on your board before trying to be the first to sink the other player's fleet by guessing their location!
Download the game
TUDOR POSTER: MAKE YOUR MEGA TIMELINE
In every issue of your Kids Rule! magazine we're giving away a free poster showing how people lived in England through the ages. This issue's poster shows life in Tudor England.
Each of the posters follow on from each other, allowing you to create a mega timeline of English history! If you missed the last magazine, don't worry as you can still get your hands on the previous posters below.
DOWNLOAD YOUR POSTER
SPOTTER'S GUIDE TO HENRY VIII'S CASTLES
After separating from the Catholic church in the 16th century, Henry VIII prepared to defend his kingdom by building lots of castles, also known as 'device forts', along the English and Welsh coasts – many of which can still be visited today.
Read our guide to learn more about these fascinating forts, discover what you need to look out for during a visit and how to tell them apart from other castles across the country.
Download the guide