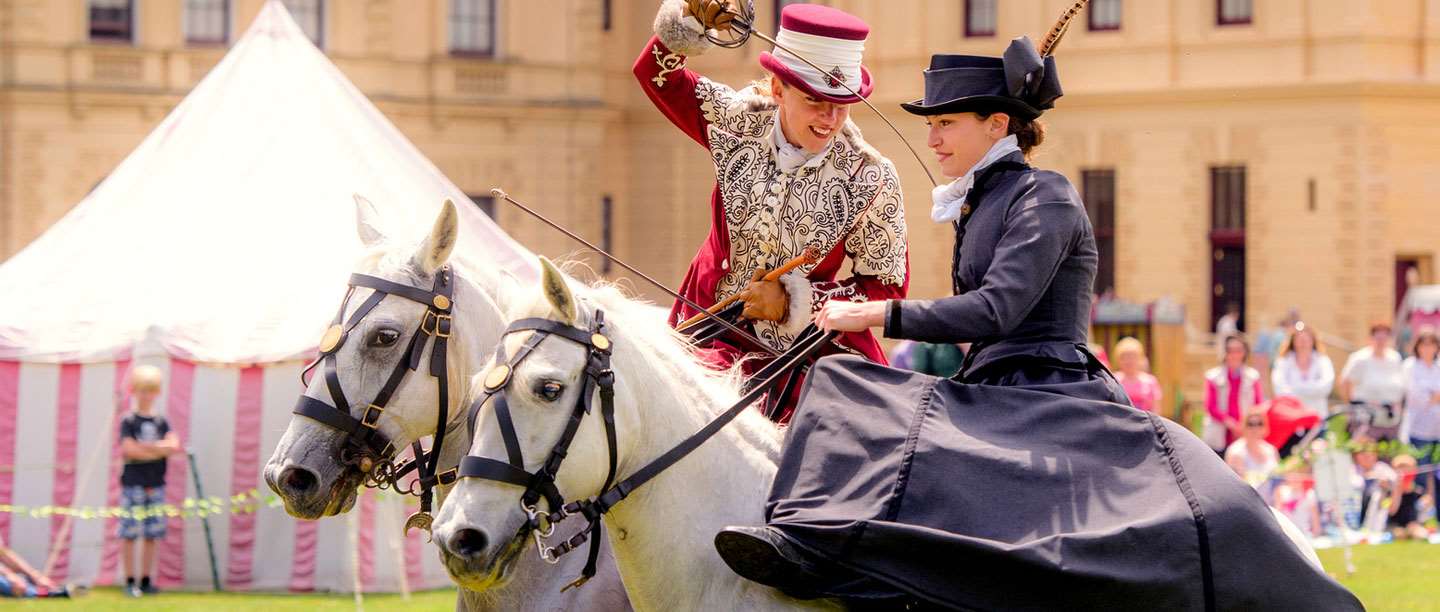 ENJOYING THE OUTDOORS THE VICTORIAN WAY
Shorter working hours, more public holidays and the growth of the railways gave Victorians the opportunity to take part in a wide variety of outdoor leisure activities. Read on for ways that you can experience these for yourself at English Heritage properties.
Plant a stylish garden
Gardening became very popular, both in the cultivation of private gardens and also in the expansion of public gardens. Wealthy homeowners invested a lot in their outdoor spaces, from growing fruit and vegetables in walled gardens to the creation of formal areas to showcase a wide range of flowers and plants.
The growth of the empire meant collectors were able to get their hands on plants from all corners of the globe, sparking crazes for certain exotic species such as orchids – 'orchidelirium' gripped many Victorians and led to fierce competition for the best specimens. Cheap coal made it easy to heat up hothouses and orangeries in which to grow non-native plants – you can see a splendid example of an orangery at Witley Court.
Visit Witley
Bedding plants became popular and were used to create areas of bright colour laid out in geometric patterns. Massed displays of rhododendrons were also prevalent, due to the influence of Kew Gardens' director Joseph Hooker – Belsay Hall and Castle has a stunning rhododendron garden.
Later in the Victorian period, gardeners William Robinson and Gertrude Jekyll championed the idea of the natural look in gardens, using plants such as hardy shrubs, herbaceous plants and bulbs – you can see an example of this at Walmer Castle and Gardens, where the planting scheme in the Broadwalk Garden is inspired by Jekyll.
Visit Walmer Castle
VIDEO: HOW TO HARVEST APPLES THE VICTORIAN WAY
Get some tips from Audley End's third gardener Edgar Ashman and head gardener James Vert on the best ways to pick apples – and watch Mrs Crocombe the cook turn them into delicious gateau de pomme.
Watch the video
Go on a picnic
Victorians really embraced the idea of picnics. While these were naturally viewed as more casual experiences than indoor meals, they still dictated a certain amount of manners – 'Picnic excursions into the country are not occasions of ceremony, but call for the exercise of all one's good nature and good breeding,' stated Samuel R Wells in his 1887 book How to Behave. Picnics weren't small snacks, either – Mrs Beeton suggests a menu for 40 people in her Book of Household Management that features a vast array of food including four roast fowls, six lobsters, and two blancmanges.
Make your own picnic using our guide, and then head to one of our Victorian houses such as Brodsworth Hall and Gardens, Audley End or Wrest Park to enjoy your repast in the beautiful grounds.
Make Your Own Victorian Style Picnic
TAKE A REFRESHING DIP IN THE SEA
Trips to the seaside started to be enjoyed by the working class as well as the upper classes, due to trains making travel much easier. This activity was also popularised by Queen Victoria, as she and her family loved going to the beach at Osborne to collect shells, dig in the sand and swim in the sea, encouraged by Albert who was a firm believer in the health properties of sea bathing.
Albert built Victoria a bathing machine so she could swim without compromising her modesty – a hut on wheels that contained a dressing room and toilet, and which could be driven straight into the water. Victoria wrote in her journal in July 1847 that '[I] drove to the beach with my maids and went in the bathing machine, where I undressed and bathed in the sea (for the 1st time in my life)… I thought it delightful.' Modesty was everything to the Victorian swimmer – men and women were obliged to bathe separately and could be charged with public indecency if they mingled in the water. You can still see Victoria's bathing machine at Osborne, as well as the beautiful alcove built next to the beach where she used to sketch and write letters.
Plan a trip to Osborne
Catch your own dinner
Field sports of shooting, hunting and fishing were popular outdoor pastimes for the Victorian upper classes. Hunting weekends were regular fixtures at big country houses, where guests would stay from Saturday to Monday to shoot grouse, pheasants and other animals.
Brodsworth Hall and Gardens has recently restored the property's original game larder, an octagonal-shaped wooden building that's set in walking distance of the kitchen. The larder was raised on stilts to keep out vermin, had louvered windows for ventilation and was sited under trees to provide shade. Game caught on the estate was stored inside and would then be taken to the kitchen to be prepared when needed. You can also see a restored game larder inside the Service Wing at Audley End.
PLAY A GAME OR TWO OF CROQUET
Croquet was first introduced to England in the 1860s and was further popularised when games manufacturer John Jaques and Son starting selling croquet kits. Jaques was a friend of Lewis Carroll, which is why the game appears in Alice in Wonderland. The mania for croquet had waned by the late 1870s, however, and many lawns were turned into tennis courts.
BUY ENGLISH HERITAGE GARDEN GAMES
Go for a ride
Horse riding grew in popularity as a recreational activity for upper and middle class men and women. A visit to Audley End's stableyard is a great way to get a feel for how a Victorian stables in a country house would have been run, where you can meet the resident horses and watch them being cared for.
Watch the video
VICTORIA AND ALBERT'S 200TH ANNIVERSARY
2019 is the 200th anniversary of both Victoria and Albert's births and to mark the occasion there will be a new temporary exhibition at Osborne called Celebration: Victoria and Albert's birthdays at Osborne. Victoria and Albert usually spent their birthdays at the property, and it's the best place to get a sense of their characters and daily lives.
You might also be interested in
Take our Quiz

Test your knowledge with our 20 question quiz

Go behind the scenes

Learn about what happens before the season begins at Osborne, Queen Victoria's Isle of Wight home.

8 fascinating objects

Find out which 8 objects our historians and curators have chosen as their favourite items in the English Heritage collection and uncover the amazing stories behind them.