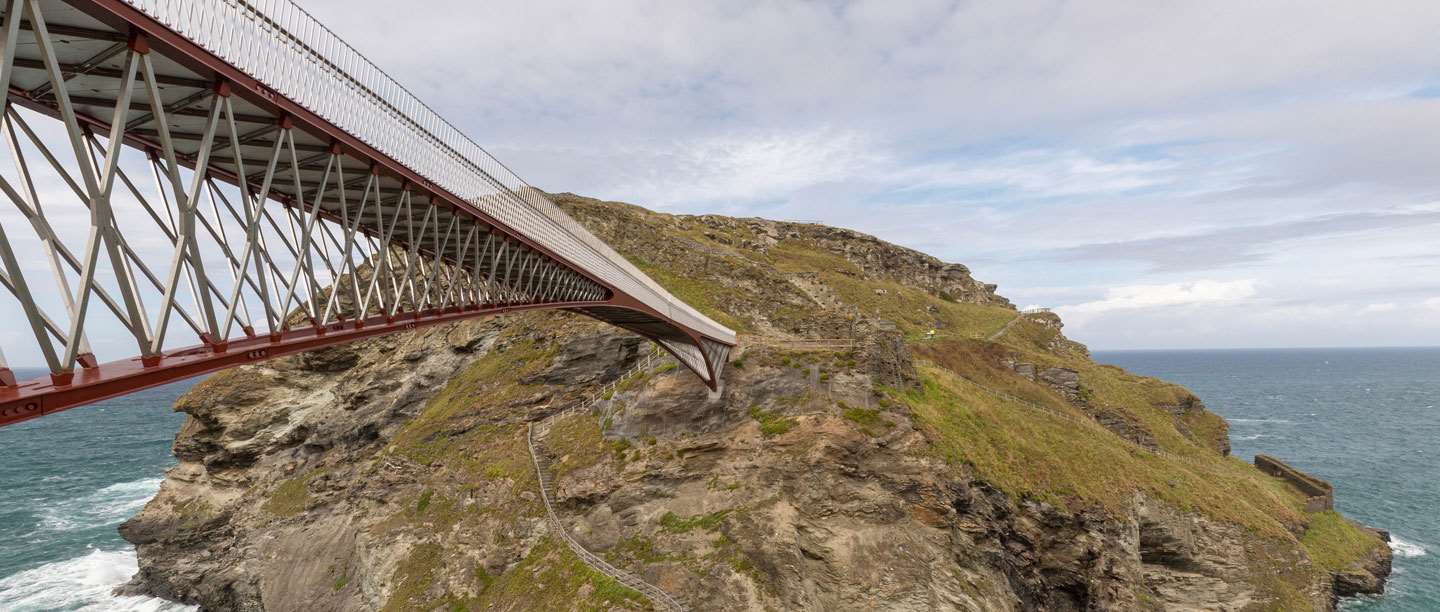 Meet the Expert: Reuben Briggs
Meet Reuben Briggs, senior national project manager, who oversaw the project to install a spectacular footbridge at Tintagel Castle, Cornwall.
INTERVIEW MATT HAVERCROFT
PHOTOGRAPHS GARETH IWAN JONES & JIM HOLDEN
Tintagel Castle receives hundreds of thousands of visitors each year but its isolated location on a promontory of the north Cornwall coast also made it a challenging place for many visitors to access. A new bridge which opened in 2019 enables step-free access to the castle, but what is perhaps most exciting was how it reconnects a divided landscape, enabling visitors to enter the castle via the original route.
Once the decision had been made to build a new bridge, we knew the success of the project would rest on the design. It was essential that the design of the bridge was of the highest quality to ensure the constraints and sensitivities of the site were taken into account. This quest for quality led us to hold an international design competition.
The competition saw 137 entries from all over the world but it was Ney & Partners working with William Matthews Associates who ultimately won the prize with their design for a traditional cantilever bridge – one of the oldest forms of bridge. Their design enables the bridge to sit beautifully in the landscape.
From announcing the winner of the design competition to opening the bridge to the public took three-and-a-half years. During that time, the design team completed painstaking research to ensure the bridge was buildable. This included studies to ascertain the strength of the rock, wind-tunnel testing to ensure the structure could withstand Cornwall's rugged weather, and material testing to inform the selection of metals appropriate for a coastal environment.
The bridge is constructed of two main materials. The structural cords are formed of painted carbon steel, and the connecting blocks, bracing and balustrade are fabricated from duplex stainless steel. The bridge deck is built of 40,000 pieces of Cornish slate and the handrail is made of oak. The bridge is designed with a small gap at the centre, which allows for the thermal expansion of each half of the bridge.
Tintagel's cliff-top location means that building anything is a challenge. There is only one narrow access road into the site. To construct the bridge, we had to find a way that would enable permanent access to the bridge site, without impacting the archaeology or ecology of the area. The answer was a cable crane – a form of cable car, used extensively in the Alps.
The project took almost five years to complete from the initial concept to opening to the public on 11 August 2019. The bridge enables more people to access the site and provides them with a better understanding of this important place. We also hope that the bridge gives visitors a real thrill as they step out across the void in the footsteps of Tintagel's original inhabitants.
To find out more about Tintagel Castle, go to www.english-heritage.org.uk/tintagel