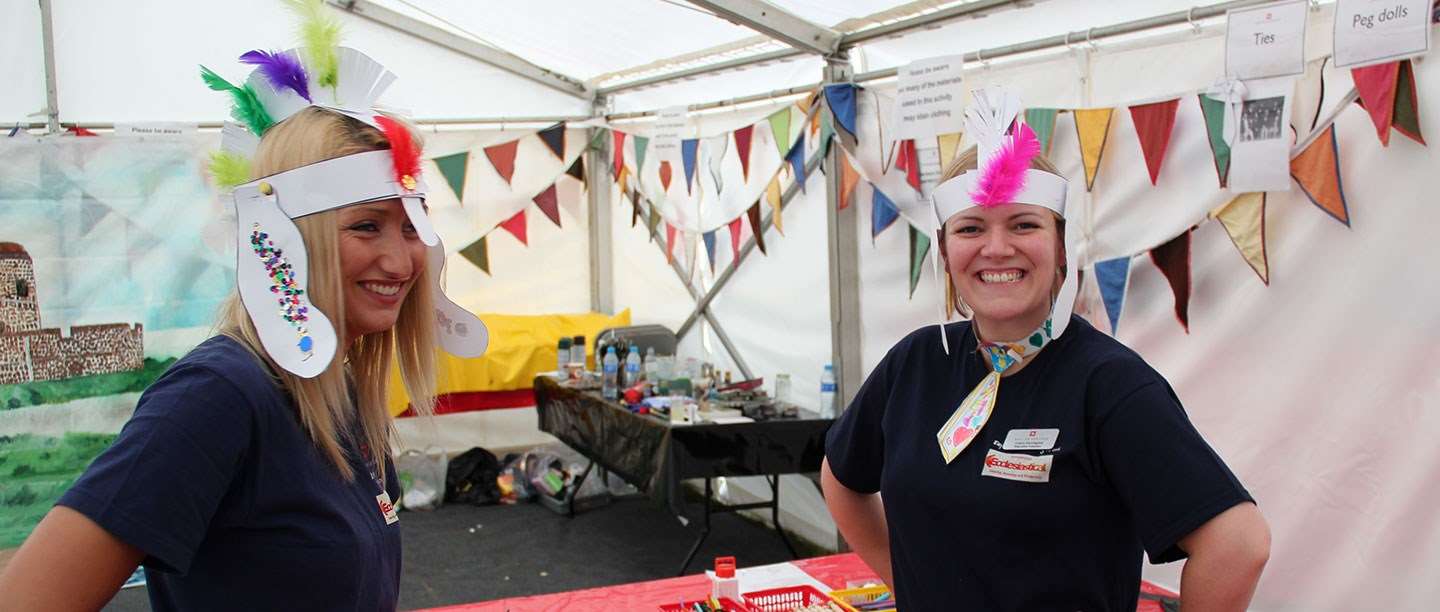 Fundraise for English Heritage
Help bring history to life by fundraising for English Heritage. There are lots of ways to raise money and have fun at the same time. From schools and companies to friends and families, anyone can get involved to help protect over 400 buildings, landscapes and objects that together tell the story of England over the past 6,000 years.
How to fundraise for English Heritage
It's as easy as 1, 2, 3!
1. Take a look at our fundraising ideas for
inspiration about what you could do to
support England's heritage.
2. Plan your activity, tell your friends, take
photos.
3. Collect your sponsorship
Fundraising Ideas
OUT AND ABOUT
Great musician? Host an open mic night
Organise a long walk or cycle ride with your friends and family and ask them to sponsor you
Tell your club or society what you're doing and why, and ask them to sponsor you
AT HOME
Host a quiz night: cheap, easy and fun. Write your own questions, and sell tickets to your friends
Make the most of your cooking skills. Invite your friends over for a dinner party and ask them to donate the price they would have paid for your food in a restaurant
Be sponsored to give something up: alcohol, chocolate, or even your mobile phone
Movie night! Make your living room a cinema for an evening: popcorn, lights down, comfy sofas or cushions on the floor. Print out tickets, and don't forget to leave a donations pot for loose change
AT WORK
How many sweets are in the jar? Leave the jar in a visible place with a sign explaining your fundraising target and cause and charge for guesses - the closest answer gets to keep the sweets
Be sponsored to look silly: wear historic fancy dress to work
Could your organisation support English Heritage? Find out more about corporate partnerships
Organise a bake sale. Ask your colleagues to contribute and use the sale to promote your challenge. You could even take the baked treats round the office - no one can resist cake brought to their desk!
Collect your sponsorship
Download our sponsorship form to collect pledges.
Once you've finished fundraising, send your sponsorship form with a cheque made payable to English Heritage addressed to:
Hannah Hamblin
Fundraising Team
English Heritage
6th Floor, 100 Wood Street
London EC2V 7AN
How your support helps
Caring for over 400 historic places means everything from restoring Old Master paintings, to carrying out essential repair works on buildings, to planting historic gardens and keeping them blooming throughout the year. Find out how your donations make a difference.
How your support helps
Volunteer

Explore the opportunities for you to play a part in protecting and presenting some of the greatest places in England

Our Appeals

Discover how you can make an impact by supporting a specific project

Gifts in wills

Gifts in Wills help ensure that generations to come can enjoy our historic places just as much as you do today