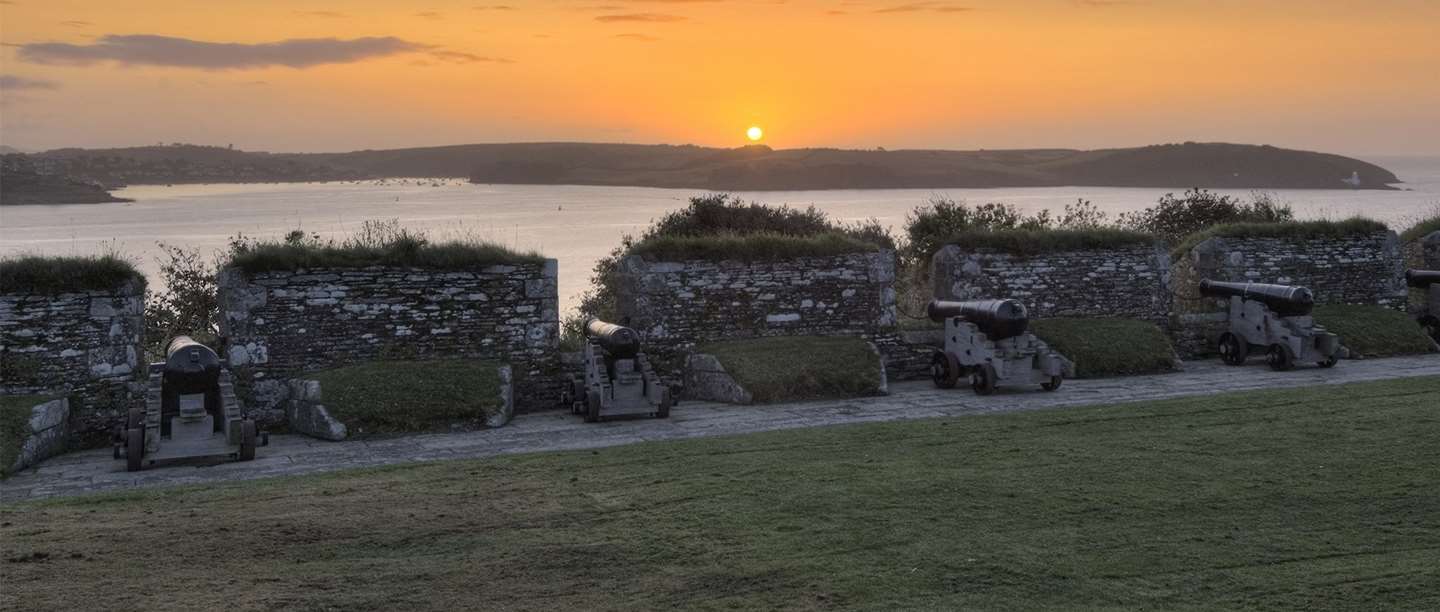 Save our Cannons
England's historic cannons are at risk.
Today they stand proudly on the walls of castles and forts across the country as vivid reminders of our island story. They are an integral part of the landscape, but unless we act now, they could be lost to the elements. Battered by strong winds and corroded by salty sea spray, many of them are rapidly deteriorating.
We need to act now to save these precious objects and keep their stories alive for future generations, but we need your support.
Your Support Matters
With your help, we can carry out urgent repairs to protect four historic guns most in need of care and ensure their stories of service survive. Discover their stories below.
Read the case studies
WWII Anti-Aircraft Gun at Pendennis Castle
Within 1.5km of the coast, bare metal degrades twenty times faster than further inland. Coastal guns are regularly battered by strong winds blowing corrosive moisture and salt spray over them. The sea air had taken its toll on this WWII anti-aircraft gun located at Pendennis Castle in Falmouth, Cornwall.
The QF (quick firing) 3.7-inch AA (anti-aircraft) gun was designed in the 1930s. By 1941 it was the main British anti-aircraft gun of the Second World War. It could fire 10 - 20 shells per minute, reaching up to 30,000ft. From April 1944, 16 of these mobile 3.7-inch AA guns were sent down to Falmouth to cover the build-up of troops and supplies embarking for the D Day landings.
This example was suffering from extensive corrosion but work has been completed to return this gun to its former glory. The holes and thinning surface resulting from continued corrosion of the metal affected the gun's structural stability, especially where water has been collecting. We had to deconstruct the gun to remove paint and corrosion using air abrasion cleaning. We also repainted the surface, wax internal areas and re-installed it on a new platform to prevent its wheels sinking into the grass.
18th-Century Cannons at Etal Castle
The majority of the guns in our care are made of iron and/or steel and unfortunately when this rusts the corrosion forms unsightly lumps or blisters. If it is not treated and repainted the corrosion continues. This can thin the metal and weaken the structure.These identical 18th-century cast iron 9-pounder cannons at Etal Castle in Northumberland have flaking paint and small areas of corrosion. They are sitting on replica wooden carriages, and exposure to the elements is also causing these to rot.
The guns are said to have been salvaged from the HMS Royal George, an English ship that sank in 1782 during repair work. At least 800 men, women and children lost their lives. When in use, they fired solid iron balls, to distances up to 1,600m.
To save the guns we need to remove them from their carriages, remove old paint and corrosion and repaint the metal with protective paint. The wood has lost structural stability, so we also need to commission replacement carriages.
WWII Anti-Aircraft Gun at Dover Castle
Another QF 3.7 mobile AA gun in need of conservation can be found at Dover Castle. In addition to the damage of sea air, this gun is also subject to the corrosive power of pollution from the busy port it overlooks.
By April 1940, there were 12 of these mobile AA guns in the Dover defences. They were replaced later that year by static versions in fixed positions, guarding the skies above this key port. Like Falmouth, defences at Dover were increased in the build-up to D Day. From June to August 1944, 28 3.7-inch mobile AA guns were deployed to the town.
The gun is suffering from extensive deterioration. Its paint is beginning to fail and flake, and thinning of the metal is threatening its structural integrity. We need to deconstruct the gun and its mount, repaint the surface of the gun and its trailers, and re-inflate its wheels.