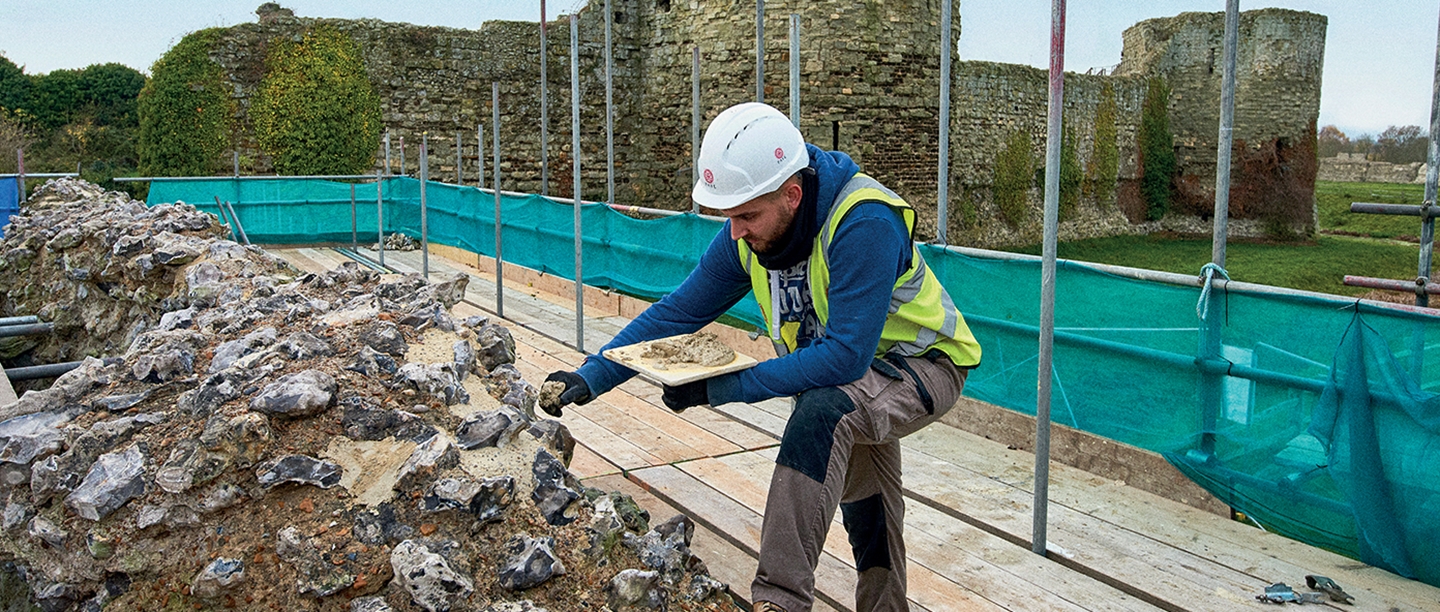 Help England's story to survive
Closing our sites has left many of our historic sites facing an uncertain future.
We are happy to say that most of our sites are now open, but there is still much to do, and we need your help now more than ever to protect them.
Critical conservation work is now needed to safeguard Lincoln Medieval Bishop's Palace, and Hardwick Old Hall in Derbyshire to make the structures secure and accessible to visitors once again.
Why we need your help
The continued support of our Members is essential to continuing the important conservation work needed at our historic sites, but our ability to protect these sites has been threatened as never before.
Hundreds of our historic sites are now open and welcoming visitors to enjoy the rich history they offer, however many are still in need of essential conservation work to protect their stories if they are to survive for years to come. It costs £13m a year to keep up this critical maintenance, which is why we need additional support now.
Sustainable Conservation
English Heritage's approach to conservation is based on understanding the action we need to take to maintain our historic sites effectively and in a way that we can continue to maintain them so that we can avoid the risk and cost of repeated work.
All conservation work is carried out to the best possible standard with a robust understanding of significance, vulnerability and condition, we prioritise our funding and resources towards the most significant elements of our properties.
Lincoln Medieval Bishop's Palace
Lincoln Medieval Bishop's Palace is of international significance and its preservation is essential. The current state of the site is poor, having suffered from a lack of maintenance and smaller projects in recent years. It will only decline further without intervention, with the imminent loss of important decorative details to such areas as the arches and marble columns in the West Porch, amongst other parts of the site.
There is also a risk of falling masonry, with the Lincoln limestone stone rapidly decaying site wide. Due to this, the majority of the site is closed to the general public. Therefore there is an urgency not only to conserve the site but to once again make the site accessible to visitors to enjoy and experience the atmosphere of this highly significant medieval site.
Hardwick Old Hall
Hardwick Old Hall is one of the most innovative houses of the Tudor period. It was built between 1587 and 1596 by Bess of Hardwick, who was among the richest and best-connected women of the Elizabethan age.
Although the site suffered from stone-robbing in the past, the ruins of Hardwick Old Hall survive well and retain many original architectural features. However there has been considerable deterioration of the Gog Magog plasterwork over the fire place in the Hall which is of high historical and aesthetic significance.
The site is currently closed to visitors and there is currently a small programme of works being undertaken on site, to provide emergency protection to specific areas of the site, this includes the Gog Magog and other plaster panels in the same vicinity.