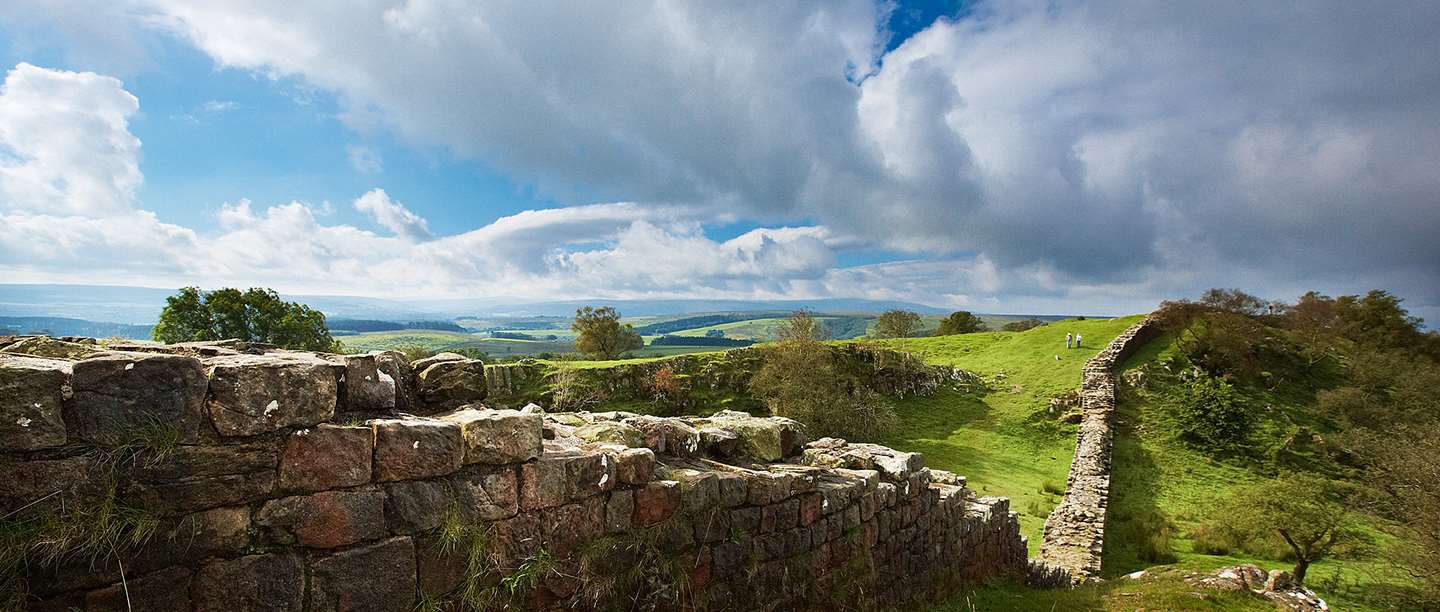 The Once and Future Fund
The Once and Future Fund appeal has now ended and thank you for your support contributing to our campaign to safeguard the future of England's heritage.

Over the past three years the appeal has successfully raised over £800k which has gone towards ensuring that the hundreds of free sites in our care can remain open for all to enjoy.
A Unique Heritage
You can walk along windswept stretches of Hadrian's Wall, marvel at the spectacular span of the ground-breaking Iron Bridge or see priceless Old Masters at Kenwood, all without buying a ticket. Keeping these places open for everyone to enjoy is a vital part of our work as a charity.
From clearing damaging vegetation to insightful new interpretation by our historians, the Once and Future Fund will help ensure England's free heritage can continue to inspire all who visit.
We are very grateful for the matching fund from The National Lottery Heritage Fund during our Once and Future Fund campaign in 2017 – 21, which doubled all donations received towards the Fund.
SHARING ENGLAND'S STORY
IRON BRIDGE
The Iron Bridge in Shropshire is the world's first cast iron bridge and the birthplace of the Industrial Revolution.
Built in 1779, the bridge is now a World Heritage Site and is totally free to access. In 2017-2018 English Heritage embarked on a £3.6m restoration project which transformed the site, including repainting the bridge its original red-brown colour.
Thanks to the support of crowdfunding donors and the Hermann Reemtsma Foundation, the future of this pioneering landmark has been safeguarded. The reopening of the bridge has seen an increase in visitor numbers, community engagement and volunteer involvement.
NORTH LEIGH ROMAN VILLA
Located in the peaceful Oxfordshire countryside, North Leigh Roman Villa was one of the largest villas in Roman Britain.
North Leigh Roman Villa is free to enter, and frequently welcomes pupils studying the Romans from the 30 schools in the local area. During 2020 the volunteer team supported visitors during the pandemic by holding very successful Covid-safe open days.
The Once and Future Fund will help free to enter sites like North Leigh Roman Villa inspire everyone who visits.
BAYHAM OLD ABBEY
Bayham Old Abbey on the Kent and Sussex border is a beautiful ruined abbey dating from the 13th century and built from golden local sandstone. The Abbey is now set in grounds designed by famous landscape gardener Humphry Repton, who also planned the grounds of Kenwood House in London.
Bayham Old Abbey has an important place within the local community, with volunteers conducting free guided tours and plans to open a second-hand bookshop. Thanks to your support of the Once and Future Fund, sites like Bayham will be preserved for future generations to enjoy.
ENGLISH HERITAGE GUARDIANS
The Guardians scheme recognises donors who support English Heritage with gifts of £2,500 or more. The pandemic has seriously impacted our conservation work, and we need the support of our Guardians now more than ever.
Our circle of Guardians not only champion heritage, but have the chance to engage more deeply with our work, our places and our people. This includes opportunities to meet the conservators, historians, scientists, and educators who are at the front line of caring for our heritage.
Discover More
Conservation Appeal
We are facing an unprecedented challenge due to the Coronavirus crisis. There's no escaping the fact that our ability to protect and preserve our nation's heritage is under threat.
The closure of our sites has meant that much-needed funding from admissions, new and renewing memberships, cafés and shops has been lost overnight. Your support is critical to our very survival, and will help to make sure England's story survives in all its glory.
Discover More