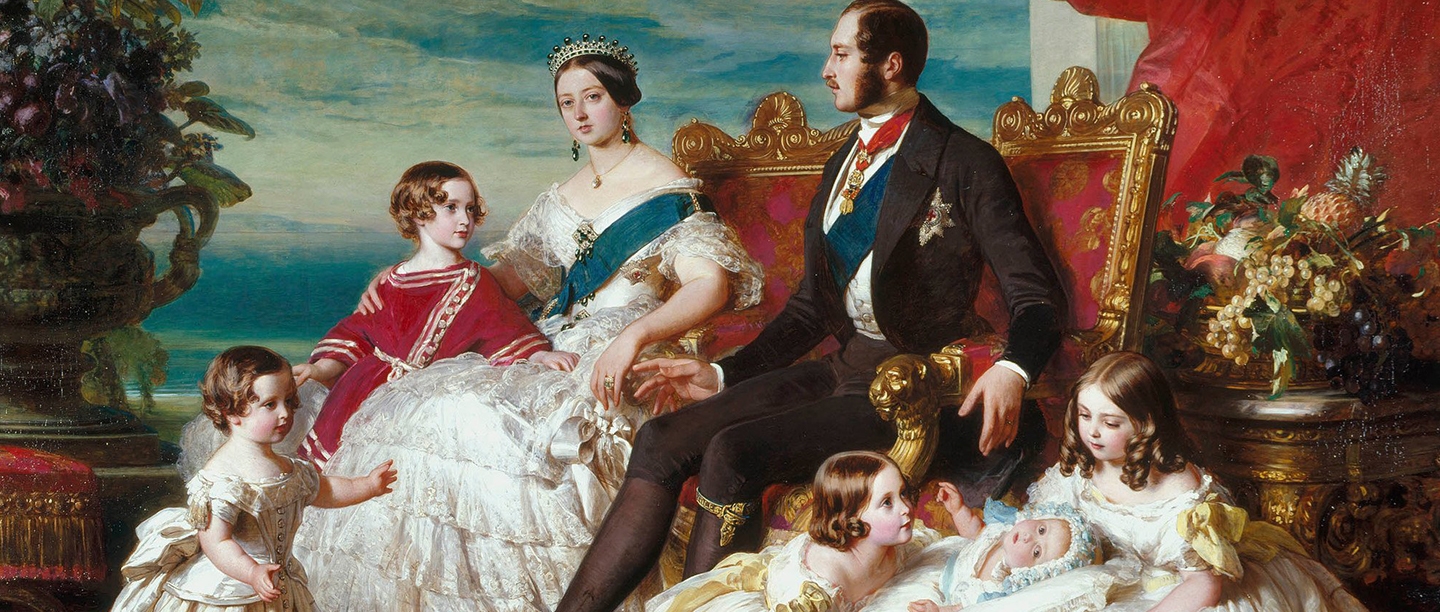 Published: 15 February 2021
Category: History In-depth
Regardless of the historical period, royal babies tend to catch the world's attention. Indeed, much of the way modern royals are raised follows the examples set by their ancestors – particularly Queen Victoria and Prince Albert, who modernised royal child's play as we know it today.
In this article, join us as we explore how Victoria and Albert raised their children and how others seem to be following their lead.
Raising a royal baby
Like generations before them, royal babies are destined for a life of public service. From an early age they're inducted into the 'family firm', as Prince Philip once memorably called it, and taught how to behave in public. They're also educated in the arcane protocols of monarchy and prepared for a good deal of media interest in their day-to-day life. No matter how determined a royal is to give their children as normal an upbringing as possible, it must be hard for the children to escape the royal bubble – especially when attending family affairs with the queen.
Perhaps surprisingly, the experiences of the current generation of royal children are not that different from those of Queen Victoria's children over 150 years ago. Back then there was just as much media interest and, as now, new royal parents were determined that their children should enjoy the ordinary pleasures of childhood.
Victoria's journal amply illustrates this. On 8 December 1844 the Queen wrote:
'had the Children for some time in my room & they played about very happily.'
Then on 14 May 1846 she noted:
'We joined the Children in the Garden, after 5, & Albert played skittles with them.'
By the end of the decade family activity was still an important part of daily life. On 6 July 1849 Victoria wrote:
'remained out with the Children, picking strawberries, until 8.'
How the Victorians changed royal family life
Our modern attitudes to children owe a lot to the Victorians, whose sentimental view of family life still largely holds true today. It was during the Victorian period that notions of childhood as a precious time for fun and self-discovery started to take root. Books, games and toys aimed specifically at children began to appear, and compulsory primary education was introduced. Victoria and Albert themselves played an important part in this 'invention' of childhood through the way they brought up their own children, and how royal family life was presented to the public in newspaper reports and magazine articles.
At Victoria's seaside home on the Isle of Wight, Osborne, the royal children had space to play away from the public gaze. Here they collected shells on the beach, chased butterflies and played hide-and-seek – carefree activities of a happy childhood that would be familiar to children today. There were differences, of course. Victoria's nine children were destined to be the future rulers of Europe, and their play was always with a purpose, to prepare them for a life of royal service.
In the gardens at Osborne, Albert created a miniature world for the children, Swiss Cottage, which you can still see today. Swiss Cottage featured garden plots as well as a fort where the family could mingle largely free from the attention of servants or retainers. It was the children's domain where they could play as though they were adults. In doing so, they learnt life skills that Albert believed would make them stronger characters and rulers in their adult life. The emphasis was on play with a purpose, on activities that taught the children the value of hard work, self-reliance and money. They would be learning through play.
The children themselves were involved in the creation of this miniature world. They helped dig out the garden plots and laid the first stones of the Swiss Cottage, burying a time capsule in the foundations. The eldest boys, Bertie and Affie helped lay out the earthworks of the miniature fort as a birthday surprise for their mother. The two boys also helped to build the tool shed where the children's miniature garden implements were stored.
In the Swiss Cottage, the royal children learnt the rudiments of cooking and housekeeping, preparing meals for their parents and invited guests. On 11 July, 1861 the queen wrote:
'Sitting out rather late & driving to the Swiss Cottage, where I met Albert & Fritz & all the children & where the results of the morning's cooking were displayed & relished. We all sat down to tea, including Beatrice & the little ones, & the Ladies who had also come, on purpose.'
After the eldest daughter Vicky left for Germany her sisters baked cakes to send out to her.
In the museum room the children collected and displayed natural history specimens just as Albert and his brother Ernest had done in Coburg, Germany a generation before. Albert provided rocks and minerals from his 'museum' to start off their collection.
Outside, the garden plots were planted with fruit bushes and vegetables which the children had to tend. When harvested the crop was sold to Albert at market prices – an exercise not only in horticulture but also household budgeting.
Today you can explore Swiss Cottage and play among its surrounding gardens and woods like the royal children would have done. There's an interactive exhibition inside the cottage and a museum with hundreds of objects and specimens.
Child's play at the beach
Another of the children's favourite places was the beach at Osborne, where they could often be found with their governess, Lady Lyttelton, collecting shells or digging in the sand. You can walk along this beach today, taking in the similar coastal views as the royal family did in the 19th century.
Each year the children pitched down a tent at the shore to give them shelter from the sun – ideal for picnics. Prince Albert was also keen to teach the children to swim. He designed a floating bath for them to practice in which was tethered 60m offshore and reached by a small boat from the royal yacht. The bath consisted of a wooden grating held between two pontoons which could be raised and lowered to vary the depth of water. Generations of royal children learned to swim there, until it was destroyed by a storm in 1900.
Trips out in the royal yacht or excursions around the Isle of Wight were also regular features of a family stay at Osborne as a diary entry from 13 July 1846 illustrates:
'Gave Vicky her lesson before she had her 1st bath in the sea, a bathing woman giving it her, but Albert went down to see that it was properly done. She enjoyed it and shouted with delight. We lunched with Charles [Prince of Leiningen, the Queen's half-brother] and the children under the tent and the air smelt so fresh and delicious. After 5 we drove out in the large char a banc, with Charles and the 3 eldest children, going round Carisbrooke Castle, by a lane we had never been before, and from which one had an excellent view of the old castle.'
The importance of play
As these examples illustrate, Albert was the more hands-on parent, teaching the children nursery rhymes, doing somersaults, playing card games and showing them magic tricks. You can even pick up a tip or two with our guide to parenting like Prince Albert.
Albert was quick to recognise the value of the royal children as a promotional tool for the monarchy, a lesson that has not been forgotten by the current royal family. In the 1840s wholesome images of the royals at play helped restore the popularity of the monarchy, distancing them from the dissolute Georgians.
Today's royal family seems to continue this approach. William and Kate have appeared many times in public with their children, including outside the Lindo Wing at St Mary's Hospital where their babies were born. Kensington Palace has released several family portraits, including those taken by Kate in their family homes. For their third child, the Palace even launched a website with updates, showing the family are as keen as Victoria and Albert were to document the lives of their royal children.
It will be interesting to see just how much of Victoria and Albert's influence will continue to inspire.
Elizabeth I in cinema

Historian, author and broadcaster Kate Williams looks at the different portrayals of Elizabeth I on screen to separate fact from fiction.

Longest reigning monarchs

Who are our longest-reigning monarchs, how did their reigns change England and Britain, and what can we see of their reigns today?

English place names

Have you ever driven through a town and curiously pondered (or perhaps sniggered) over its name? Well, it turns out there's a story behind every one...