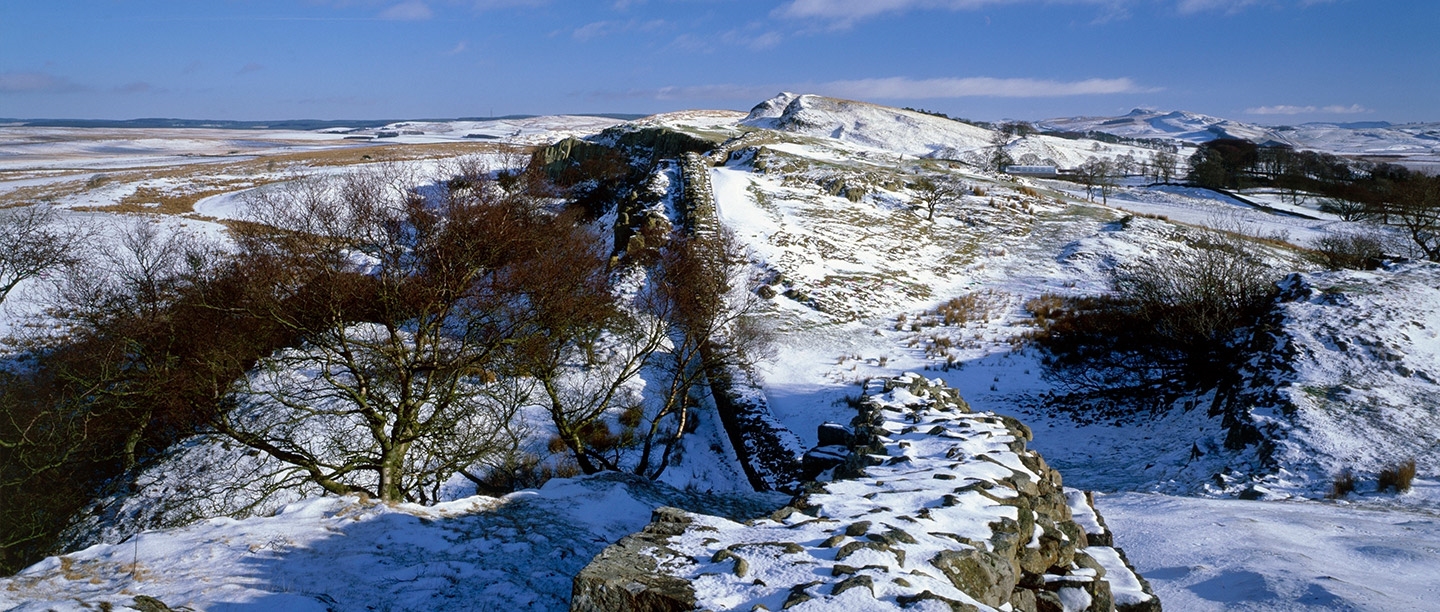 Published: 25 January 2021
Category: History In-depth
Housesteads Roman Fort, set high on a wild hilltop in Northumberland, once played a key role in defence along Hadrian's Wall. It commands incredible views – but especially in the winter, that means it's exposed to all the elements.
You might think that our unpredictable weather and often harsh winters would have been a shock to the Romans. It's a common misconception that troops stationed along Hadrian's Wall came from the warmer Mediterranean climate of Italy. Actually, the Roman soldiers at Housesteads generally came from Northern Europe – for example, one unit was the Tungrians from what is now modern-day Belgium.
The Hadrian's Wall landscape around here is relatively unchanged since Roman occupation. It's easy to imagine the winter conditions endured by the Romans 1,800 years ago – because our visitors and staff face them today! Luckily, the Romans had a number of ways to ensure they kept warm...
Winter uniforms
We associate the Romans with armour which exposed their arms and legs. However, during the winter they added to their uniform donning woolly cloaks, trousers and sheepskin boots which looked rather like the popular sheepskin boots sold today.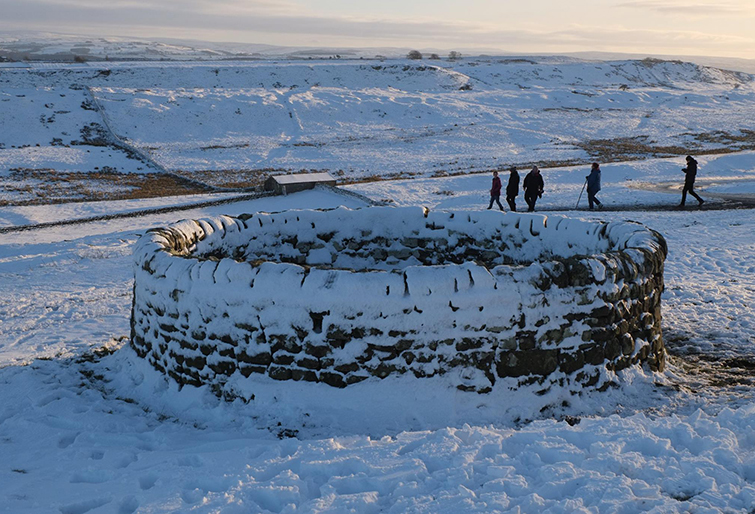 Looking out over the snowy landscape
Our site team wear ski pants and hiking boots to Housesteads in the winter as most days they walk the ½ mile or so up the hill. It is especially important for the team to have the correct gear if it's icy or thick with snow as vehicle access can become problematic. One year they had three months of snow…
Staying warm
Unfortunately, the ordinary soldiers didn't have under floor heating – only the Commanding Officer had this luxury – so they had to make do with small fires to keep warm.
Today, you can still see the remains of the under floor heating of the Commander's House.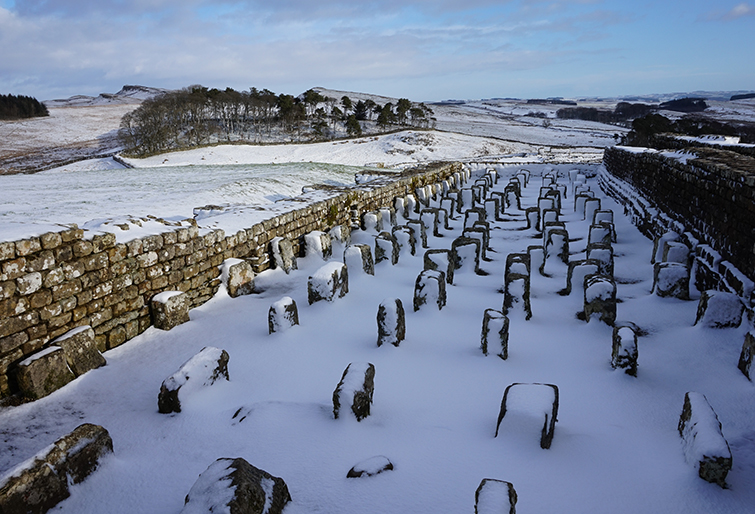 Housesteads in the snow
Walking in all weathers on Hadrian's Wall
Although things are quieter along Hadrian's Wall in winter, the area still sees a lot of visitors on foot – and Housesteads is a popular stop off point as it's usually open all year round. The Romans would have also relied on their own feet for getting around in winter.
Although the Romans would have been more used to the colder climates than you'd think, it's possible that some may never have seen snow before coming to Housesteads. Today, the site still surprises new visitors with its seasonal weather. In one instance, a young boy visiting from Australia had the delight of seeing snow for the very first time. He took the opportunity to build his first ever snowman which spent a few days faithfully guarding the fort at Housesteads.
Top 3 Things About Housesteads In Winter
1. YOU CAN WATCH A ROMAN LOO FLUSH
When it rains heavily at the fort, something very rare happens – a chance to see parts of the fort working as they would have 1,800 years ago.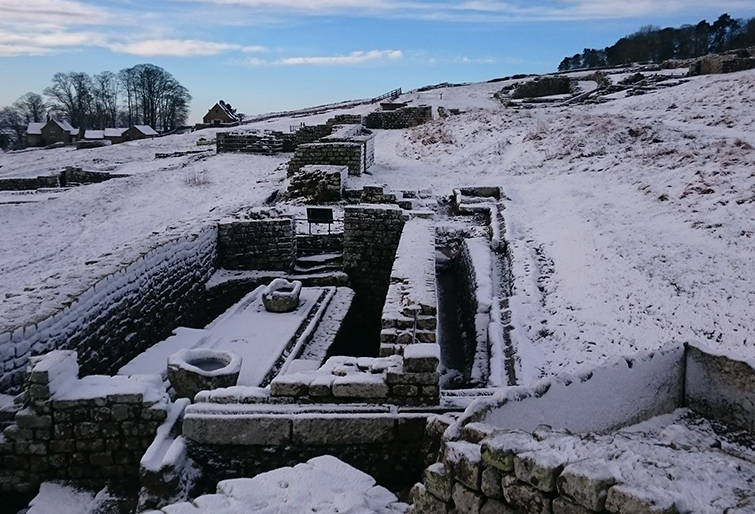 Loo with a view – the snow covered Roman latrines in January 2016
It's not parading soldiers or a barbarian attack though – the build-up of water leads to the Roman drains flushing out the latrines. An amazing example of Roman engineering still at work today!
2. IT'S A GREAT PLACE FOR WALKING
Come rain, hail, snow and sun Housesteads Roman Fort offers some of the best scenery along Hadrian's Wall. There are a range of walks you can do from the site, which make for a great day out – and a perfect way to blow away the cobwebs.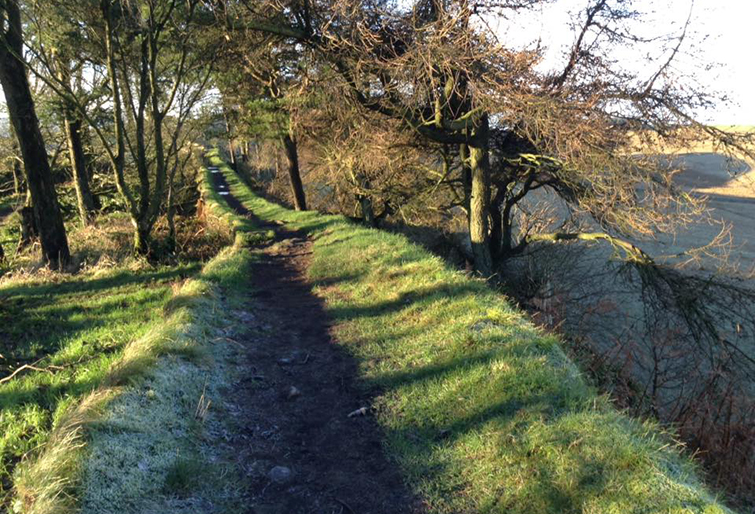 A scene from a frosty winter walk at Housesteads
The site welcomes visitors all year, proving that it's not about whether the weather is good or bad, it's about dressing for it and noticing the seasonal differences!
3. LANDSCAPE PHOTOGRAPHERS LOVE IT – ESPECIALLY IN SNOWY WEATHER
The Housesteads team are keen photographers – many of their pictures feature in this article as well as on the Housesteads Roman Fort Facebook page over the last year.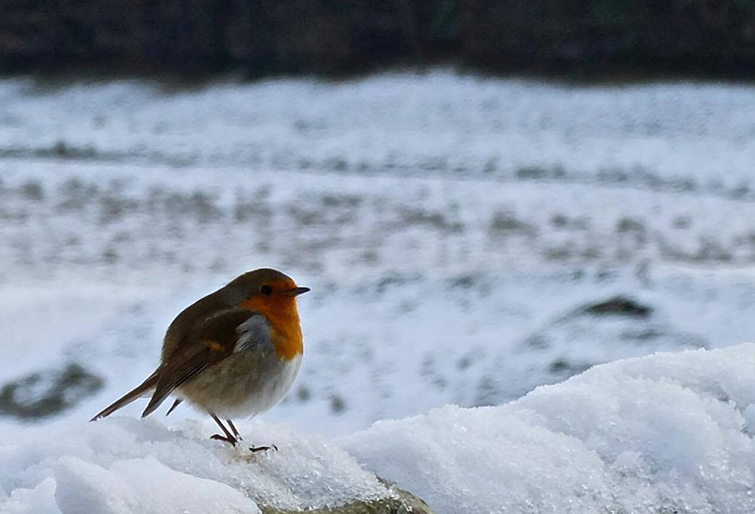 A friendly robin, captured by Site Manager Sue Hodnett
Winter is the Site Manager Sue Hodnett's favourite time of year. She says:
"I love the winter when the frost or snow sits on the ground. You can see the features of the landscape and archaeology especially on frosty bright days with long shadows – great for photos! It's so peaceful too that you can almost hear the soldiers at work if you listen hard and you can imagine how they too would've appreciated the dramatic vistas and changing landscape offered by this fantastic location."
Discover Housesteads Roman Fort