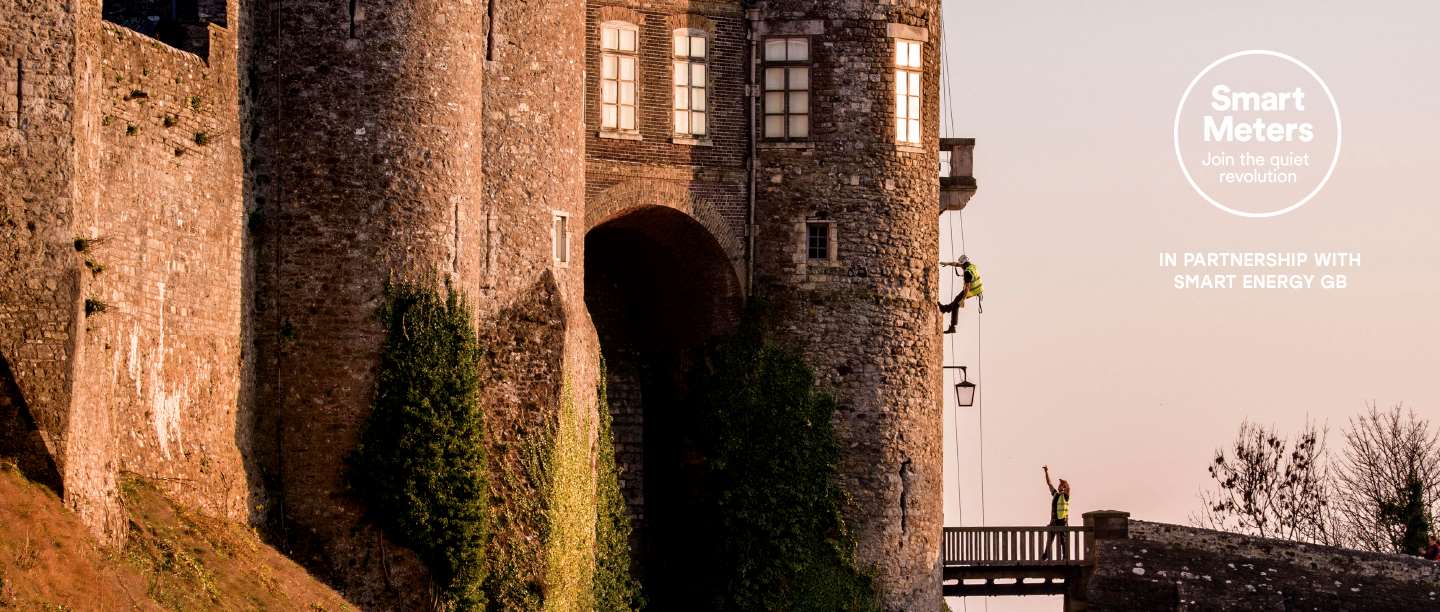 Planning for a more sustainable future
With the effects of climate change being felt at our historic properties across the country, we're taking action to tackle the greatest issue of our age and working towards a low-carbon future.
The buildings and monuments managed by English Heritage have experienced tumultuous changes over thousands of years. They've witnessed wars, invasions and plagues – but now they're facing a formidable new challenge in climate change.
Through the roll out of our sustainability strategy, we're making changes to reduce our impact on the environment. We've already switched to a renewable energy supply, and we're installing LED lighting and solar panels at some properties. Most recently, we've partnered with Smart Energy GB, installing smart meters to monitor usage at our most energy-hungry sites and play our part in upgrading the nation's energy system.
'You might look at our monuments and think that huge castle's not going anywhere,' says Estates Director Rob Woodside. 'But our properties have lots of vulnerabilities, and the changing environment can have a significant impact on our built structures and our gardens.'
Historic properties are increasingly affected by heavy bursts of rain – and climate-change predictions suggest that these will become more frequent and damaging. When old gutters are unable to cope with the huge volume of water produced by these downpours, water ingress can damage the structure and lead to flooding.
In addition, milder winters increase vegetation growth and extend growing seasons. 'That's one of the main threats to English Heritage properties,' says Rob.
'Invasive vegetation grows on top of them and out of their walls, and then we have to spend an awful lot of money and time removing it and keeping it removed. And we're going to see much more of this growth in future, simply because we won't have such cold winters.'
"

The changing environment can have a significant impact on our built structures, our gardens, our designed landscapes and our trees

"
These quirks of climate don't just cause problems for buildings – plants also suffer. 'This year we had a very wet winter, then a very dry and warm spring,' says John Watkins, Head of Gardens and Landscapes. 'If tree roots sit in waterlogged ground, they can't breathe. If that happens over a long period, they will die – a tree could lose a third or even half of its roots. Then, when a drought strikes, the tree has less roots to absorb moisture and might itself die. Climate-induced stresses also leave trees more vulnerable to diseases, and to the strong winds we experienced this summer.'
Climate change could potentially impact the visitor experience, too. Car parks may be flooded, and storm damage could leave properties unsafe to open; they might also need to close if intense heatwaves make it too uncomfortable to work inside. 'At the moment it's an occasional thing – we're quite happy if we get a hot summer,' says Rob. 'But climate change forecasts suggest that summer heatwaves could become the norm, making properties unbearably hot.'
As we're discovering, the physical effects of climate change can be even more dramatic, potentially threatening the existence of historic buildings. Coastal erosion and tidal surges are already starting to affect sites such as Hurst Castle in Hampshire.
'Early last summer, we started to pick up evidence that its coastal defences were starting to fail, due to undercut and erosion,' explains Rob, 'and by September, a massive storm had exposed and undermined the foundations. It's a huge granite castle, built by Henry VIII on a coastal spit, then further fortified and redefended in Victorian times. But its foundations are brick on top of shingle concrete and, when water got underneath, cracks started appearing inside the building's west wing – really substantial ones: you could put your fist in them. Fortunately, after extensive monitoring, the walls were found to be safe from collapse – but it showed us just how vulnerable our sites can be.'
Such events have implications for how we manage, preserve and maintain our monuments, on how we open our properties safely to visitors, and on costs. And they show the importance of assessing and responding to potential threats.
'We can't take anything for granted,' says Rob. 'We have to better understand our risks, and think about what the future might bring, because climate change scenarios for the coast predict anything from a 0.5m to 1m increase in average sea level by the end of the century. That poses some difficult questions: how can we maintain a coastal site such as Hurst Castle, and for how much longer? Is it going to be viable to look after a property like this in 30, 40, 50 years' time? So, while our response now is reactive – we do everything we can to repair and maintain the structure, because it's so significant – I think our successors are going to have to face some very difficult questions about Hurst Castle and similar places. It's a canary in the coal mine.'
While our properties feel the effects of climate change, we're aware they also contribute to the causes. That's why a key focus of our sustainability strategy – which also tackles issues including single-use plastics, sustainable procurement for our shops and cafés and waste management – is on reducing energy use. In doing so we'll not only cut costs (our total energy spend is currently around £1.5 million each year), but we'll also reduce our carbon emissions.
Tackling climate change can seem a daunting task. Not every home faces challenges on the same scale as English Heritage – but by taking small steps, such as installing smart meters to monitor our individual energy usage and to provide data to help energy suppliers to understand and better manage how much energy is used, when and where, we can each play our part in addressing one of the greatest issues of our age.
Our Partnership with Smart Energy GB
As part of our commitment to working towards a more sustainable future, we've partnered with Smart Energy GB to share the benefits of installing a smart meter.
86% of people with a smart meter have said that they have changed how they do things around the house to use less energy. They can also be used to keep track of your spending, check your tariffs, and thereby save money on your bills.
Find out more
Conservation

Discover the science behind our conservation work, from preserving paintings and collections to maintaining the gardens and landscapes in our care.

Blue Plaques Scheme

Founded in 1866, London's blue plaques scheme celebrates the links between notable figures of the past and the buildings in which they lived and worked.

The English Heritage Podcast

Join presenter Charles Rowe as we bring the history of our sites to life with news, views and expert interviews across over 100 episodes.