Enchanted Audley End FAQ
This winter, the gardens of Audley End House and Gardens will be transformed into a magical illuminated world. Read on for everything you need to plan your visit to Enchanted Audley End.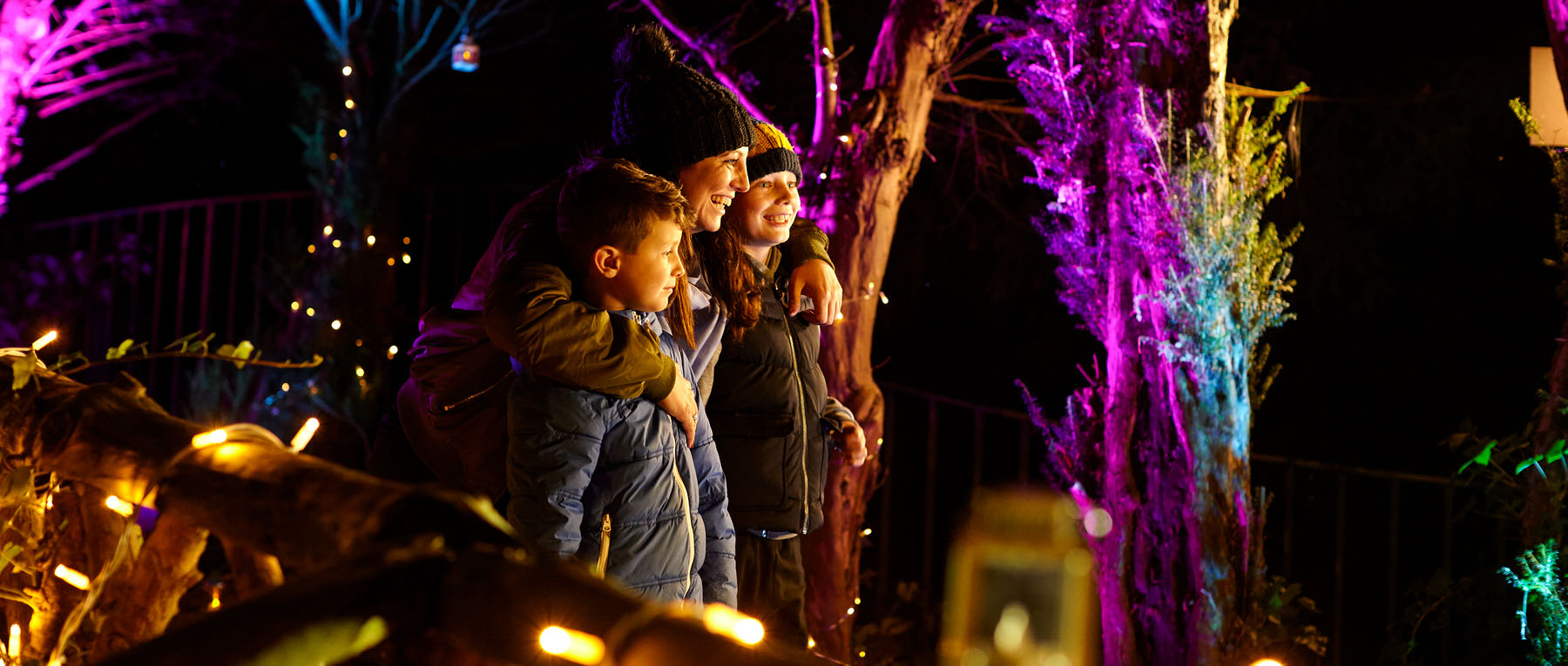 Tickets
Is this event still going ahead?
Following the COVID government guidance update on 8 December 2021, our Enchanted event is going ahead as planned and we have lots of measures in place to help our visitors have a safe and enjoyable visit. You don't need to have a COVID Pass to visit, but please don't visit if you have symptoms of Covid-19, have tested positive or if you've been asked to self-isolate. In these instances, please contact customer services via our online form or using our web-chat facility to speak with one of our team and they'll be able to advise you on our refund process.
Please be aware that face coverings are now legally required in all our indoor public places, including our visitor centres, shops, on all on-site transport, and in our cafes except when you are eating or drinking (unless exempt).
We'll always follow the latest government guidance, and if anything changes we'll update this page to let you know our plans.
Do I need to pre-book tickets?
Yes, tickets are limited for each time slot so must be pre-booked to guarantee entry and avoid disappointment.
How will my tickets arrive?
Your ticket will be emailed to you at the time of booking. Please note that the email will be sent from "SEE Tickets" rather than English Heritage so if this doesn't arrive in your inbox please check your junk / spam folder.
Is there a member's discount?
Yes, English Heritage members will receive a discounted ticket price. If you are a member please remember to bring your English Heritage Membership card with you.
Is there a concessions or senior citizen's price?
Sorry, we do not offer a concession price or senior citizen's price for our Enchanted events.
Do children need to pay?
All children must book a ticket. Children under the age of 5 are free of charge but must still book a ticket. There is a charge for children age 5-15 years. Children aged 16 and over pay the adult price.
Can my tickets be changed?
Unfortunately, due to high demand we are unable to change the day of your ticket
What happens if I cannot attend?
Unfortunately due to the high demand for tickets, they are non-refundable and not interchangeable.
Will refunds be offered if the event is cancelled due to poor weather conditions?
If English Heritage has to cancel the event before the advertised start time then full refunds will be offered and you can rebook for another date, subject to availability.
Parking and Accessibility
Will there be plenty of free parking?
There is plenty of free parking on site, please follow the AA signs and directions. Blue Badge Holder parking is available closest to the entrance to the trail, approximately 200m. Please note that all parking is on grass at this event although temporary track way has been provided to facilitate vehicle access around the parking area.
Where will the pedestrian entrance be?
If you are arriving at Enchanted Audley End on foot then please enter through Lion Gate on Spring Hill/Audley End Road and make your way to the Stable Yard area to start the Enchanted trail. Please note that the main road from Audley End Station to Audley End House and Gardens is not street-lit at night time.
How far is the walk around the Enchanted trail?
The Enchanted trail is approximately 0.8 – 1 mile in length. There is no restriction as to how many times you can enjoy the trail. You are very welcome to enjoy the trail as many times as you wish.
Is site re-entry allowed? What do I do if I need to pop back to the car for something I've forgotten?
Yes, you will be able to re-enter the Enchanted event, please keep your ticket(s) with you and show them to the admissions team on re-entry.
Is it wheelchair/pushchair friendly?
The trail takes place on either permanent paths around the property or temporary track way. A couple of the permanent paths are gravel in places which can be difficult to navigate in a wheelchair or mobility scooter. Please note, that areas of the trail can become muddy in wet weather. Additional ramps have been installed to provide step-free access all the way around the trail. However, there are a couple of ramped cable covers to cross over which do present a bump of approximately 5 inches; these are in place to safely power our lighting scheme around the property. Seating is available inside our Tea Room, outside in the Service Wing and benches are positioned on some areas of the outdoor trail.
Can we book a wheelchair/mobility scooter?
There are wheelchairs available on site, however these are available on a first come, first served basis. Please book in advance for mobility scooter loan by calling 01799 522842, these are available on a first come first served basis.
Are dogs allowed into the event?
Dogs on leads are permitted in the grounds. Assistance dogs are welcome.
Opening Times/ General
What is the start/end time of the event?
The start time is 4:00pm (11, 12, 18 and 19 December only) and 4:30pm and the end time is 9pm. Last entry will be at 8.00pm.
Our timed ticket is for 4.30pm, can we stay all evening?
Yes, the time booked for is the earliest you can arrive on site, you are then welcome to stay as long as you like. We do however ask that you arrive within your ticket's half hour window and do not arrive before the time on your ticket.
Can we arrive earlier in the day for the event?
No. Enchanted Audley End is a special event outside of our normal admission times. Our winter admission times are Saturdays and Sundays only. On 11, 12, 18 and 19 December Audley End will close at 2:30pm and between 20 - 30 December Audley end will close at 3pm. You are welcome to visit Audley End earlier in the day but standard daytime admission charges apply. Please note that on these days Audley End will close to the general public at 4pm before Enchanted Audley End begins. Any visitors on site will be asked to make their way to the event parking area outside the Stable Yard and join the queue for event admission.
How do the time ticket slots work?
We have arrival time slots of 4.30pm, 5.00pm, 5.30pm, 6.00pm 6.30pm, 7.00pm and 7.30pm and the event will end at 9pm – you are then welcome to stay as long as you like. We do however ask that you arrive within your ticket's half hour window and do not arrive before the time on your ticket.
What can I see and do at Enchanted Audley End?
Enchanted Audley End is a night time outdoor event consisting of various static and interactive lighting installations throughout the gardens. There is a set trail to follow which takes you from the Stable Yard area right the way to the formal gardens at the rear of Audley End House. You will get the chance to see Audley's gardens filled with colour, light and sound. There will be fairground rides (for a small additional cost) as well as the English Heritage shop. Food and drink will be available at various points along the route including the Tea Room.
Does the trail include access to the inside of the house?
No. Enchanted Audley End does not take you inside the house or Service Wing. Enchanted Audley End is an outdoor trail through the gardens and grounds and the house will not be open. Refreshments will be available throughout the route and toilet facilities are available at the start, middle and end of the route. Please note, that disabled toilet facilities are available adjacent to our Tea Room and as portable toilet units at the beginning and middle of the route. Please dress appropriately for the outdoors and the winter weather.
Are the fairground rides included in the ticket price?
No, the rides are not included in the ticket price
Is food and drink included in the ticket price?
No, the food and drink (such as marshmallows, mulled wine and mince pies) are not included in the ticket price.
Will Father Christmas be at Enchanted?
No, Father Christmas is unable to visit Enchanted Audley End due to his busy schedule
Will there be a Christmas Market/Stalls?
The English Heritage shop will be open, selling plenty of festive delights including Christmas cards, decorations, foodie treats and gifts. There will be no other trade stalls.
Will the café be open?
The Tea Room will be open during the event. There will also be plenty of refreshments on offer at various points throughout the experience, including the toasting of marshmallows (for an additional cost).
Weather
What happens if it is raining or snowing?
Please come prepared! We recommend that you bring warm clothing and footwear for the outdoors and winter weather. Unless the weather presents a safety issue, the event will go ahead as normal.
If the rain or any extreme weather conditions present a safety issue, notification of cancellation will be made on Audley End's website: www.english-heritage.org.uk/audley as well as on Audley End House and Gardens' Facebook and Twitter. Please see your ticket terms and conditions for the refund policy.
Please note
Due to the nature of the event, there will be limited lighting in places around the site. Please keep to the lit paths and keep track of younger visitors. Paths are uneven in places and may be slippery under foot in poor weather, so please wear suitable footwear. We advise visitors to wrap up warm as the event takes place throughout the grounds with no indoor shelter. Please be aware that the River Cam runs through the site with large areas of deep, open water along the route, so please keep a close eye on small children.