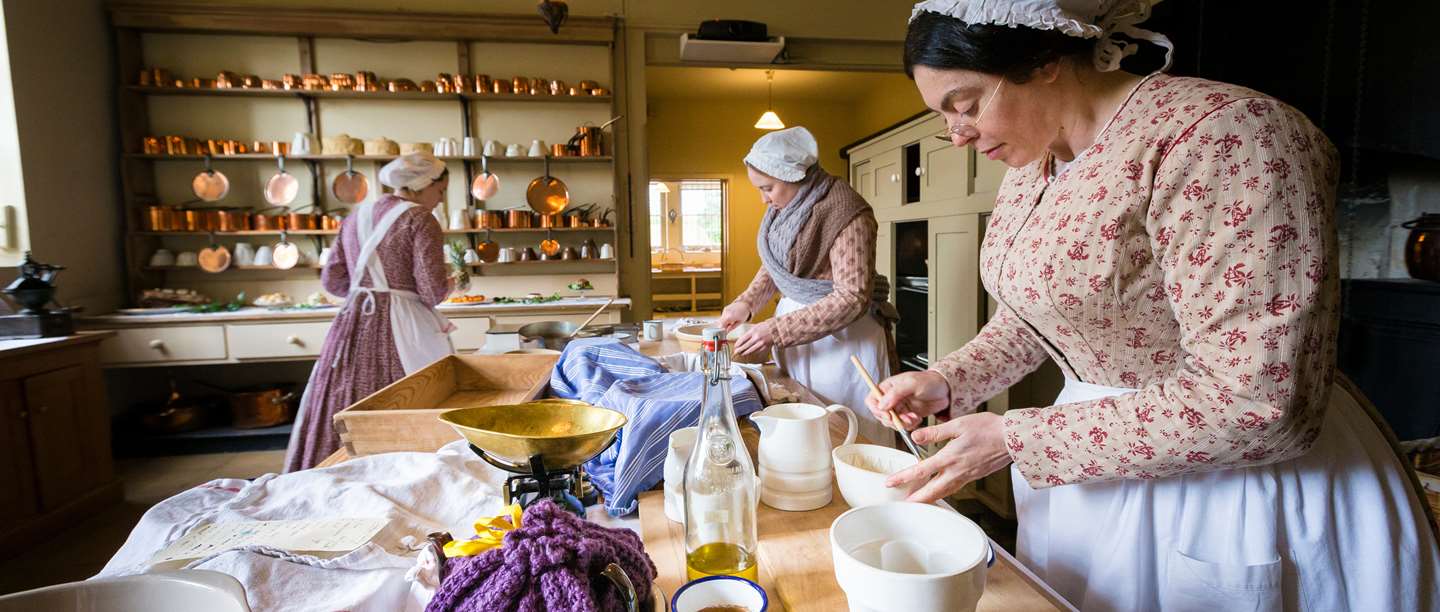 1880s Service Wing
Explore the world below stairs and get a taste of Victorian life in the Service Wing at Audley End.
With its stunning open range, high ceilings, kitchenware and copper pans, see the working Victorian kitchen as it would have been in 1882.
Feel the heat of the oven and inhale seasonal smells, as the staff prepare Lord and Lady Braybrooke's favourite seasonal dishes. You can meet the staff on weekends from April - September, and special event weekends.
Service Wing in Action
See the service wing at work, weekends April-September or on special event weekends. Watch Mrs Crocombe the cook, and her kitchen servants preparing seasonal treats using traditional methods, and the other servants going about their daily chores. Explore the array of rooms that were needed for the smooth running of the service wing:
Kitchen: Feel the heat of the open wood fire and see an array of Victorian kitchen utensils used to create sophisticated banquets for the Braybrooke family and their guests.
Scullery: a room for getting your hands dirty where the de-scaling of fish, plucking of feathers and washing of greasy pans took place.
Wet and dry laundry: Not a washing machine in sight. See the wet laundry with its row of original sinks used throughout the 1880s and the complicated pulley systems in the dry laundry, used to hang enough linen to clothe a small army.
Dairy: Experience the rigorous method by which butter was churned on a daily basis as part of a backbreaking morning routine.
Dry larder: In one Christmas alone, the Braybrooke family and their guests consumed a huge amount of food including 541lb of meat and 34 rabbits - most of which would have been stored in this busy larder.
Game larder: See our restored game larder, with hundreds of original hooks used to hang pheasants, partridges, rabbits and more - trophies from Lord Braybrooke's hunting excursions.
Mrs Crocombe's Cookbook
Avis Crocombe was the head cook at Audley End in the 1880s and we are fortunate to have her original notebook of recipes in our archives.
From roasted swan to more familiar recipes such as Victorian curry to chocolate pudding, Avis Crocombe's handwrittern cookery book describes step by step how to make a variety of dishes the Victorian way.
Our expert on historic cookery has taken these original recipes to make them avaliable to us today. Why not try and recreate a taste of Audley End in Victorian times?
Learn More
Meet the Staff
On special event weekends our working historic kitchen becomes a hive of activity, head downstairs and watch the Audley End staff create a variety of Mrs Crocombe's surviving recipes.
Ask the first kitchenmaid, Mary-Ann, about the Braybrooke's favourite recipes or watch Sylvia, the second kitchenmaid, prepare ingrediants for classic Victorian dishes. If you're lucky you might even meet Mrs Crocombe herself!
Search all events