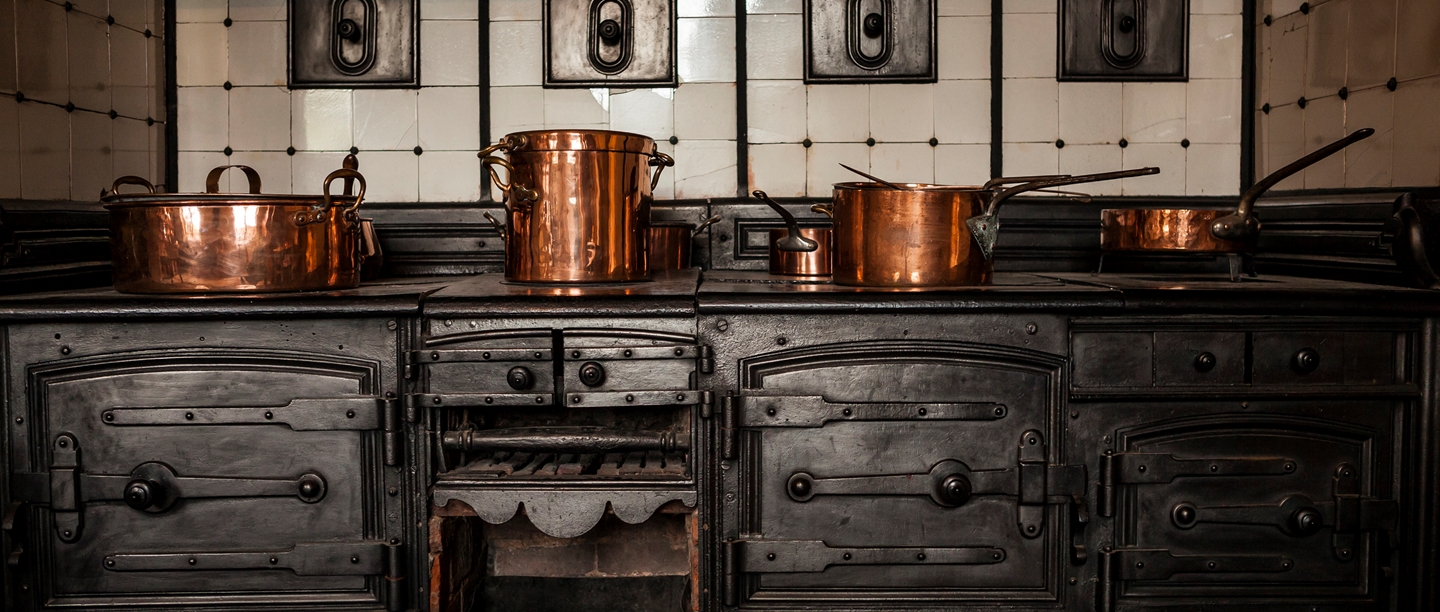 1880s Service Wing
Explore the world below stairs and get a taste of Victorian life in the Service Wing at Audley End.
With its stunning open range, high ceilings, kitchenware and copper pans, see the working Victorian kitchen as it would have been in 1882.
Service Wing in Action
Wander into our Service Wing and see the household staff busy at work during special weekends over the summer. Watch Mrs Crocombe, the cook, and her kitchen maids as they make delicious recipes with traditional methods. Keep your eyes peeled for Mr Vert tending to our glorius gardens and the other servants going about their daily chores. From the kitchens to the dairy and laundry room, explore the array of rooms that were needed for the smooth running of this impressive Mansion House.
Discover more
Avis Crocombe, The Cook at Audley End
Avis Crocombe was the head cook at Audley End in the 1880s and we are fortunate to have her original notebook of recipes in our archives.
From roasted swan to more familiar recipes such as Victorian curry to chocolate pudding, Avis Crocombe's handwrittern cookery book describes step by step how to make a variety of dishes the Victorian way.
Our expert on historic cookery has taken these original recipes to make them available for us all to make in our cookbook, 'How to Cook the Victorian Way with Mrs Crocombe'. Why not try and recreate a taste of Audley End in Victorian times?
Buy Our Cookbook
What was life like as a Servant?
Find out what life was like for the servants who lived here in our fascinating YouTube series, The Victorian Way. Discover Victorian recipes with Mrs Crocombe, learn how to make butter with Miss Fanny Cowley and enjoy a tour of the laundry room with Mrs Warwick the housekeeper.
Discover Mrs Crocombe's Recipes

A Tour of the Laundry Room