Victorian Stable Yard
Visit the our resident horses and get up close to the reality of daily life in a Victorian stable - in all its mucky, smelly glory. Follow the horses throughout the day, explore the exhibition and try some dressing up.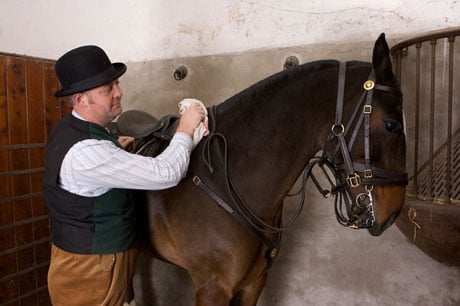 Stable Yard Timetable
Visit the Stable Yard to meet our resident horses. Find out exactly what they spend their days doing and learn a bit about the care they need.
10:30 – 10:45 - Catch sight of the horses coming in through the Kitchen Garden after a night out in the orchard.
11:20 – 11:50 - Having spent the night in the paddocks our horses need a good groom. Come and watch the transformation.
12:00 – 12:45 - The horses must be exercised on a daily basis. Which horse can you spot strolling around the grounds today?
13:00 – 13:30 - How do we work and train our horses? Come down for the daily display to watch them in action.
14:00 – 14:30 - Meet the horses in their cosy stables and see them enjoying their afternoon snooze.
14:30 – 14:45 - Dinner Time! The horses love this part of the day. What is their favourite treat?
14:45 – 15:00 - Wave goodnight to the horses as they head to bed through the Kitchen Garden.
Stable Yard Exhibition
Hear about the estate workers from the 1880s including the gardeners, gamekeeper and groom and learn about how the estate has changed over time from prehistory to the present.