Who was Princess Beatrice?
Princess Beatrice was born at Buckingham Palace (1857) the youngest of Queen Victoria's nine children.
She was destined to become her mother's lifelong companion and loyal assistant.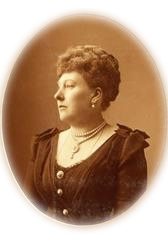 As youngest daughter of Queen Victoria, Princess Beatrice was intended to be the Queen's companion and assistant. She was only allowed to marry Prince Henry Maurice of Battenberg on condition that they made their home with her. The marriage took place at St Mildred's Church, Whippingham near Osborne, on 23 July 1885. The couple had four children.
Queen Victoria made Prince Henry Governor of the Isle of Wight, but he grew restless at Osborne House. When he slipped away on a jaunt to Corsica, the Queen sent a warship to bring him back.
Princess Beatrice was appointed Governor after her husband's death in 1896 from malaria, contracted whilst fighting in West Africa. She continued as the Queen's companion and unofficial secretary, living at Osborne Cottage on the Osborne Estate until 1912, when she moved to the Governor's house at Carisbrooke Castle.
The Princess made many changes at the castle, including restoring the gatehouse as a memorial to her late husband and re-building the chapel. By 1923, she changed the garden from a kitchen garden into her private Edwardian-style pleasure garden. Today you can visit the restored Princess Beatrice Garden.
Princess Beatrice survived her mother by 43 years and died aged 87 in 1944. She was buried beside her husband at Whippingham.
See more things to see and do at Carisbrooke Castle. Plan your visit today.