School Visits
Let your students explore one of Henry VIII's finest artillery castles and find out what life was like for the people who lived and worked here.
"Deal Castle allows young learners to capture the historical experience of defending the town of Deal and the coastline from attack. It provides a factual learning journey from King Henry's time to the present day that is both engaging and informative, and plenty of fun can be had!"
Anna Palmer - Early Years Teacher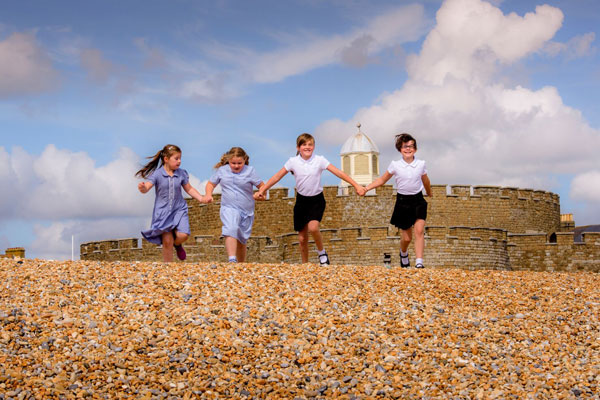 Curriculum Links
KS1 - 3: Local History study. Significant historical events, people and places in their own locality
KS2: Extend pupils' chronological knowledge beyond 1066
KS3: Development of Church, state and society in Britain 1509 - 1745
KS1 English: Use the castle as a platform for developing stories and fairy-tales
KS1 Mathematics: Focus on the main shapes of the building
Free self-led visits
Enjoy a free self-led visit and let your students walk around the defences, discover the bastions and see the cannons. Let them experience for themselves what a Tudor fort is, why and how it was built, and the reasons for it being so important to the local area.
ENQUIRE NOW
Plan your trip
Facilities

PARKING: There is a large car park located next to the castle, with disabled parking available opposite. There is no coach parking available on site, however there are spaces for coaches available 500m away from the castle entrance.
TOILETS: There is one male and one female toilet located in the keep yard. There is also an accessible toilet available - please ask a member of staff for access.
LUNCH: The shop sells a selection of snacks and ice-cream, as well as hot and cold drinks. The education space can be used for lunch in bad weather.
SHOP: Goody bags are available to pre-order. If you are interested, please speak to a member of staff during your planning visit or phone the shop on 01304 372762.
ACCESIBILITY: The gatehouse, courtyard and the ground floor of the castle are all accessible to wheelchair users. Other areas of the site are accessed via staircases and people with limited mobility may need some assistance.
How to book

0370 333 0606

Education Opening Times

April to September: 10.00 - 18.00
October: 10.00 - 17.00
November to March: Closed

Join our mailing list - Subscribe to our education newsletter and get notified of our educational news and events.