Dover's Mighty Great Tower
Soak up the pomp, pageantry and intrigue of the medieval court and interact with a host of characters including the king himself. This richly furnished former court of Henry II has been kept free from information panels to keep the rooms as authentic as possible.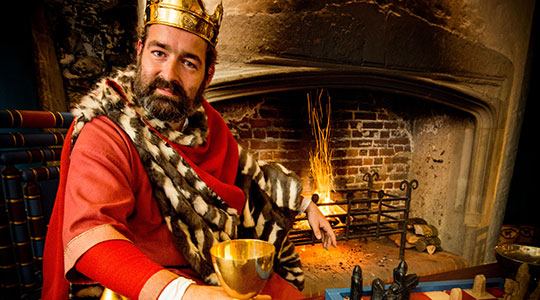 Royal Residents
The Great Tower was built by Henry II, one of England's most powerful medieval monarchs. Famous for his stormy relationship with Thomas Becket, and married to the strong-willed, Eleanor of Aquitaine. He was father of Richard the Lionheart (the keen crusader) as well as 'Bad' King John (reluctant authoriser of the earliest Magna Carta). Now you can explore this medieval world full of larger than life characters, power and intrigue, from the kitchens through to the opulent bedchamber.
The rich and vibrant colours of the interiors are surprising but are based on meticulous research and compelling evidence. This was the most ambitious endeavour to re-create a medieval palace in more than a century. Lavish interiors and authentic colours were created by an army of skilled craftsmen. The rooms include wall hangings, stunning furnishings and over 500 intricate objects, resulting in a surprising yet genuine re-creation of this regal medieval world.
The Great Tower is kept free of information panels so you can walk through and experience the rooms as authentically as possible without modern distractions. A Property Steward can be found on the first and second floors, and will always be happy to answer any questions you may have.
On selected days the tower is brought to life by our costumed interpreters, recreating the court of King Henry II.
For a written guide of the tower during your visit, make sure you buy a guidebook. This includes a cutaway reconstruction, photos, as well as a narrative on all the separate rooms.
Meet the characters
Throughout the season, the castle comes to life, as members of the royal court of King Henry II meet visitors to the Great Tower.
Check back here for Season 2020 dates, coming soon.
At all other times, a variety of special audio-visual effects will conjure some of the key characters at the heart of Henry II's world.
See more things to see and do at Dover Castle. Plan your visit today.