The Big Screen
See Dover Castle on-screen. In 2015 Dover Castle features in two major cinema releases, and over the years has played a key role in bringing many big movies to life. Come walk in the footsteps of famous film stars and directors, and see the real life fairytale castle and underground lair.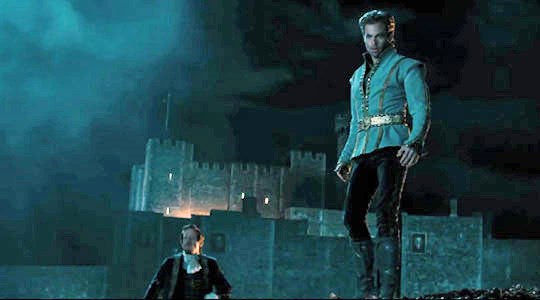 Avengers: Age of Ultron (2015)
Marvel superhero film starring Robert Downey Jnr, Scarlett Johansson and Samuel L Jackson among many other names. Both the wartime tunnels and the inside of the Great Tower are used in various scenes.
Wolf Hall (2015)
Hugely successful BBC Drama starring Damian Lewis, Mark Rylance and Claire Foy. Dover Castle stands in for the Tower of London in the execution scenes of Thomas More and Anne Boleyn.
Into the Woods (2014)
Produced by Walt Disney Pictures, Dover Castle features prominently in the trailer and in many key scenes during the film. Starring Chris Pine, Anna Kendrick, Emily Blunt, Meryl Streep and James Corden.
Poirot "The Clocks" (2009)
Part of ITV's Agatha Christie's Poirot series with David Suchet
The Other Boleyn Girl (2008)
Starring Scarlett Johansson. Dover Castle was used to represent the Tower of London for the execution scenes of George and Anne Boleyn.
To Kill A King (2003)
Dover Castle was used to represent the Tower of London in this English Civil War film.
Johnny English (2003)
Starring Rowan Atkinson, Ben Miller, Natalie Imbruglia and John Malkovich. The castle forms a backdrop for Johnny's entry into England.
Kevin & Perry Go Large (2000)
Dover Castle featured as a backdrop in the opening minutes of the film.
Wind in the Willows (1996)
Adaptation of the Kenneth Grahame's classic novel starring Steve Coogan, Eric Idle and Terry Jones. Dover Castle provided external scenes of the Gaol.
Hamlet (1990)
Starring Mel Gibson and Glenn Close, Dover Castle provided the main location for Elsinore Castle, the home of Hamlet and his family.
Lady Jane (1986)
Starring Helena Bonham Carter, Dover Castle was used to represent the Tower of London in this costume drama about the chaos following the death of King Henry VIII.
Doctor Who - Mind of Evil (1970)Starring Jon Pertwee, the castle was used for many scenes and featured as a prison. Walking around the castle, Doctor Who fans should be able to spot many very recognisable locations from Mind of Evil.
See more things to see and do at Dover Castle. Plan your visit today.
Filming

Dover Castle makes a fantastic location for all sorts of productions with its amazingly well-preserved buildings, network of tunnels and stunning coastal location. To discuss possible filming at Dover Castle contact the filming team.

07979 247 943