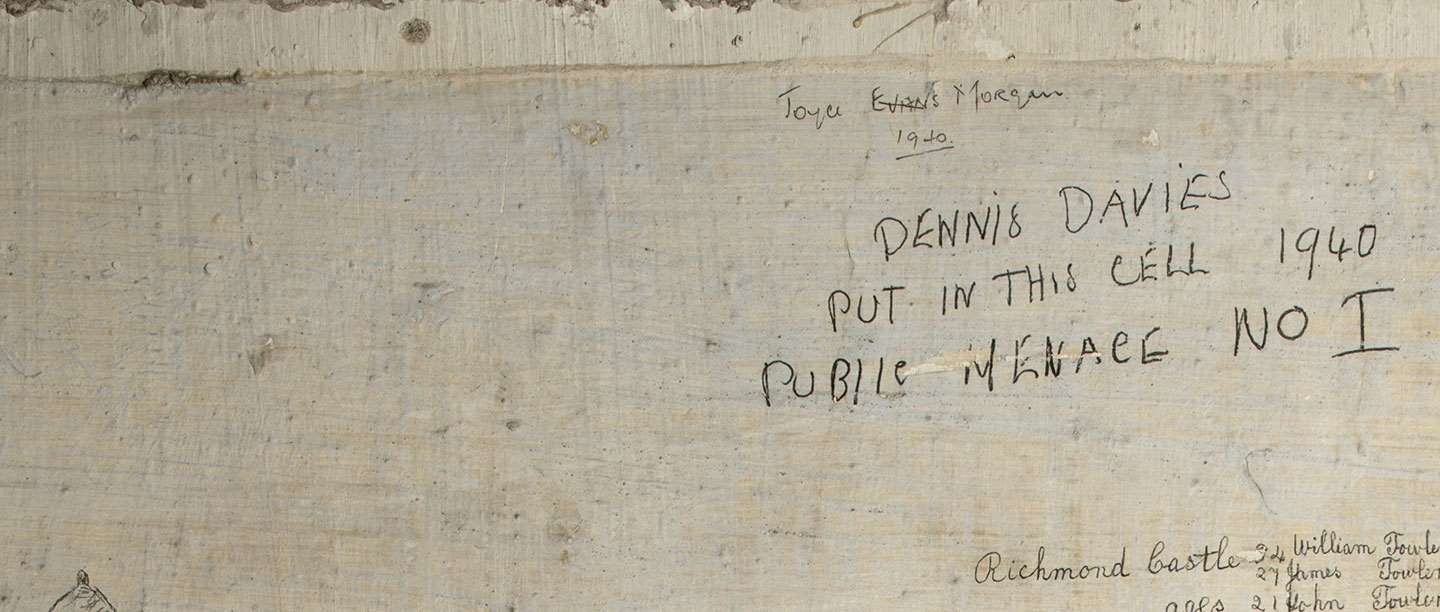 Richmond Castle Cell Block: Research Appeals
Did you write on the walls of the Richmond Castle cell block? Was a relative or friend held in the cells? Or did they leave their mark when visiting? Do you recognise a familiar building depicted in the graffiti? Our research project needs your help.
Although much of the Richmond Castle graffiti dates from the First World War, hundreds of inscriptions have been drawn across the 20th century and right up until the late 1970s. For some, writing on the walls of the cell block will be in living memory.
Graffiti was also drawn by a whole range of people who were in the cell block for many different reasons. There is graffiti by serving soldiers in the Second World War and by those who may have simply been visiting the castle and cells. For many of the inscriptions, however, we do not know why the individuals were at Richmond Castle.
We currently have several specific research appeals that we need your help to solve. Or if you have any memories of the cell block or castle in the 20th century that you would like to share - no matter how insignificant you think they might be - please get in touch by emailing our research team: cell.block@english-heritage.org.uk.
Current Appeals
Is it possible one of our graffiti shows a German submarine, U-33 which was sent on an almost suicidal mission by Hitler to lay mines in the Clyde and subsequently sunk? Could the officers from U-33 have been held in the Richmond Castle cells on their return from interrogation in London?
Do you know anything about the U-33 and any connections to Richmond? What's your take?
We have been trying to find out more about the women who have left their mark in the cell block. We'd particularly like to know more about an Ena Stewart, and an Elizabeth Brammer and Marjorie Tomkin - who were related, likely cousins.
Ena came from Barton and was in the Colonial Nursing Service in Burma during WW2. Elizabeth and Marjorie were both residents of East Retford. Can you help us find their descendants?
There are three small pencil inscriptions with references to G (George) Suggett of Middlesbrough including 'George Suggett and his Glamour Girls'. We're looking for any family contact, information or photographs of George or the Suggett family from Severs Street and Booth Street.
And if you are from the area, do the names 'West, Twiner, Brighty' mean anything to you?
'AMC Murray' drew this picture of someone in what appears to be a nightcap on 30 Nov 1967? Can you tell us more about who Murray was and why he was in the cells?
We love this piece of graffiti by Dennis Davies who describes himself as 'Public Menace No I'. Do you know who he was or why he was in the cells in 1940?
There has been a lot of debate among staff and volunteers about this scene. Its location is a mystery. Do you recognise it? Is this local to Richmond or somewhere further afield?
If you think you know, send us the name or even better a picture of the scene as it looks today.