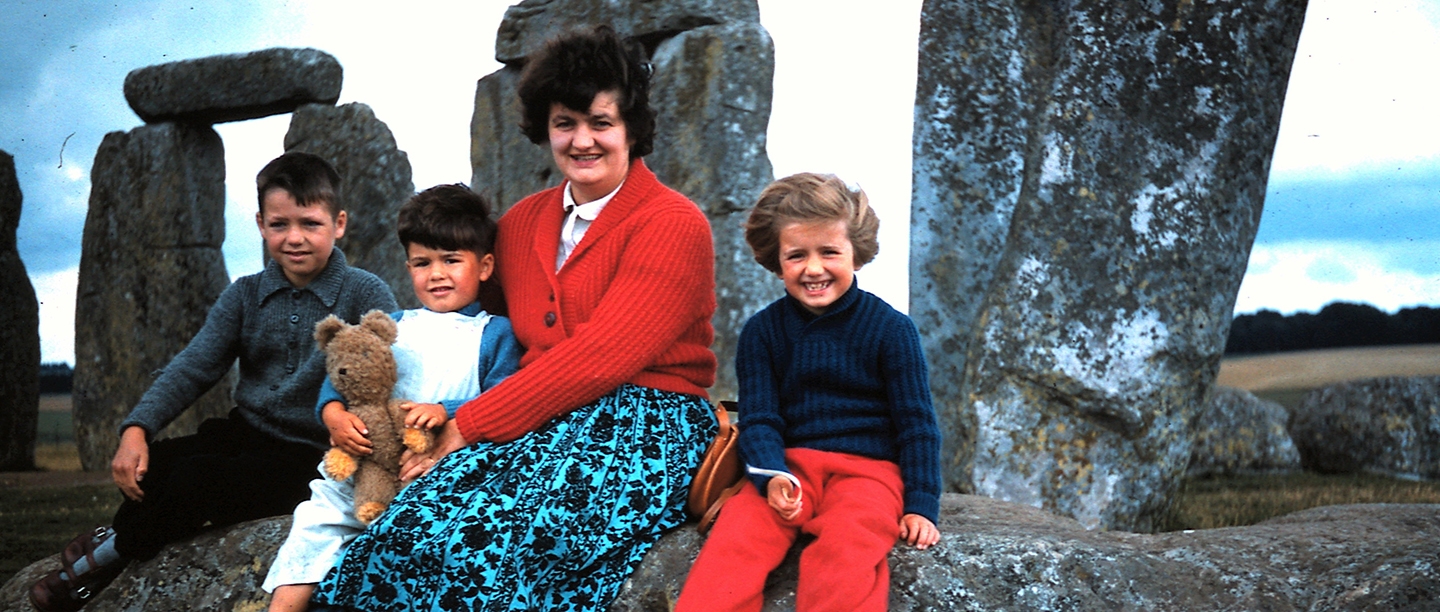 Your Stonehenge 150 years of personal photos
Since its earliest invention, photography has been associated with tourism and travelling. Seeing a photograph of a famous and iconic site like Stonehenge creates a desire to travel and see that place, and put yourself into the picture.
The photographs in our latest exhibition, all taken by visitors to Stonehenge, capture how our lives have altered over the last 150 years.
Open daily at the Stonehenge Visitor Centre. The exhibition ends on 4 September 2022.
Smile! Click! Flash!
This special exhibition, created entirely from photos sent in by visitors, offers a fascinating glimpse of the recent social history of Stonehenge. These snapshots from family albums chart the changing of fashions, poses, photography and the way that the monument itself has changed.
From glass plates to film cartridges, monochrome to colour, snapshots and selfie sticks, the technology of photography has also radically changed. Through photographs, Stonehenge has been woven into a web of countless stories and memories.
Do you remember your first visit to Stonehenge? Did you come as a child with your family, or was it a school trip? Did you make or receive a proposal of marriage here or was this a stop on your honeymoon? For millions of people around the world, Stonehenge holds special memories. Your Stonehenge tells the story of just a few of them.
Where it all started
In 1918, local barrister Cecil Chubb and his wife Mary gave Stonehenge to the nation. This public-spirited decision marked a turning point in the history of Stonehenge and its fortunes.
Throughout 2018 we remembered and celebrated that gift, discovering what this iconic monument means to people today. We asked you to send us photos and stories that captured your time at Stonehenge. The response to the appeal was incredible, with uploads of more than 1400 images dating as far back as the 1870s.
There were so many amazing submissions we decided to create an exhibition. We wrote to everyone who had sent in their photographs and from the replies received we selected 144 we felt best represented Stonehenge's recent history.
Come and see for yourself the bonnets and boaters, carriages and bicycles, portraits and selfies on display in this fascinating exhibition, open now.
More about the centenary
Your Stonehenge Stories
Throughout this exhibition, we've uncovered some fascinating stories and met people with remarkable connections to Stonehenge. These are some of the stories that have come to light.
Growing up at Stonehenge in the 1930s

90-year-old Jean Grey recently contacted English Heritage to tell us about her memories of growing up at Stonehenge. Her father John Moffat was employed as custodian of the monument between 1934 and 1938, when Jean was a young girl.

You can listen to Jean recalling her 1930s childhood via the English Heritage podcast.

A lonely discoverer, remembered

Between 1919 and 1926, one man worked tirelessly to uncover the archaeological secrets of Stonehenge. Lieutenant-Colonel William Hawley worked long seasons at Stonehenge, usually alone and without the help of any labourers. He uncovered the circuit of Aubrey Holes, the Y and Z holes, and the ditch around the Heel Stone.

The family of William Hawley has kept his diaries and work tools to remember his important contribution. These are some of the tools he handmade himself.

The first Stonehenge catering caravan

The first café at Stonehenge was established in 1927, but was demolished in 1938. After a long period without refreshments, a mobile tea-bar run by Elsie Cook was permitted in the car park in 1950. Douglas Cook remembers his mother, "She worked at her caravan selling drinks, sweets and food. There were enough visitors to Stonehenge at that time that she could make a decent living but it was hard work and she was there in all weathers."

Serving up the famous rock cakes

From 1968 to 2013 a permanent but small snack bar served an ever increasing number of visitors. Molly McAlister ran this cafe for 35 years, serving freshly prepared meals on china plates and cups which had to be washed and stored. It was Molly who introduced our now famous rock cakes.

Molly's granddaughter Lucy says, "I remember my Nan telling me when Prince Charles visited Stonehenge he ordered a sausage roll. She says he spent ages talking to all the staff and was really friendly."

Born at Stonehenge: Ethel Thomas

Between 1916 and 1919, Ernest William Thomas, a police constable responsible for supervising visitors to Stonehenge, was living at Fargo Cottages, just 550m west of the monument. On 4 October 1916, his wife Elizabeth Victoria gave birth to their daughter Ethel Irene. Ethel's daughter Mary remembers her mother telling them that she was born at Stonehenge, "We never questioned it, although it did seem a bit odd".

Pictured above is a copy of Ethel Thomas's passport, listing Stonehenge as her place of birth. Fargo Cottages (initially known as Virgo Cottages), were built in around 1850 and were demolished in 1918 when the Stonehenge aerodrome was expanded.

Born at Stonehenge: David Roger Sharp

To our knowledge, the most recent person to be born at Stonehenge is David Rodger Sharp whose mother went into labour while at the last Stonehenge Free Festival. David was delivered on 25 June 1984 during the music event which lasted for up to three weeks and attracted crowds of about 30,000 people. David was named after the local paramedic, David Nobbs, who helped to deliver him safely to the world
Memories of Stonehenge
One of the pictures in the exhibition was submitted by Richard Woodman-Bailey who had a unique role to play in the restoration of Stonehenge in the 1950s. At 8 years old, Richard placed a 1958 coin under one of the great sarsens during the seminal restorations led at the time by his father, the Chief Architect T. A. Bailey. Prompted by pictures of the restoration work, Richard recalls the events of 60 years ago through his unique perspective.
Don't Miss Your Stonehenge
Entrance to Your Stonehenge 150 years of personal photos is included with a standard Stonehenge admission ticket. Your ticket also includes entry to our permanent collection where over 250 archaeological objects and treasures discovered in the landscape, are displayed, ranging from jewellery, pottery and tools to ancient human remains.
All of the photographs displayed in this exhibition have been provided by members of the public, who kindly uploaded them to our Stonehenge 100 website. Thank you to everyone for sharing their wonderful photographs, moving stories and powerful memories of Stonehenge.
We would also like to thank Martin Parr for providing a commentary on his favourite photographs from the collection and submitting his own contribution, which is on display in the exhibition.
Thinking of coming on a school visit? There is a learning resource available here to accompany this exhibition.
Extend your visit and discover more about the story of Stonehenge at one of our partner museums. Salisbury Museum's collections span the history and archaeology of south Wiltshire from prehistoric times to the present day.
Wiltshire Museum in Devizes offers award-winning displays of gold from the time of Stonehenge that belonged to people who worshipped inside the stone circle.
Book Now