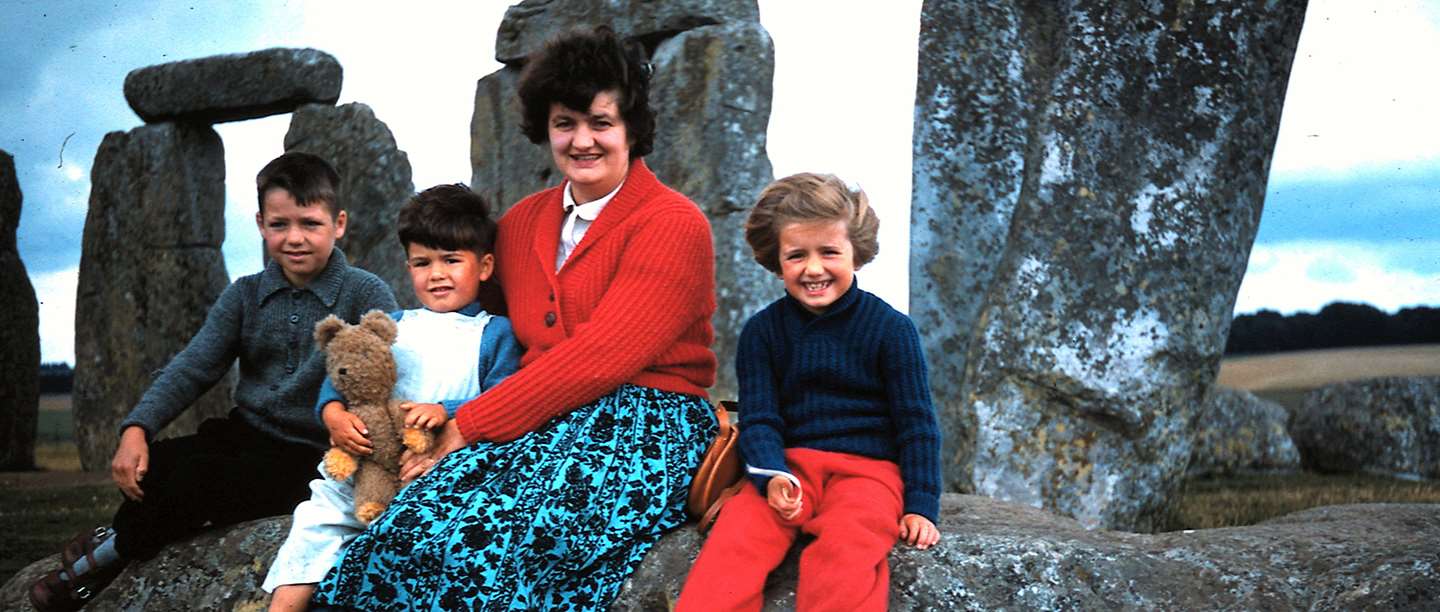 Your Stonehenge 150 years of personal photos
Since its earliest invention, photography has been associated with tourism and travelling. Seeing a photograph of a famous and iconic site like Stonehenge creates a desire to travel and see that place, and put yourself into the picture.
The photographs in our latest exhibition, all taken by visitors to Stonehenge, capture how our lives have altered over the last 150 years.
Open daily at the Stonehenge Visitor Centre.
Smile! Click! Flash!
This special exhibition, created entirely from photos sent in by visitors, offers a fascinating glimpse of the recent social history of Stonehenge. These snapshots from family albums chart the changing of fashions, poses, photography and the way that the monument itself has changed.
From glass plates to film cartridges, monochrome to colour, snapshots and selfie sticks, the technology of photography has also radically changed. Through photographs, Stonehenge has been woven into a web of countless stories and memories.
Do you remember your first visit to Stonehenge? Did you come as a child with your family, or was it a school trip? Did you make or receive a proposal of marriage here or was this a stop on your honeymoon? For millions of people around the world, Stonehenge holds special memories. Your Stonehenge tells the story of just a few of them.
Martin Parr audio tour
Martin Parr is a documentary photographer and photobook creator, known for his portrayals of everyday modern life. Like most of the photographs in Your Stonehenge, his work captures intimate moments and quirky contrasts.
Here Martin describes ten photographs that he has selected for inclusion in the exhibition. You can download and listen to the tour at the exhibition, or see the photographs that he is describing below. Listen for the beep which marks the progression of his narrative through the photos.
A written transcript is available by clicking on the image and selecting the red information icon.
Do you know this couple?
The most recent photo in the exhibition is taken Martin Parr at the 2019 Autumn Equinox, and features an unknown couple taking a selfie against the backdrop of the stones. English Heritage hopes to track down the people photographed and provide them with a signed copy of Martin's image, taken on what will no doubt have been a day at Stonehenge they will always remember.
tell us who they are
In 1918, local barrister Cecil Chubb and his wife Mary gave Stonehenge to the nation. This public-spirited decision marked a turning point in the history of Stonehenge and its fortunes.
Throughout 2018 we remembered and celebrated that gift, discovering what this iconic monument means to people today. We asked you to send us photos and stories that captured your time at Stonehenge. The response to the appeal was incredible, with uploads of more than 1400 images dating as far back as the 1870s.
There were so many amazing submissions we decided to create an exhibition. We wrote to everyone who had sent in their photographs and from the replies received we selected 144 we felt best represented Stonehenge's recent history.
Come and see for yourself the bonnets and boaters, carriages and bicycles, portraits and selfies on display in this fascinating exhibition, open now.
More about the centenary
Don't Miss Your Stonehenge
Entrance to Your Stonehenge 150 years of personal photos is included with a standard Stonehenge admission ticket. Your ticket also includes entry to our permanent collection where over 250 archaeological objects and treasures discovered in the landscape, are displayed, ranging from jewellery, pottery and tools to ancient human remains.
All of the photographs displayed in this exhibition have been provided by members of the public, who kindly uploaded them to our Stonehenge 100 website. Thank you to everyone for sharing their wonderful photographs, moving stories and powerful memories of Stonehenge.
We would also like to thank Martin Parr for providing a commentary on his favourite photographs from the collection and submitting his own contribution, which is on display in the exhibition.
Thinking of coming on a school visit? There is a learning resource available here to accompany this exhibition.
Book Now
Make a day of it
Extend your visit and discover more about the story of Stonehenge at one of our partner museums. Salisbury Museum's collections span the history and archaeology of south Wiltshire from prehistoric times to the present day.
Wiltshire Museum in Devizes offers award-winning displays of gold from the time of Stonehenge that belonged to people who worshipped inside the stone circle.