DATE
Sat 25 - Sun 26 April
TIME
10am - 5.30pm
LOCATION
Wrest Park
SUITABLE FOR
Everyone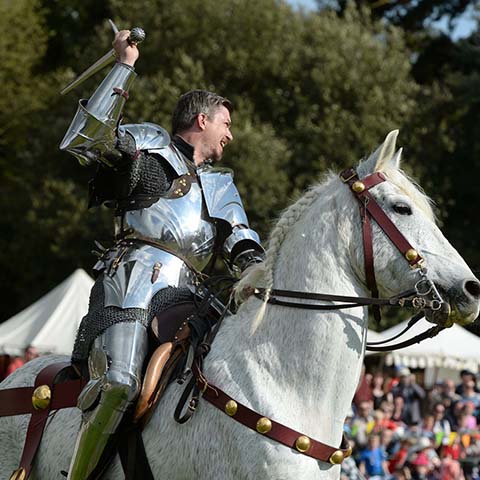 Celebrate our green and pleasant land and immerse yourself in the story of England at the biggest, most action-packed St George's Day celebration in the country.
Join us for a weekend of shows, battles, games, performances and activities culminating in England's most legendary battle. Cheer on gallant St George as he mounts his mighty steed and takes on his fiery green nemesis in the ultimate, dramatic show down. Gasp as lances shatter in legendary medieval jousts and meet our dashing knights as you marvel at the splendour of their armour. Soak up the atmosphere in our all-action clash of the knights' contest and keep your eyes peeled for our cheeky jester as he flaps, falls and fumbles. There's plenty to keep the kids entertained in our family zone with junior jousting and the chance to become a heroic knight in our Children's Melee!
We've also got have a go circus skills, games, a WW2 obstacle course, and interactive medieval music workshops. Throughout the day, wander through our living history encampments and discover what life was like in England throughout the ages. Get up close with our civil war living history and watch a musket display demonstrating a mixture of skill and agility.
Join an interactive family performance with Time Will Tell and witness graceful hawks and glorious falcons in flight with our expert falconers. Top up your energy at our catering outlets to keep enjoying the festivities all day long and visit our fine historic traders.
So join us as we demonstrate everything quintessentially English and celebrate England's legendary patron saint. Please note that access to the café and children's play area will be ticket only during the weekend.
Book online before Friday 24th April 2020 for a 10% discount on your tickets. Please read our FAQ page for more information.
Prices
| Type | Price |
| --- | --- |
| Member (Adult) | £7.50 |
| Member (Child) | £4.50 |
| Member (Concession) | £6.80 |
| Member (Family) | £19.50 |
| Adult | £20.10 |
| Child, 5-17 years | £12.10 |
| Concession | £18.10 |
| Family | £52.30 |
Price Notes
Ticket price includes entry to the event and site.
Book online before Friday 24th April 2020 for a 10% discount on your tickets.
How to book
Purchase your tickets today using our online system below or by calling our dedicated Ticket Sales Team on 0370 333 1181 (Mon – Fri 8.30am – 5.30 Sat 9am – 5pm).  Tickets will also be available to purchase at the event site on the day.
(Mon - Fri 9:30am - 5:30 Sat 9am - 5pm)
How to find us
Property:
Wrest Park
Address:
Silsoe, MK45 4HR
Location:
Bedfordshire, East of England
Added to basket
There was an error with your request
Your items were not added to your basket.
×