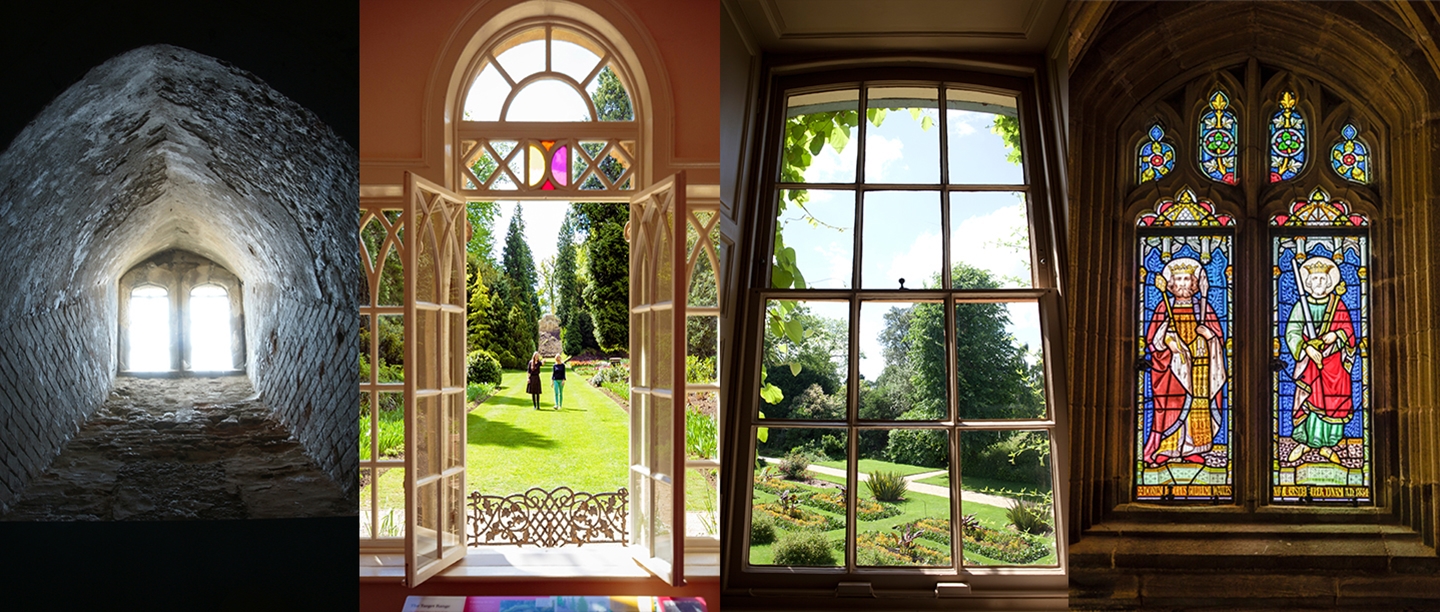 Help our unique windows survive to see the future
Across our 400 sites, you'll find a vast array of historic windows, from fine Venetian windows and stained-glass to grand Victorian sashes and simple leaded windows. All provide a unique insight into the lives of those who came before us and we need your help to protect them.
An insight into the past
Windows can reveal the architectural designs of bygone eras. The fine skills of talented craftspeople. And the status of property owners.

Historic windows in our care have witnessed some of our most renowned history, from the attempted escape of Charles I at Carisbrooke Castle, to the final days of Queen Victoria at Osborne.

Take Wrest Park, originally, the windows were gilded on the outside – such ostentation was a marvellous display of the De Grey family's wealth. Right now, protecting these windows from a catalogue of threats is a challenge in itself...
Thousands of historic windows in need of care
With around 13,000 historic windows in our care, maintaining them is an immense task. From the heat and the rain, to the lack of heritage carpentry skills and quality of modern wood, these historic artefacts are beginning to deteriorate and decay. While Membership plays a vital role in funding this essential work, it simply cannot stretch far enough and we need to turn to you for support today.

Some of our windows are in urgent need of redecoration or repair and protection from the elements, while others need regular, routine maintenance to stop them falling into disrepair.
A specialist job
In years gone by, larger properties would have had teams of craftsmen fully employed, with their own tool yards and workshops on site. Their specialist skills had been passed down through the generations.
To preserve the past, we must use craftspeople who can match their traditional skills. Joiners who can repair a 17th Century pegged joint in an oak-framed window. Ironmongers who can restore original sash pulleys, hinges and catches. And glaziers who can expertly remove age-old putty and reinstate fragile historic glass.
Help protect these irreplaceable windows
Over one million pounds' worth of repairs will be needed in the next five years and that is why we are appealing to you to support the conservation of these irreplaceable emblems of ancient skill and craftsmanship.

We can't just replace them with a modern alternative, so if they are to survive for future generations to enjoy, we need your support today to repair their wooden frames, stabilise their glass and lead fittings and protect them from harsh weather and potential rot before time runs out.
Examples of windows in need of urgent care
BRODSWORTH HALL

A gift of £40 could go towards repainting window frames at Brodsworth Hall, which are vulnerable to weathering. This will also help prevent rot, which damages casings and sills.

BOSCOBEL HOUSE

A gift of £65 could replace a small quarry in a leaded light window, such as those in the 17th-century buildings at Boscobel House. This is urgently needed to stop damaging leakage.

Ranger's House

A gift of £80 could restring a sliding sash window, such as those at Ranger's House. We have a huge challenge to carry out this work before the fabric of the building is threatened.