Equality, Diversity and Inclusion
Why it's important to us
We are committed to improving equality, diversity and inclusion (EDI) in everything we do – from supporting our employees & volunteers to welcoming visitors and how we tell the story of England at our sites. We want to have employees and volunteers from a diverse range of backgrounds who have an inclusive environment to work. This is important to us because by broadening the pool of talent and experience from which we draw our people, we ensure all members of society feel connected in some way to the heritage we protect on their behalf, and that we tell diverse stories from our past to illuminate how the country has evolved to be the place we inhabit today.
We have a culture within our organisation where every individual is valued for who they are, with respect given to their different perspectives on what stories we should be telling and what experience we need to offer for visitors from diverse backgrounds and with diverse needs. Our organisation is all the richer for it.
From remote sites to inner city monuments, from regional teams to our principal offices in York, London, Swindon and Bristol, the diversity of our teams is critical in making sure our shared heritage is inclusive, exciting and accessible.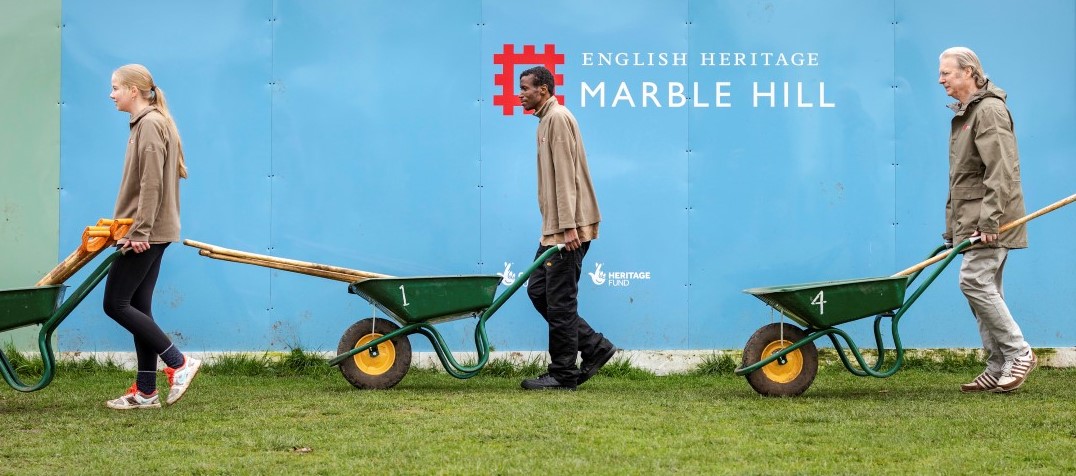 Telling Everyone's Story - Our EDI Strategy
Our aim is to tell the 'story of England' for everyone to enjoy, understand and value. We haven't always reflected this in our people, audiences and storytelling and we want to do more to involve everyone in the history of our sites and beyond.
In this strategy we have set out four areas we wish to focus on - people, audience, interpretation and networks. When you read the strategy you will see what we want to achieve to make sure that our workforce better reflects broader society, our sites are welcoming and accessible to all, and the stories we tell reflect the diverse history of England. By making progress in all of these areas we will help to ensure that English Heritage stays relevant and appeals to the widest possible audience.
Read our full EDI Strategy here
Telling Everyone's Story - English Heritage EDI Strategy.pdf
Working for English Heritage
No matter what you do or where you do it, by joining us you'll be playing a vital role in inspiring people to love and care for some of the greatest places in England so that they can be enjoyed today and for generations to come. You'll find it's a workplace like no other – taking you behind the scenes of these extraordinary sites and supporting you to share your ideas, inspire others and make a difference.

We work together to create an inclusive environment where everyone is feels valued and is treated with equal dignity and respect regardless of your background and characteristics. We believe by being inclusive this drives better individual, business and organisational outcomes.
We understand our employees have a life beyond work. To support this, we have family friendly policies and promote flexible/hybrid working to ensure that you can balance your work and home life.

To ensure our people feel connected at work and that we are supporting the creation of inclusive environments we have – there are a wide variety of EDI networks that both employees and volunteers can join. These include Ethnic Diversity, LGBTQ+, Gender Specific Issues, Faith & Belief and Neurodivergence.

To help us understand how we can be an inclusive organisation:
1. We are committed to the Disability Confident Scheme and are proud to support its aims.
2. We are members of the Stonewall Champions Programme which enables us to continue to have a workplace where all LGBT+ employees are welcomed without exception.
3. We are members of the Business Disability Forum which enables us to work towards removing more barriers to inclusion
Our Recruitment Processes
Throughout the recruitment process we will ensure:
No applicant receives less favourable treatment by reason of age, disability, gender re-assignment, race, religion or belief, sex, sexual orientation, marriage and civil partnership, or pregnancy and maternity.
No applicant is disadvantaged by conditions or requirements, which cannot be justified by the requirements of the job.
That our zero tolerance policy on all forms of modern slavery and coerced labour of human trafficking is applied. Please read our Modern Slavery Transparency Statement for more information.
If someone qualifies for the Disability Confident scheme, we will interview all applicants with a disability who meet the minimum criteria for a job vacancy and consider them on their abilities. Where we have a high volume of Disability Scheme applicants, we will offer an interview to those that best meet the minimum criteria for the job, rather than all of those that meet the minimum criteria, as we would do for able applicants. Where we can, we make work adjustments to accommodate employees' needs.
Our EDI Team
Following the launch of our EDI strategy in 2021, our Head of EDI joined in late 2021, our EDI manager in late 2022 and an EDI communications volunteer in 2023. So far as a team, we have seen great progress on EDI with:
the creation of a number of new EDI networks which are open to staff and volunteers. These networks include Ethnic Diversity, Faith & Belief, Neurodivergence, Gender Specific Issues and Social Mobility, and they all have a senior manager championing them;
the roll out of training for staff and volunteers to choose from including on the topics of menopause, neurodivergence, inclusive language and inclusive leadership;
supporting the charity to start embedding EDI throughout our processes, policies and ways of working;
feedback from our people that they are feeling more included in the workplace and that managers are feeling more empowered to do this;
creating a team atmosphere that supports our different working styles and ensures we all have the development we need, which we role model to the wider charity.