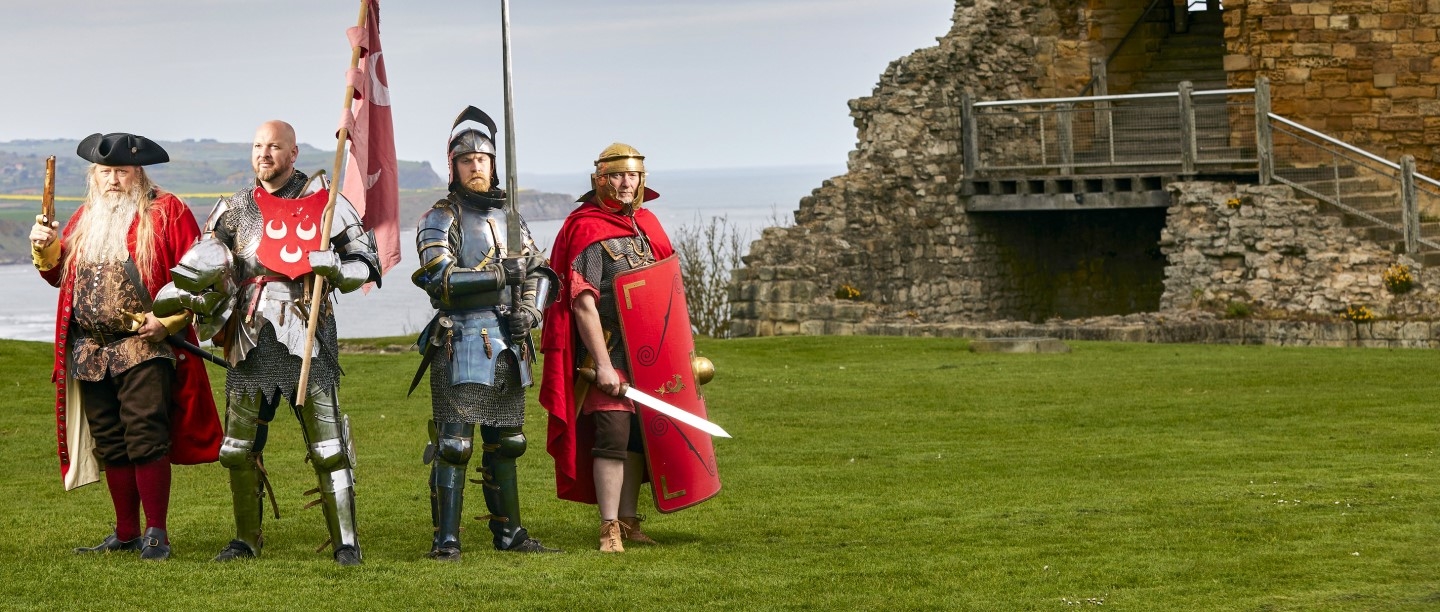 What's On
Get stuck into England's history this summer by exploring our range of spectacular events taking place across the country, from action-packed jousts and battle re-enactments to behind-the-scenes tours and unforgettable experiences.
As a Member, you'll be able to enjoy free or discounted entry to all of our events, so sign up today to enjoy the benefits. Enjoy our special summer offer and save 25% off annual Direct Debit memberships this August.
The best days out in history
Switch up your summer and enjoy the best days out in history! Hear thundering hooves at the Legendary Jousts, the clashing of swords at the Knights' Tournaments, battle cries of the Roman conquerors and cannon fire from the Pirates. Action-packed and great value days out for the whole family.
Find events near you
New for 2022: Pirates!
Ahoy, me hearties! Set sail this summer and get ready for a spectacular adventure on the high seas. See some of history's most famous pirates fight it out at close quarters and listen to them tell their tales of booty, bounty and barnacles.
With shows, demonstrations and hands-on activities, there'll be plenty of piratical fun for the whole family - whether you're a scallywag, a salty sea dog or a lily-livered landlubber. Book now to see Pirates! at Scarborough Castle.
Legendary summer events 2022
Experience legendary drama at one of our blockbuster historical events taking place across the country this summer.
Witness the pomp and pageantry as brave knights and jousters battle it out in real tournaments, displaying feats of strength and skill to rival today's top athletes.
Find events near you
Clash of the Romans
Watch the Roman Empire's finest soldiers compete in an intense show of courage and clout. Discover Roman life with demonstrations of combat skills, battle tactics and artillery power at some of the country's most important Roman sites.
Book online and save
Medieval season
Join us to learn what life was like in medieval times. From jester workshops, have-a-go archery, storytelling and squire training to lessons in courtly etiquette, there will be a different activity each week for children to take part in. Activities will change week to week so please check our Facebook page for more details.
Book online and save
Summer Explorer Quests
Set off on a fun family adventure at one of many historic places across the country. We need your help to uncover the history of these sites. Explore our sites, complete the challenges, find the missing shields and learn all about England's fascinating past! All quests run from 23 July - 4 September, 10am till 5pm (except Kenilworth and Stonehenge which run from 10am till 6pm) and are free for Members.
FAMILY DAYS OUT
Planning your next family day out? Our special historic places are full of options for mums, dads and children alike. Get inspired together at breathtaking castles, abbeys and stately homes, or stretch little legs and fire up imaginations with our family events and half-term activities.
Book online and save
THE BEST OFFER IN HISTORY
Enjoy unlimited access, free or reduced entry to events, as well as our exclusive quarterly members magazine and your own handbook worth £10.95.
Don't miss out on our special summer offer to save 25% off annual Direct Debit memberships this August only.
Join Now
Plan ahead for autumn
Save dates in your diary for fun-filled family days out this autumn
The Battle of Hastings

The one and only Battle of Hastings re-enactment returns for 2022.

Halloween

Grab your broomsticks for a ghoulishly great day out at our Halloween events taking place across the country. Full details of this year's spooky events to come.

Enchanted

Explore grounds and gardens to discover a magical world of illumination, sound and colour, and see historic buildings bathed in light. Full event details to come.