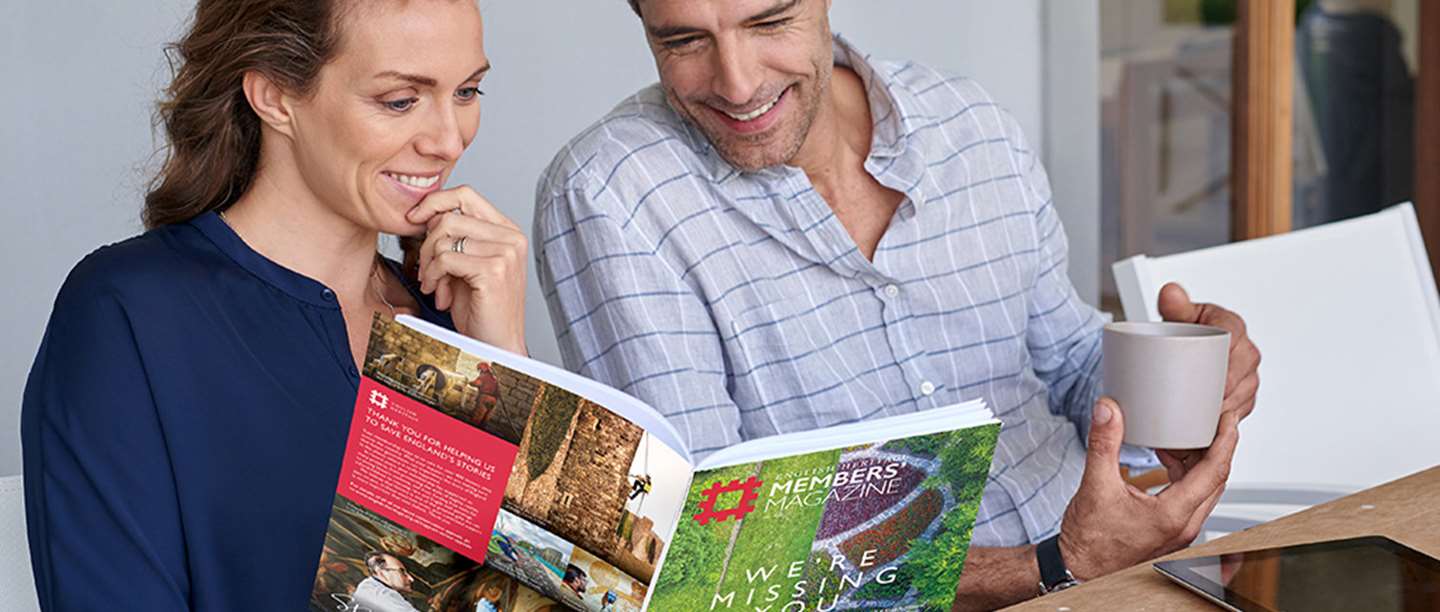 Exclusive Members' Area
Our sites are closed for now but you can still explore them, and the stories they tell, here in your Members' Area. On these pages, we're curating the best articles, videos and podcasts just for you.
Plus, we have lots of history fun and home learning help for all ages, including a History for Kids section, create an English history timeline, and lots more activities to make and do.
Your membership is more important than ever, and we're grateful for your support.
We urgently need your help
Thank you for continuing to be a Member – your support is critical to our survival. Sadly, it will come as no surprise to you that we are facing an unprecedented challenge right now. There's no escaping the fact that our ability to protect and preserve our nation's heritage is under threat due to the catastrophic loss of income from our sites, cafes and shops during the lockdown period. That's why, as well as keeping up your all-important membership, we're asking you to please send an extra gift today.
Donate today
Tips from our historic gardeners

Taking inspiration from the past and present, here are our expert gardeners' top tips for protecting your plants and produce at home.

Close ups

We care for thousands of artefacts and paintings – such as these First World War uniforms. Get up close to find out what makes these items so important.

What does 'Neolithic' mean? When did humans start building huge stone monuments like Stonehenge? Find out in our brand new animated video series.

Eye Make Up Through Time

From the Romans to the Elizabethans to the Second World War, find out what eye make up can teach us about our social history.
DUNKIRK 1940: THE MAKING OF THE MIRACLE
This year we're marking 80 years since the incredible rescue of British and Allied troops from Dunkirk, coordinated from Royal Navy headquarters deep under Dover Castle in May 1940. Experience the drama through our exciting digital storytelling.
Discover the Dunkirk story
Podcasts
Step into England's story with our weekly podcast. Join presenter
Charles Rowe as we bring the history of our sites to life with news, views and expert interviews.
This week, find out about Operation Dynamo and 'the miracle of Dunkirk'.
Listen now
Get Quizzing
From Stonehenge to Queen Victoria, test your history know-how with our Members' quiz. Whether just challenging yourself or hosting a virtual quiz with family and friends, we've got your history rounds covered. We've even got quizzes just for kids!
Our latest quiz is a second chance to test your knowledge on the Romans and their tme in Britain.
Take a quiz
History for Kids
Are you ready to go back - way back - in time to learn all about England's history? Read our magazines and discover our online pages where you can explore each of the key periods, from the Stone Age right through to the Second World War. Find out what life was like at the time through fun facts, illustrated stories, games and more.
Read the latest Kids Rule
History Discovered
Discover a new way to explore our sites through virtual tours and behind the scenes experiences. Hear from our experts on how to introduce heritage techniques to your home and garden, and find out the hidden stories of our sites.
Take a virtual tour
Hear the story of King John and the bishop who attempted to hoodwink the short-tempered king.

Past Lives

From a captive queen to the father of the NHS, discover the stories of the people who shaped our country's past.

Gardening expert: Plot to plate

Get top tips from our expert gardeners on how to create a Walmer-inspired kitchen garden.

History expert: 2,000 YEARS OF BOARD GAMES

Read about the games associated with English Heritage sites and try some for yourself.
English Heritage Properties on film
Many of our historic sites have doubled as fictional locations or even starred as themselves on screen. From Queen Victoria at Osborne to Robin Hood on Hadrian's Wall, find out some of the films and television programmes which have featured our properties.
See our sites on screen
Postcards from ...
Thanks to your membership and support, we are able to look after and protect over 400 historic sites across England. This series brings you stunning footage of these special places from the skies. From the prehistoric stone circle at Stonehenge to the dramatic Cornish coastal clifftop setting of Tintagel Castle; from the sumputous holiday home of Queen Victoria at Osborne on the Isle of Wight, to the northern frontier of the Roman Empire at Hadrian's Wall, you can travel the breadth of England without leaving home.
Framlingham Castle, Suffolk

Goodrich Castle, Herefordshire
Members' magazine
Read the latest Members' magazine and delve into the archive with some of our previous editions. In the latest issue, you can discover the hidden stories of household staff from the past, find out about the conservation project at Saxtead Green Post Mill in Suffolk, and learn about how pre-Christian beliefs helped to shape England.
Read your May 2020 magazine
MANAGE YOUR MEMBERSHIP
Register your membership or log in now to renew your membership, update your personal details and find out anything else about your membership. You can also explore the wider benefits of membership, including discounted offers from our Associated Attractions and our range of exclusive Members' Events (currently not available during the lockdown period).
Members' Rewards
Enjoy savings on household appliances, exclusive deals on flowers for your home and garden, and even discover a new hobby with discounted knitting offers or a magazine. The savings you make could cover the cost of your annual membership.
Discover your rewards