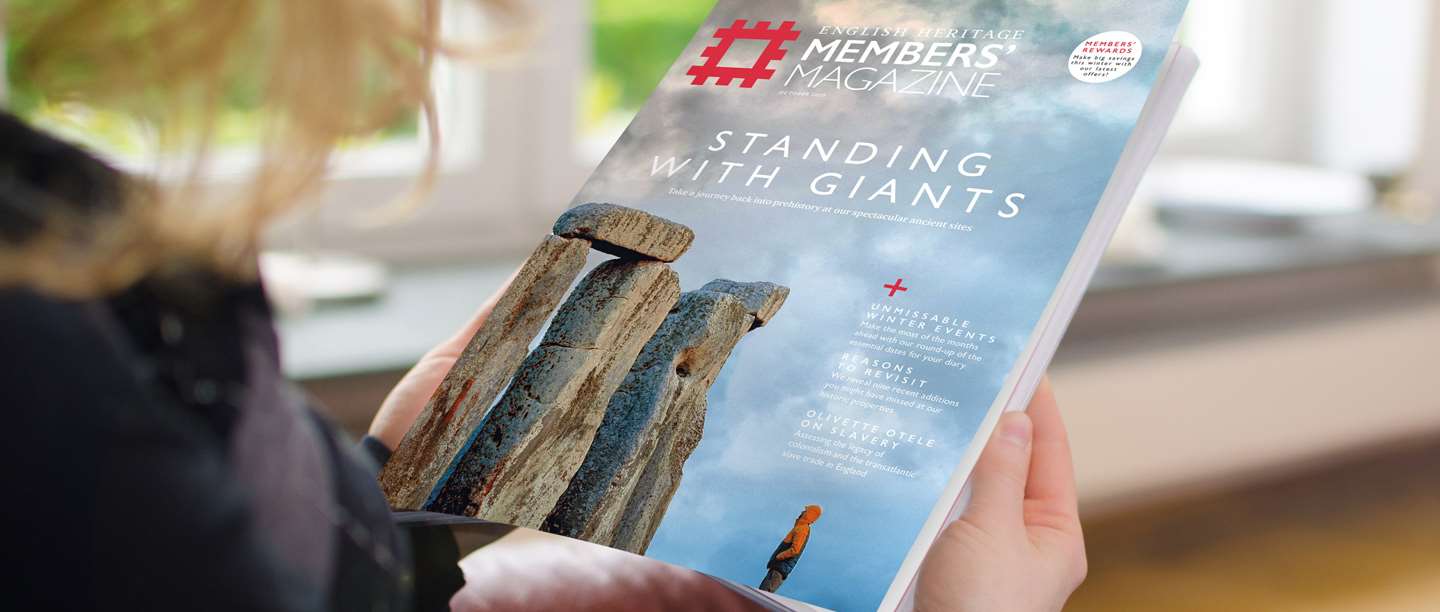 Exclusive for Members
Welcome to your exclusive content page, where you can delve deeper into the story of England. Watch videos, browse backdated issues of your Members' Magazine or read online articles about our historic properties, or why not have a go at one of our many quizzes to test your historical knowledge?
Songs of England
In this new video series in collaboration with The Nest Collective, we explore the stories behind traditional English folk songs that have connections to historic places.
When Fortune Turns the Wheel

Join Sam Lee and Matt Thompson as they discuss 'When Fortune Turns the Wheel', a traditional parting song inspired by Hadrian's Wall.

Sweet Nightingale, Tintagel Castle

Join Sam Lee and Matt Thompson as they discuss 'Sweet Nightingale', thought to have been imported from Germany by Cornish tin miners in the 1800s.

The Whitby Lad, Whitby Abbey

Join Sam Lee and Matt Thompson as they examine the musical tale of the 'Whitby Lad', a wayward boy sentenced to life in a penal colony in Australia.
1066 and Beyond
King Harold's defeat at the Battle of Hastings changed the course of English history.
But the real story of the Norman Conquest is what happened next and the legacy William and his supporters left behind.
As we approach the historic anniversary, learn about the truth behind the myth surrounding William's momentous victory, and watch our animated timeline video to discover a brief history of the Normans.
Discover the real story
Get Quizzing
From Stonehenge to Queen Victoria, test your history know-how with our Members' quiz. Whether just challenging yourself or hosting a virtual quiz with family and friends, we've got your history rounds covered. We've even got quizzes just for kids!
The latest quiz (from the October 2020 magazine) tests your knowledge of our prehistoric sites.
Take a quiz
Read the latest issue of the English Heritage Members' Magazine, as well as previous editions, for fascinating articles and behind-the-scenes insights from our properties across the country.
History Rediscovered
Our expert historians and curators provide the most up-to-date insights, unveiling the secrets of some of the most important historic sites in the country. We invite you to step into England's story with historical articles and features created especially for you.
Rediscover History
Inspiration for your next visit
With hundreds of historic properties in our care we're never short of ideas for places you can explore, whatever your interests, whatever the time of year. Discover new routes with our range of walking guides, or pick up tips from other Members on where's good for entertaining the family.
Find inspiration
The Kids Rule guide to the history of England
Discover the section of our Members' Area that's especially for young Members. Learn about England's history, discover more about our sites and find loads of fun things to watch, read and do!
Explore Kids Rule!
You may also be interested in