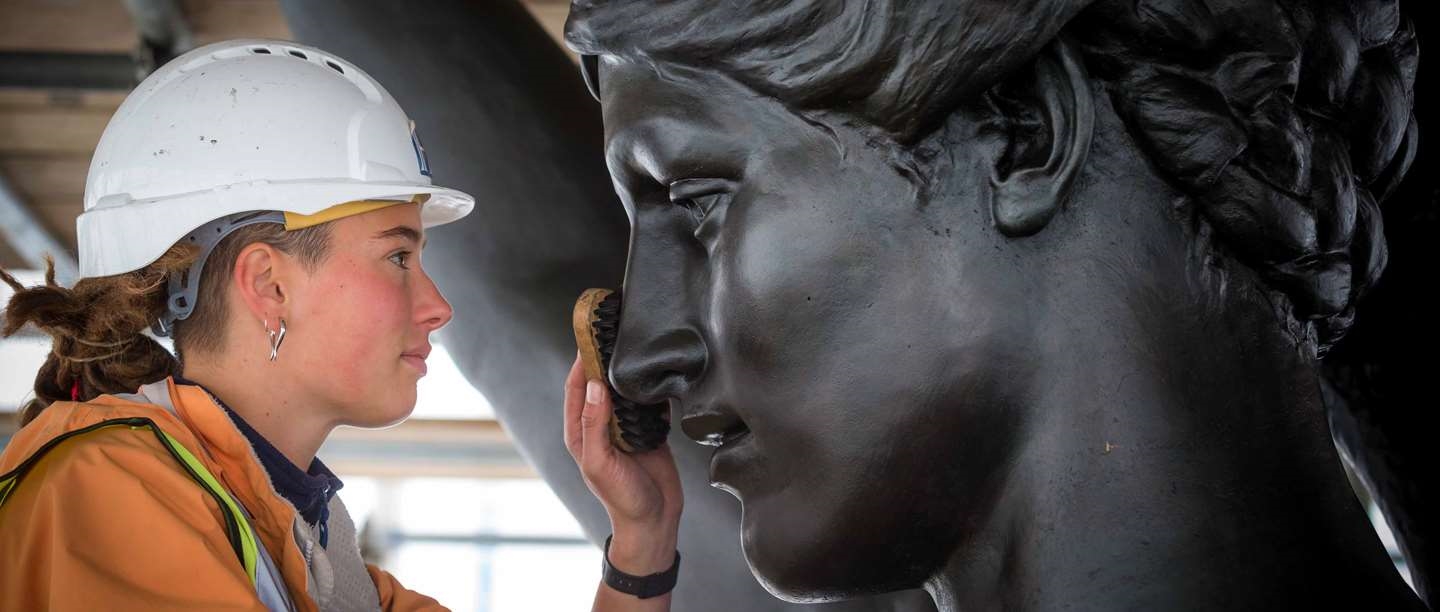 Conservation At English Heritage
Conservation is a cornerstone of everything we do at English Heritage. Our experts conserve and maintain over 400 historic buildings and monuments, their associated gardens and landscapes, and half a million artefacts.
Learn more about the work we do, including some of our recent on-site projects, research, and our practical guidance for conservation.
Conservation on the Road
2023 will see conservation take to the road again. Our specially equipped van will travel to many of our sites from April to October, providing a host of hands-on conservation workshops for all ages. These will give you an insight into how we look after our heritage while doing something fun and creative.
Find out more
Conserving our Collections
There are half a million artefacts in the English Heritage collections, ranging from Roman coins to paintings by Turner and Rembrandt. They are spread across England in over 100 historic houses, churches, museums and stores. The work of our conservators, conservation scientists and collections care assistants focuses on identifying, understanding and combatting the risks to these collections and interiors. Click on the links below to discover more about how we care for our collections.
Paintings Conservation

Discover how dedicated fine art conservators protect the many paintings, frames and decorative schemes in our collection.

Conservation Science

Find out how our conservation scientists protect collections from harmful environmental factors.

Conservation Advice and Guidance

Download our expert conservation notes and technical papers for advice and guidance.
Research into clothes moths
From tapestries to period dresses, our furnishings and fabrics are hundreds of years old. But clothes moths can eat through them in several months. In 2017, our conservation scientists asked for your help.
We were very grateful to the hundreds of members of the public who got involved in contributing to this valuable research. The moth catch data returned by volunteers all over England was analysed by our conservation scientists, and gave rise to some fascinating - and surprising - results...
Read more about our clothes moth research
Buildings Conservation
From prehistoric monuments and Roman forts to medieval castles, Georgian country houses and Victorian palaces, English Heritage cares for over 400 historic buildings, each with their own unique conservation needs.
Our buildings are constantly monitored for damage and deterioration, with our experts carrying out vital conservation work and preventative care to ensure these historic sites can continue to be enjoyed for many years to come.
Learn more about some of the techniques we use to care for our buildings, and explore some of the unique projects we've carried out in recent years.
Learn more about how we conserve our buildings
Gardens and Landscape Conservation
English Heritage looks after many nationally important historic gardens and landscapes, such as Wrest Park and Osborne House.
Find out more about how we conserve our historic gardens and landscapes through the management of pests and pesticides, conserving rare and historic plants, and our historical and environmental research.
More about Gardens and Landscapes Conservation
Reculver Towers and Roman Fort:
Reculver Towers – the remains of a medieval church on the site of a 2nd-century Roman fort – holds an imposing position on the shore of Herne Bay, on the North Kent coast. Its location means the site is especially vulnerable to the effects of climate change including harsh weather conditions and coastal erosion. Learn about the conservation works that have been taking place at Reculver to protect it for the future. Hear from the team of experts who have been working on the site including stone-masons, carpenters and lead-work specialists and learn about some of the techniques they have used and challenges they have faced during the process.
Explore more of our Conservation in Action stories and videos below.
Rievaulx Abbey: Conservation Behind the Scenes

Richmond Castle: Conserving the cell block graffiti

A Heritage Adventure: Cannon Conservation on the Isles of Scilly