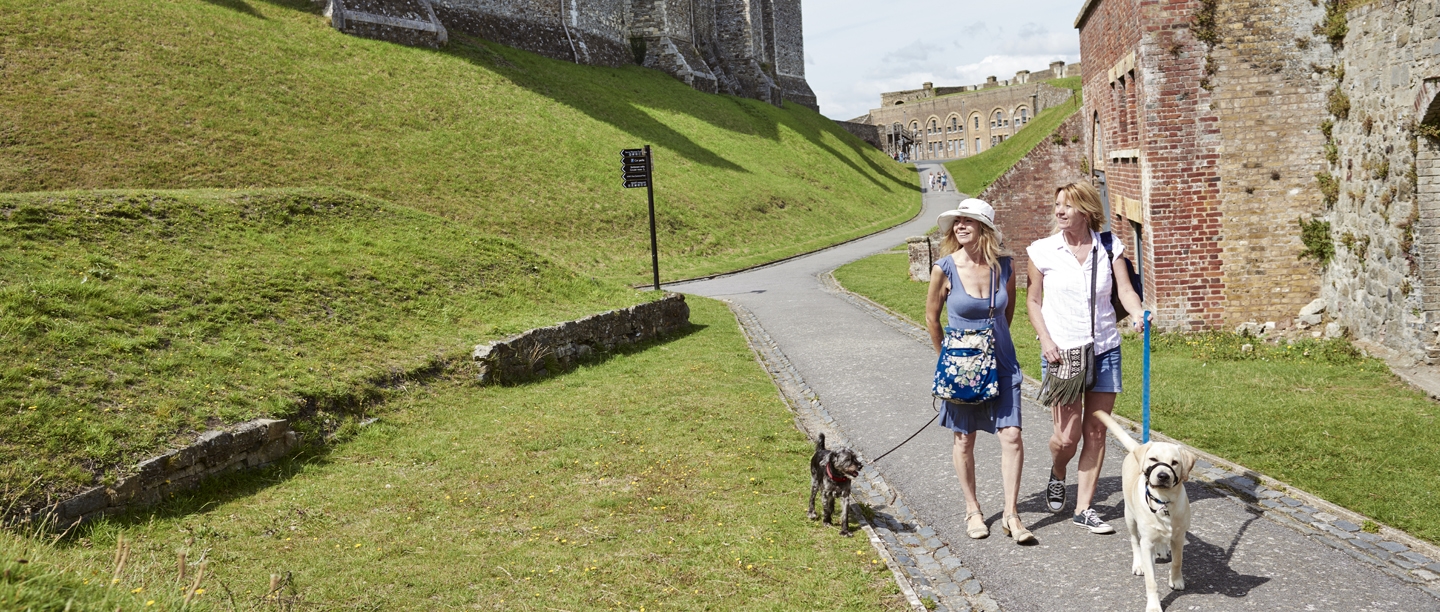 Dog Friendly Days Out
We love dogs as much as you do, so there's no reason to leave your furry friend at home. We've got lots of options for dog friendly days out at our castles, abbeys and historic gardens. Scroll down to discover the historic places where you can take your pet on an adventure that will really get their tails wagging.
Please note: Always keep your dog on a lead when you're in fields with livestock, and please clean up after your pet. See specific site pages for details.
North of England - Top Pick
Scarborough Castle
North Yorkshire
Dogs love running around the castle ruins of Scarborough Castle — and you will too. Explore panoramic views of the Yorkshire coastline, play on the grassy headland then enjoy a cuppa — and a bowl of water — on the picnic tables beside the Master Gunner's House.
Visit Scarborough Castle
South of England - Top Pick
Pendennis Castle
Falmouth
Pendennis Castle is one of Henry VIII's finest coastal fortresses, and now you and your dog can explore the historic place that once protected the Cornish coast. A high, rocky headland offers dramatic views to sea where you can find a patch of grass to stop and admire the ocean, collect your thoughts or chase your tail in the fresh air.
Visit Pendennis
London and East of England - Top Pick
Kenwood
London
With 112 acres of grounds, Kenwood is a retreat for you and your canine companion away from the hustle and bustle of the capital city. On the edge of Hampstead Heath, Kenwood is a popular destination for walkers and their dogs, featuring winding paths, an ancient woodland and gardens landscaped by Sir Humphrey Repton.
Visit Kenwood
West of England - Top Pick
Beeston Castle
Cheshire
Big or small, dogs can sniff about the 40-acre woodland park and drag their owners along for a day out at Beeston Castle. From the castle's dramatic hilltop location you can enjoy spectacular views of the countryside while your dog explores the great outdoors. If it's a clear day you can see from the Pennines to the Welsh mountains as you soak up the castle's 4000-year history.
Visit Beeston Castle
Full List of Dog Friendly Properties
Find a great historic place near you to visit with your dog.
Dog Friendly Holiday Cottages
Treat yourself and your dog to a stay in one of our dog friendly holiday cottages. Sleep within the grounds of a castle, abbey or stately home at one of our picks for the best places to stay with your best friend.

Please note, all holiday cottages are limited to two dogs and a charge of £30 per dog is required (excluding hearing and guide dogs).
See all cottages