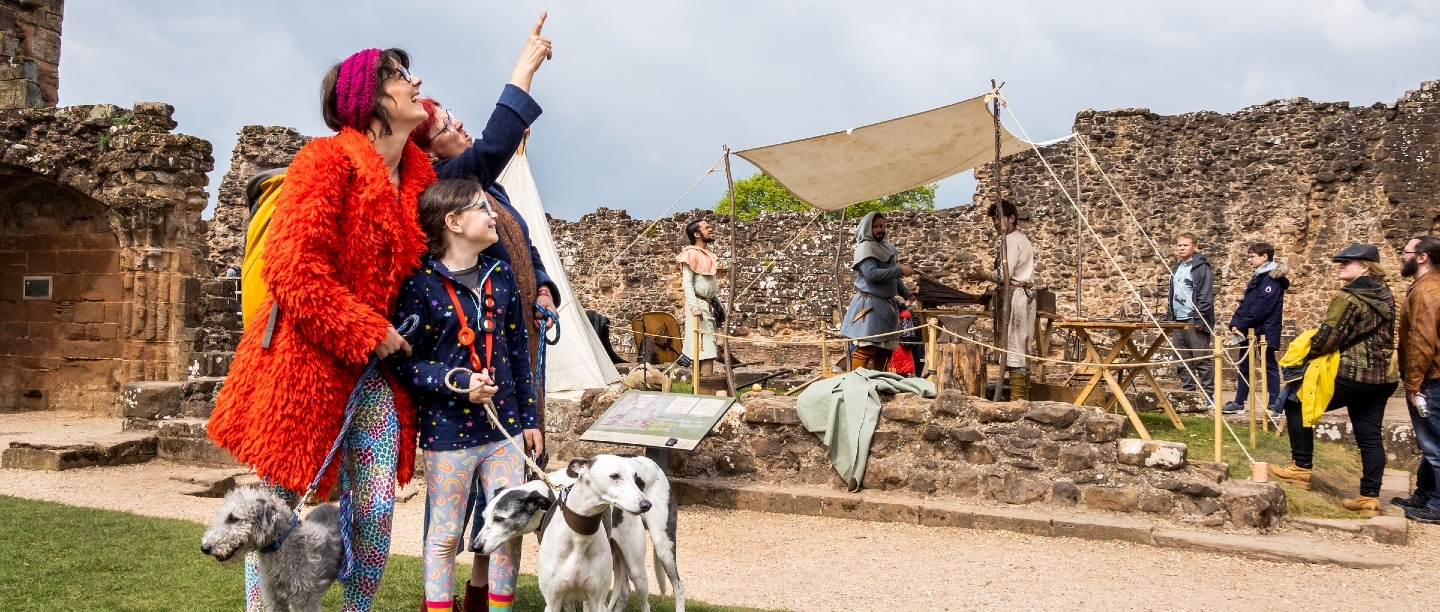 Dog-Friendly Days Out
We love dogs as much as you do, so there's no reason to leave your furry friend at home. We've got lots of options for dog-friendly days out at our castles, abbeys and historic gardens. Scroll down to discover the historic places where you can take your pet on an adventure that will really get their tails wagging.
Please note: Always keep your dog on a lead when you're in fields with livestock, and please clean up after your pet. See specific site pages for details.
North of England - Top Pick
Whitby Abbey
North Yorkshire
For nearly 700 years, the splendid 13th-century gothic Abbey has towered high above the town of Whitby. Today you can experience a dog walk like no other and take in wonderful views of the coastline and town while you explore the Abbey's gothic remains. Above all, doesn't every dog enjoy a trip to the seaside?
Visit Whitby Abbey
South of England - Top Pick
Tintagel Castle
Cornwall
Tintagel Castle is a firm favourite for our canine visitors. Not only does the castle offer a lovely walk through the impressive ruins, but there is also a secluded beach, perfect for picnics and a quick paddle. A place of history, myths and stunning scenery, dogs and owners alike will love exploring this coastal Cornish gem.
Visit Tintagel Castle
Marble Hill
London
A day out at Marble Hill is a real treat for the whole family, and your four-legged friend will love running around this idyllic landscape. This beautiful Palladian villa is set in 66 acres of outstanding riverside parkland near Richmond in West London, ideal for family days out in the fresh air. Enjoy a picnic or a visit to our newly refurbished café where dogs on leads are welcome in the designated dog areas.
Visit Marble Hill
East of England - Top Pick
Audley End House and Gardens
Essex
You and your canine companion will love spending the day in Audley End's award-winning gardens. Wander through acres of parkland remodelled by Capability Brown and enjoy extensive views of the Essex countryside. Your visit could include: the beautifully restored parterre; the gorgeous serpentine lake and the dog friendly Cart Yard café. Perfect for a day relaxing in the spacious grounds of one of England's grandest mansions.
Visit Audley End House and Gardens
West of England - Top Pick
Kenilworth Castle
Warwickshire
Kenilworth Castle is among Britain's biggest historical sites. This vast medieval fortress endured a famous siege and later became a splendid medieval palace. You and your dog can explore 900 years of history as you wander the mighty medieval keep; climb the towers to admire the fantastic views; and walk in the footsteps of Queen Elizabeth I through the beautifully recreated Elizabethan Garden.
Visit Kenilworth Castle
Agria Pet Insurance
At English Heritage, you can explore historic places with your much-loved, furry friend at over 150 of our dog friendly sites.
That's why we are thrilled to be partnering with Agria Pet Insurance, a company that shares our passion for animal welfare and pet-friendly environments. Agria will be supporting our Dog Friendly Days Out and partnering with us to offer an annual dog walk at 5 of our historic sites with dedicated routes, photo opportunities and more.
Check back here for details of the next Agria Dog Walk in spring 2024.
Full List of Dog-Friendly Properties
Find a great historic place near you to visit with your dog.
Dog-Friendly Holiday Cottages
Treat yourself and your dog to a stay in one of our dog-friendly holiday cottages and sleep within the grounds of a castle, abbey or stately home. Here are our picks for the best places to stay with your best friend.

Please note, you can bring up to two dogs to our holiday cottages. There's a cleaning charge of £30 per pooch, excluding hearing and guide dogs.
See all cottages