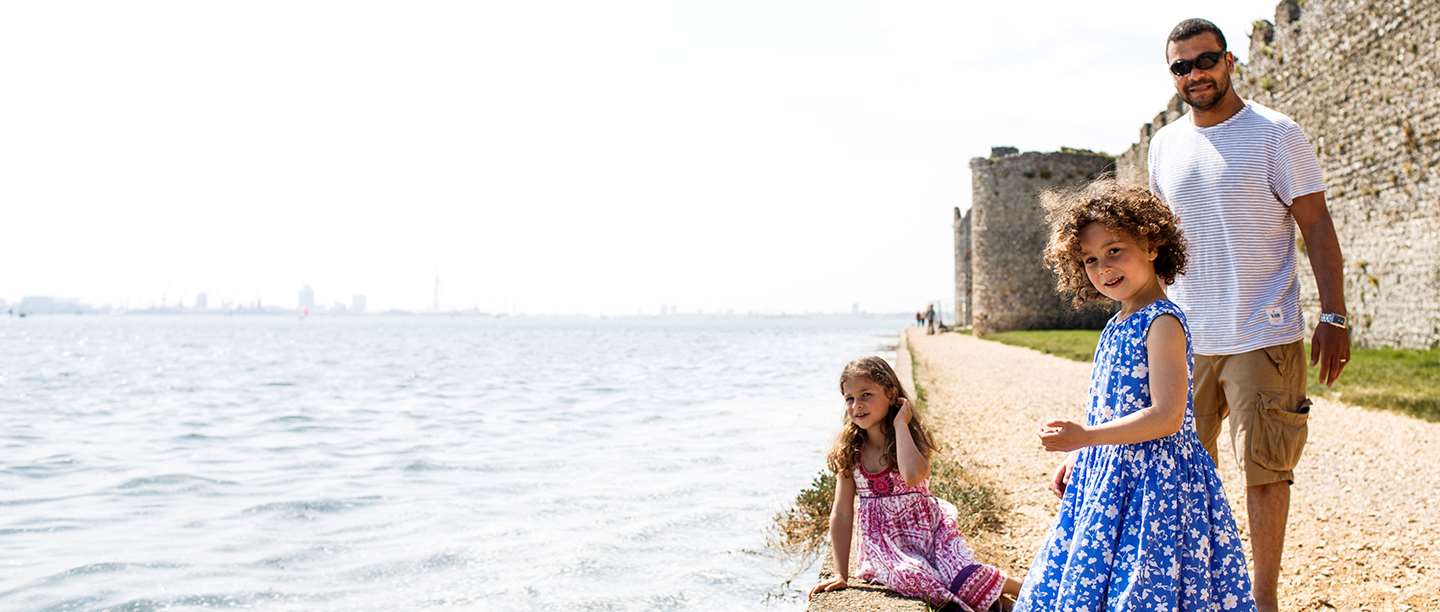 9 Historic Places with Outdoor Spaces
We understand that you may be nervous about heading out to your favourite castle, abbey, historic house or prehistoric monument in the current circumstances.
While we have measures in place to ensure that every one of our reopened sites is safe to visit, here are some of the places where it's easiest to explore history in the open air, giving you peace of mind as you enjoy your day out.
Pictured: Portchester Castle, Hampshire
Pre-booking is required
To help keep everyone safe, all visitors - including Members - need to book an arrival time in advance. Once you arrive, you can stay for as long as you like. We've reduced visitor capacity by a third and demand for tickets is high, so only book if you're sure you can make the date and time of your visit.
Each site has specific measures in place to keep everyone safe. Please check the individual property pages for more details, or find out more here.
Hadrian's Wall
NORTH OF ENGLAND
When it comes to historic sites in open rural settings, it doesn't get much more remote than Hadrian's Wall. More than twenty sites in our care stand along this northern frontier of the Roman Empire in Britain, which stretched 73 miles from coast to coast.
Imagine military life on the Wall at Housesteads, Chesters and Birdoswald Roman Forts. Or step foot in what was once a bustling Roman town at Corbridge, site of the Corbridge Hoard.
The museums at Birdoswald, Housesteads and Corbridge are also open, offering unique collections of finds and fascinating insights into Roman life. But there's plenty to see and interpretation panels to explore in the landscape if you prefer to stay outside.
Visit Hadrian's Wall
Kenwood
NORTH LONDON
When we think of open space, London isn't the first place to come to mind. But the house and large estate of Kenwood on the edge of Hampstead Heath is the perfect place to escape the hustle and bustle of the city.
The house (free to visit) was remodelled by Robert Adam between 1764 and 1779 and is home to a world-class art collection, including work by Rembrandt and Vermeer. But there's plenty to enjoy outdoors too.
Broad and peaceful landscaped gardens surround Kenwood, offering a spacious escape for the whole family and social distancing with ease.
Visit Kenwood
Old Sarum
WILTSHIRE
Stand in the footprint of Salisbury's original cathedral, conquer the royal castle which stood high on the motte, and discover the awe-inspiring Iron Age hill fort at Old Sarum in rural Wiltshire. The Romans, Normans and Saxons all left their mark on this amazing place.
The dramatic remains of this fort stand on a high mound, accessible via a short footbridge. Once inside, you can enjoy the broad hilltop with long views across to modern Salisbury and around in every direction.
Old Sarum is great for a picnic, or just a family day out in the open air.
Visit Old Sarum
Witley Court and Gardens
WORCESTERSHIRE
Formerly one of England's great country houses, the vast Victorian mansion of Witley Court hosted extravagant parties and social engagements in its turn-of-the-century heyday. The house was tragically devastated in a fire in 1937, transforming it into one of the nation's most impressive ruins.
Being without windows and a roof since that fateful inferno, the rooms and corridors of Witley Court can be explored comfortably in the open air. Details of the house's lavish interiors, including fragments of decorative plaster, can still be seen on the bare brick walls, hinting at the former opulence of this remarkable building.
The house is accessed via a lakeside woodland walk, and beyond lie the beautiful pleasure gardens including ornate terraces, vibrant flower beds and intricate parterres. Plus, don't miss the Perseus and Andromeda fountain as it shoots jets of water high into the air in a spectacular display.
Visit Witley Court
Rievaulx Abbey
NORTH YORKSHIRE
As one of the country's largest expanses of moorland, the tranquility of the North York Moors is a popular escape from urban life.
At the Moors' southern end, nestled in the peaceful Rye Valley, stands Rievaulx Abbey. The expansive ruins of one of England's most powerful Cistercian monasteries, Rievaulx's towering columns and high arches invite you to sense the space and solitude enjoyed by monks almost 900 years ago.
The recently updated museum shines a light on the lives of these monks who called Rievaulx home. Or if you prefer to stay outside, explore the ruins in the open air at your own pace with interpretation panels dotted around the site.
Visit Rievaulx Abbey
Kenilworth Castle and Elizabethan Garden
WARWICKSHIRE
Originally a Norman castle, Kenilworth was later transformed into a luxurious palace for Elizabeth I. Today you can explore the Norman keep and the Tudor Great Hall, as well as the expansive grounds.
To the north of the Castle sits the Elizabethan Garden, newly restored and replanted in 2019. Climb the steps to the raised walkway to enjoy views of the perfectly symmetrical parterres. These geometric patterns of flower beds are a recreation of those laid out by Robert Dudley, Earl of Leicester, for Elizabeth I's visit in 1575. The garden was recreated from an eyewitness account of its appearance, written by Robert Langham, an official who sneaked into the garden one day while the queen was hunting.
With one-way systems in place in the castle buildings, Kenilworth makes for a fascinating day out in the open air.
Visit Kenilworth Castle
Lindisfarne Priory
NORTHUMBERLAND
A journey to Lindisfarne Priory, set on Holy Island off the Northumbrian coast, is a journey into the mists of history. Follow in the footsteps of the monks who built their monastery here almost 1,400 years ago, and imagine the terror of 8 June 793 when Viking pirates raided the island.
The priory and the wider island offer an escape to open space and fresh sea air, away from the bustle of the mainland.
Holy Island is accessed via a tidal causeway, which is only passable at low tide. When booking your timed tickets, remember to check the safe crossing times and plan accordingly.
Visit Lindisfarne Priory
Framlingham Castle
SUFFOLK
Once a highly influential centre of power, the 12th-century castle at Framlingham is a hidden gem. After entering via a bridge over the deep moat, climb the steps to enjoy breathtaking countryside views from the 10.5-metre curtain wall.
Imagine life in the castle where Mary Tudor was proclaimed the Queen of England, and explore the 17th-century workhouse, the only remaining building in the castle's vast central courtyard.
A one-way system will help you to maintain social distancing on the Wall Walk, and the inner courtyard offers lots of open space for the whole family to enjoy.
Visit Framlingham Castle
Belsay Hall, Castle and Gardens
NORTHUMBERLAND
Belsay Hall is one of the best days out in the north-east. Though the Hall and Castle remain closed for now, Belsay is also home to more than thirty acres of Grade I listed gardens just waiting to be explored.
Among the many different gardens, the jurassic-feeling Quarry Garden stands out. Wander through the steep-sided rock ravines of this atmospheric space, with its own microclimate that helps to maintain many exotic plants. This almost jungle-like space is totally unique.
The grounds at Belsay Hall offer a memorable day out in open space.
Visit Belsay Hall
More to Explore
180+ Free-to-Enter Sites
As well as those places recommended above, most of our free-to-enter sites are outdoors and offer the chance to explore history in the open air.
From remnants of Roman forts to prehistoric stone circles, Norman earthworks to once-mighty castles, the majority of free-to-enter sites are open at any reasonable time during daylight hours. No need to handle money or tickets: just turn up and enjoy.
Explore Free-to-Enter Sites