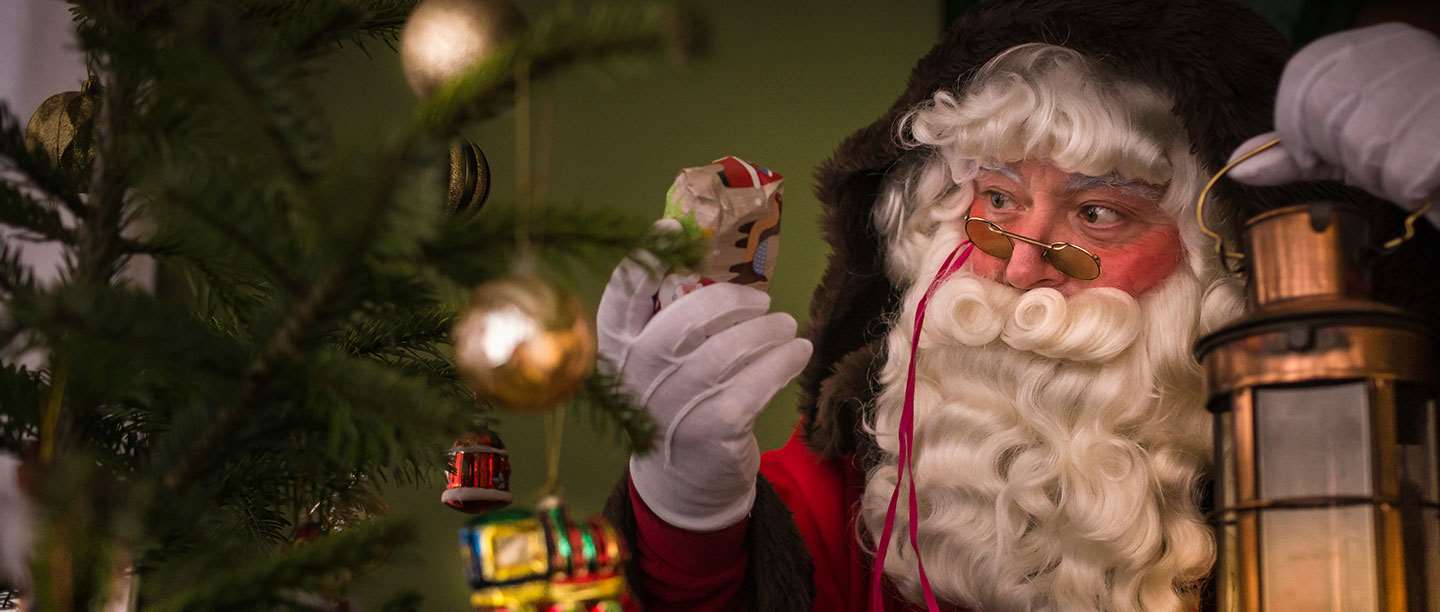 Christmas 2021
Celebrate the festive season with family and friends at our historic places. Find an event near you and learn about the history of some of your favourite Christmas traditions.
Christmas Adventure Quests 2020
Join our festively fun adventure quests to explore fun facts and untold stories in the places where history happened. From December 26 - January 3, hunt for clues and QR codes that will reveal quirky tales or sit back and enjoy our beautiful surroundings. It's a great way for the whole family to get out and about in Christmas week.
South
Eltham Palace, Battle Abbey, Osborne, Wrest Park, Audley End House and Gardens
North
Belsay Hall, Whitby Abbey, Beeston Castle, Brodsworth Hall
Midlands
Bolsover Castle, Kenilworth Castle and Elizabethan Garden
Please note, due to the Covid-19 government guidelines on social distancing, we will sadly not be holding our Enchanted events this year.
The History of Father Christmas
The jolly old man who sneaks into our houses every 24 December is beloved across the world and known by many names. But should you call him Father Christmas, St Nicholas or Santa Claus? What's the difference? Where did he come from? Is he a Christian saint or a corporate stooge?
In this article we'll explore how Father Christmas emerged in England at a time when seasonal celebrations were under attack. We'll also uncover the transatlantic origins of Santa Claus, and find out what happened when these two festive figureheads met in the 19th century.
Find out more
A SHORT HISTORY OF CHRISTMAS GREENERY
Decorating our homes with greenery is a Christmas tradition ingrained in our national consciousness. The Christmas tree is, of course, the most well-known, but it is equally hard to imagine Christmas without wreaths, holly and mistletoe. But when and why did such traditions emerge?
In this article we delve into the history of Christmas greenery to try to find the origins of some much loved traditions.
Find out more
Christmas Through the Ages
CHRISTMAS PODCASTS
Learn more about our historic properties and collections in our weekly podcast. Join presenter Charles Rowe as he meets leading experts to find out about the people and places that helped to shape England's history.
Throughout the festive period we will be exploring the origins of Mead, learning which Christmas traditions were invented by Victoria and Albert, and finding out about the raucous Christmas party planner of the past, the Lord of Misrule.
DISCOVER OUR PODCASTS
Christmas Carols From Bolsover Castle
Enjoy traditional Christmas carols to help you get you into the festive spirit.
In this special performance the Chesterfield Philharmonic Choir, conducted by Steven Roberts, present O Come, All Ye Faithful, Away in a Manger and Hark! The Herald Angels Sing in the beautiful surrounds of this historic castle.
Watch on YouTube
Things to do in winter
A selection of our free-to-enter and staffed sites remain open across England. All have large outdoor spaces for you to get outside safely this winter.
Wrap up warm and explore the sites open near you. Enjoy frosty garden walks or discover local historic ruins. If you are staying in, we have a wide range of videos, articles and quizzes so you can learn something new from the comfort of your own home. We've got all the tips you need to enjoy the colder months ahead.
Find out more
More to Explore - Christmas
Dog Friendly Days Out

We've got lots of options for dog-friendly days out at our castles, abbeys and historic gardens. Find a day out for you and your furry friend.

Gift of membership

Give the gift of unlimited access to over 400 historic places this Christmas, with English Heritage membership.

UNIQUE CHRISTMAS GIFTS

Our carefully chosen range offers inspiring, imaginative, and unusual alternatives to the high street.