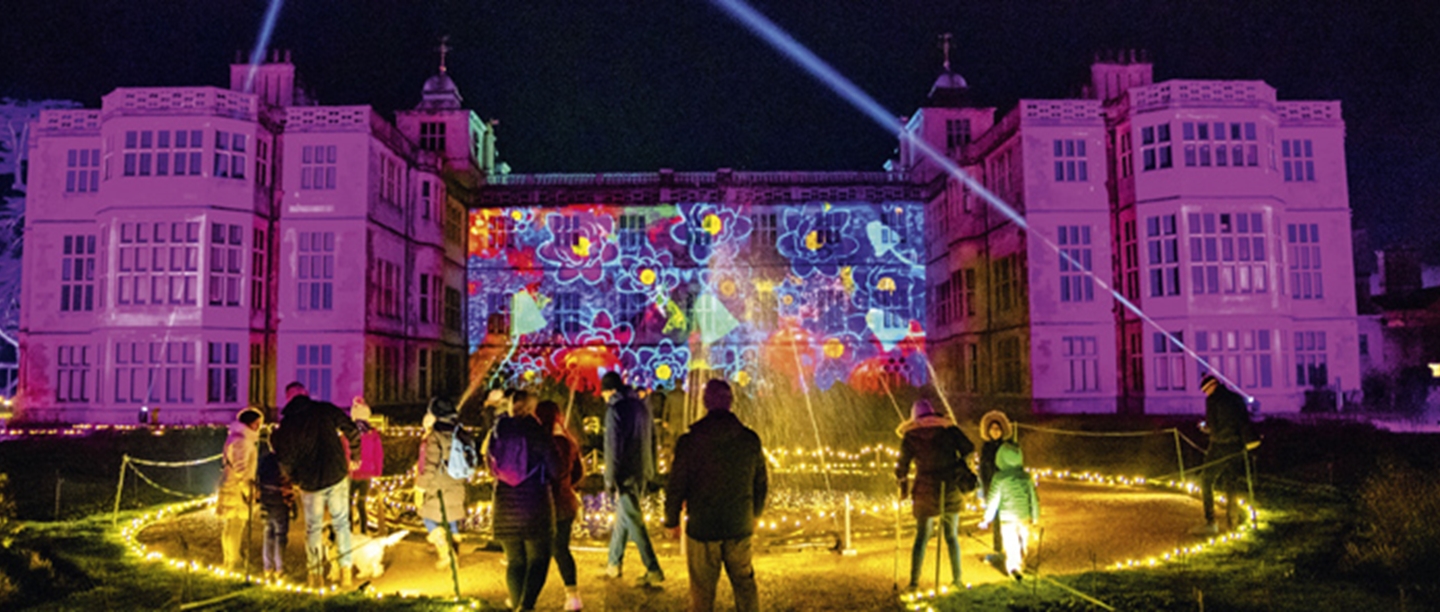 Christmas 2022
Have you ever wondered why we give Christmas gifts, or what previous generations ate for Christmas dinner? Read on to explore the history behind some of your favourite Christmas traditions.
Christmas 2021 saw the return of our popular Enchanted events at Eltham Palace and Audley End House and Gardens, allowing visitors to experience the grounds and gardens bathed in a magical world of illumination, sound and colour. Our family-friendly adventure quests also provided a fun way to follow trails, find clues and experience the stories of sites across the country.
Keep an eye out for our Christmas 2022 events, which will be added to this page later in the year.
A SHORT HISTORY OF CHRISTMAS GREENERY
Decorating our homes with greenery is a Christmas tradition ingrained in our national consciousness. The Christmas tree is, of course, the most well-known, but it is equally hard to imagine Christmas without wreaths, holly and mistletoe. When and why did such traditions emerge?
Discover the history of festive foliage from Louise Ellis, Head Gardener at Audley End House and Gardens, as she prepares the house for Christmas.
The History of Gingerbread
From festively shaped biscuits to extravagantly decorated gingerbread houses, gingerbread has become a culinary staple of Christmas. But this wasn't always the case. Food historian Sam Bilton discusses its ginger-less medieval origins and significance in Queen Victoria's household, and even unearths a Dickens family recipe.
Find out more
How to Make Gertrude à la Crème – The Victorian Way
It's the festive season, which means lots of entertaining at Audley End House. Mrs Crocombe is preparing a Gertrude à la Crème, a great way to use up stale sponge cake and produce a decorative sweet centrepiece for the Christmas table.
Christmas Through the Ages
CHRISTMAS PODCASTS
Learn more about our historic properties and collections in our weekly podcast. Join presenter Charles Rowe as he meets leading experts to find out about the people and places that helped to shape England's history.
Throughout the festive period we will be exploring the origins of Mead, learning which Christmas traditions were invented by Victoria and Albert, and finding out about the raucous Christmas party planner of the past, the Lord of Misrule.
DISCOVER OUR PODCASTS
Things to do in winter
A selection of our free-to-enter and staffed sites remain open across England. All have large outdoor spaces for you to get outside safely this winter.
Wrap up warm and explore the sites open near you. Enjoy frosty garden walks or discover local historic ruins. If you are staying in, we have a wide range of videos, articles and quizzes so you can learn something new from the comfort of your own home. We've got all the tips you need to enjoy the colder months ahead.
Find out more
Dog Friendly Days Out

We've got lots of options for dog-friendly days out at our castles, abbeys and historic gardens. Find a day out for you and your furry friend.

Gift of membership

Give the gift of unlimited access to over 400 historic places this Christmas, with English Heritage membership.

UNIQUE CHRISTMAS GIFTS

Our carefully chosen range offers inspiring, imaginative, and unusual alternatives to the high street.