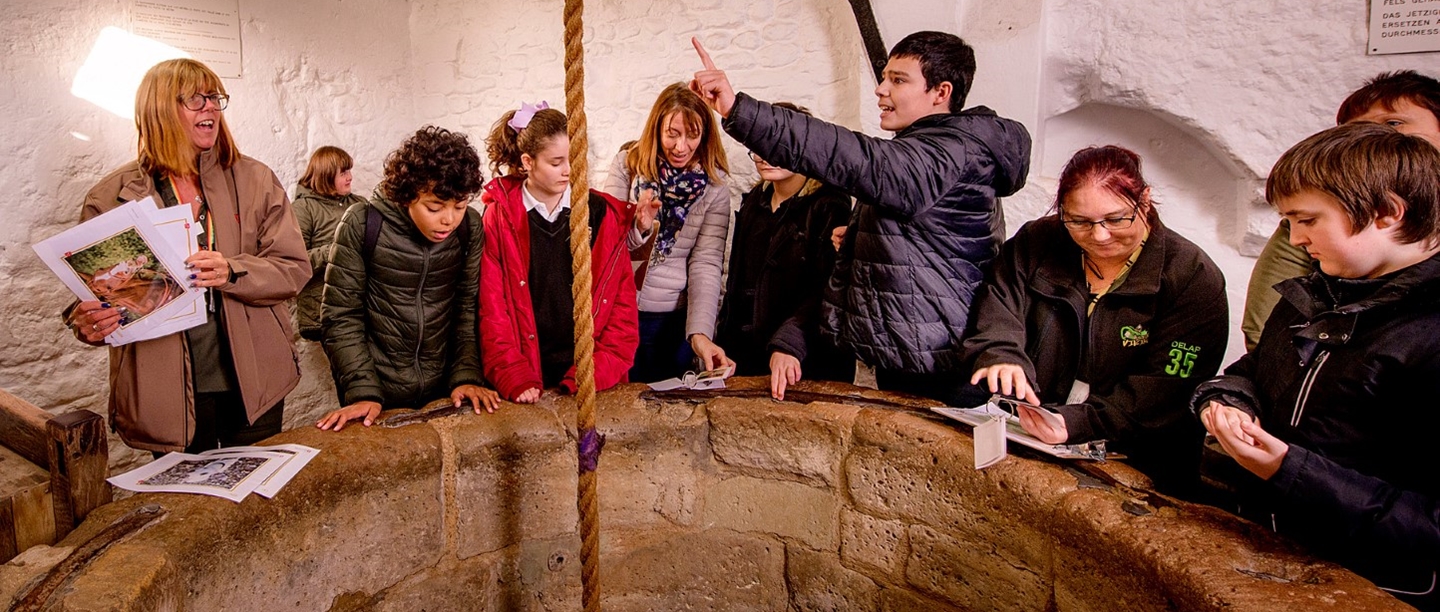 Working at our Historic Places
How would you like to be part of our team providing memorable visitor experiences?
You will find a unique role at each one of our inspiring, exciting and rewarding historic places where no two days are ever the same. We are constantly seeking a range of skills and talents from people of all backgrounds to help us create experiences that bring the story of England and its cultural diversity to life for all of our visitors. You will be part of an organisation that is committed to giving all of our visitors a great experience and believes in delivering an inclusive team environment.
What Role Will You Play?
Visitor experience is at the heart of everything we do.
We care for historic places all across the country and wherever you work you'll find a great team, who are passionate about their property and committed to delivering an outstanding experience for our visitors and generating vital income for the charity. You will find a variety of roles at our historic sites, from Food and Beverage Assistants to Site Managers, and from Beach Rangers to Hands on History Crew. Throughout the year we regularly recruit for Visitor Assistant, Food and Beverage Assistant and Membership Recruiter roles at most of our places on a permanent and seasonal basis.
Our Benefits
As a Visitor Assistant, you will give our visitors and members a warm welcome, adapting to their needs and share the secrets and surprises of our sites. You will be hands-on, creating great experiences from the moment people arrive to when we say goodbye. You will discover no two days are the same. Daily tasks vary but a core part of this role is to ensure the site is safe and presentable and to support the recruitment and retention of our members; you will find yourself working on admissions (selling and checking tickets), retail sales, helping visitors find their way, managing queues and doing general cleaning duties.
Our cafes provide the social hub of our historic sites. As a Food and Beverage Assistant, you will play a vital part in creating a warm and welcoming environment to all where all of our visitors and members can relax and enjoy high quality food and beverages You will enjoy face to face customer interaction and going the extra mile to make someone's day in an environment which will keep you busy and engaged.
The recruitment process for Visitor Assistants and Food and Beverage Assistants - FAQ
What hours do a Visitor Assistant or Food and Beverage Assistant work?
There are a variety of hours available from 1 to 5 days per week. Generally, you will be required to work any day out of 7 on a rota basis so please check you can fulfil the hours of the vacancy you are applying for. Our main site opening season runs from April until the end of October/early November and hours over the winter can be limited or zero.
We run an exciting and action packed events programme across the year which you may have the opportunity of working at which will give you the chance to experience even more variety in the role.
How do I make an application?
Visit our jobs search page. Here you can find a location that suits you.
If you would like to apply, hit 'apply for this job' at the bottom of the vacancy.
You will then be asked to log in or sign into our recruitment system and can complete an application. This is your opportunity to tell us why you would like to join us and the skills, knowledge and experiences that you will bring.
If you run into difficulties at this stage, need assistance or if there are any specific adjustments we could make to ensure you complete an application, please do contact us and we will do our best to assist you.
If you are successful, you will receive and email and be asked to send through your work experience, education and reference details.
How do I decide which historic place to work at?
How will you assess my application?
All applications are reviewed anonymously.
We are interested in your relevant skills, behaviours, and your motivation for working for us so we ask questions designed to give you the opportunity to tell us about these. Once we have reviewed your answers, we will get in touch via email to let you know about the next stage. If you are successful we will ask you to let us know more about your work experience, education and reference details.
We are committed to the Disability Confident Scheme which means we will interview all applicants with a disability who meet the minimum criteria for a job vacancy and consider them on their abilities.
What are the interviews and assessments like?
If successful, you'll be invited to meet with us at one of our historic sites or talk with us over the phone or via a video call.
It may be that you meet us at a different location to the role you have applied to. You'll be able to discover more about what life is like working at our fascinating places and more about the role you've applied for. We have two main assessment types which you may be involved in, details will be provided to you when you are invited to meet with us:
1. Selection Stage:
This is when you are invited along with a number of other candidates to attend a session normally lasting for a couple of hours. Depending on how many candidates attend, you'll get the opportunity to meet and talk with our colleagues. It is likely you will also take part in a group assessment as well as a one-to-one interview.
2. Interview:
This is with a supervisor or manager of one of our historic sites and will be focused around your experiences, skills, and motivation within Customer Service, Sales, and Team Work.
These are similar areas covered in your application form, so please review your application before attending an interview so you are prepared to talk about your experiences.
What if there aren't any roles that I'm interested in right now?
What do I do if I run into problems with my application?
If you have any difficulties or are unsure of any of the details during the application process, please contact us.
When will I hear back about my application?
You will receive an acknowledgement email shortly after submitting your application to let you know we have received it. We then review your application and you should hear from us within a week after the closing date of the role.
If successful when will I start?
The majority of roles will start in early March ahead of Easter, with full training provided to ensure you are fully prepared for when we re-open our sites for the new season. However, depending on where you might join us, you might find that the start date for the role you have applied for will vary.
Any other questions?
We strive to be as inclusive and accessible as possible. If you have any queries, are concerned about any part of the process or just want to know more about how we accommodate different needs, please contact us.
Work in our Gardens
Join our gardens teams and help conserve, restore and understand some of the most significant gardens in England, and enable our visitors to enjoy their great cultural heritage.
Find out more