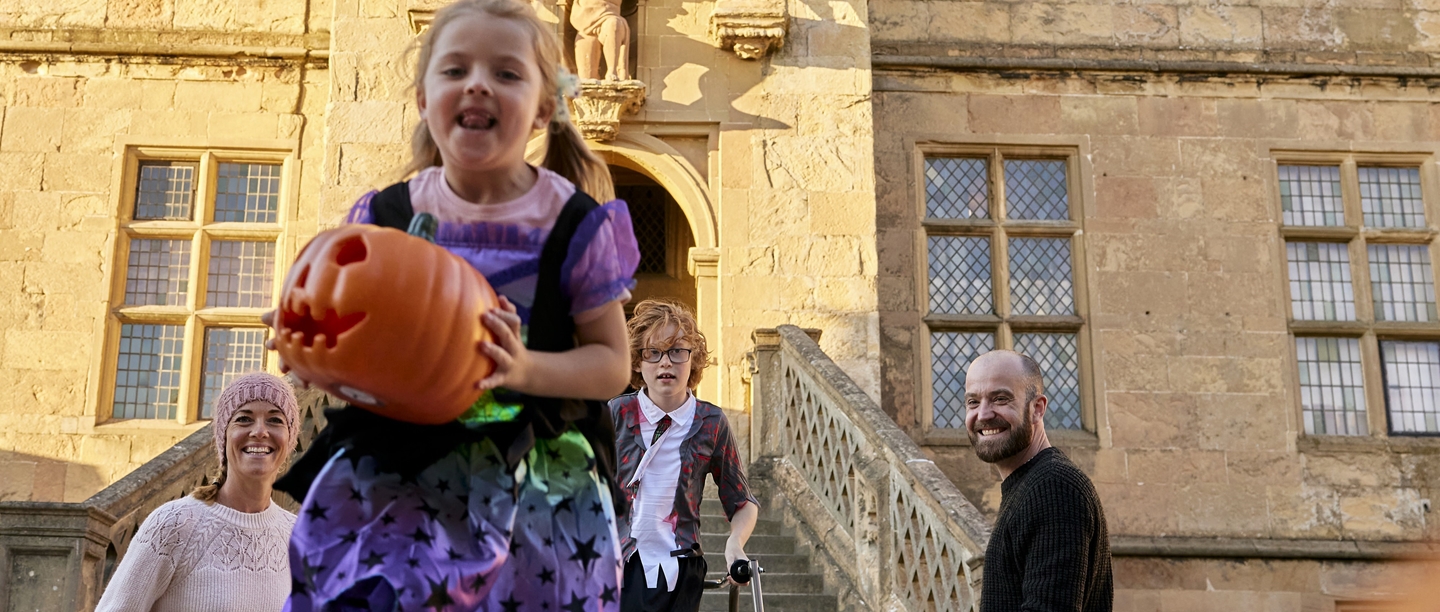 Halloween
Find ghoulishly great-value days out at our Halloween events taking place across the country.
Enjoy our family Halloween events at half-term, where you can gather round for tales from our spooky storytellers and solve creepy clues in our Halloween Quest.
You can also find out about the fascinating history of Halloween and get ideas for making your own spooky fun at home.
Halloween family events
Join us at a range of phantom-tastic family-friendly events at our sites across the country this Halloween.
Enjoy ghoulishly good days out at our half-term events, where you can gather round for tales from our spooky storytellers and solve creepy clues in our Halloween Quest.
Book now and save
Mystery of the Stones at Stonehenge
Sherlock Holmes, Dr Watson and Mrs Hudson are returning from Dartmoor, where the 'great man' has just solved the mystery of the Hound of the Baskervilles. Now he is turning his attention to Stonehenge. Dr Watson has been reading up on the origins of the monument but will they be able to solve the 'Mystery of the Stones'?
This fun pop-up play, suitable for all visitors of all ages, will run at Stonehenge Saturday 21 October - Sunday 5 November 2023.
Book now and save
A BRIEF HISTORY OF HALLOWEEN

Many people herald carved pumpkins, trick-or-treating and fancy dress as an Americanised festival. But did you realise that most of these activities are rooted in European folklore and tradition?

What are soul cakes and what's their link with Halloween?

Senior Properties Historian Dr Michael Carter explores the tradition of soul cakes and their link with Halloween and trick-or-treating.

WHY WE CARVE PUMPKINS

Halloween wouldn't be complete without a pumpkin carved with a frightening face. But what's the origin of this terrifying tradition? Prepare yourself for shocks and surprises!
Spooky Stories from History
WITCHCRAFT: EIGHT MYTHS AND MISCONCEPTIONS

From the Salem Witch Trials to the witches of Macbeth, the figure of the witch is embedded in our culture. The problem is that most of what we think we know is wrong. Professor Diane Purkiss debunks eight of the most common myths about witchcraft.

SPOOKY STORIES AND GRUESOME TALES

With bloody battles, gruesome executions, spooky coffins and strange paranormal phenomena, our historic sites are home to lots of horrible history. Be warned - you'll need a strong stomach for some of these stories!

WHERE MARK HADDON FOUND HIS 'GHOSTS' AT THE YORK COLD WAR BUNKER

We challenged seven leading contemporary authors to visit our historic places for inspiration to craft an original ghost story for our new book 'Eight Ghosts'. Discover the inspiration behind Mark Haddon's story, inspired by the York Cold War Bunker.
How To Carve A Halloween Turnip
Why not carve a turnip this Halloween instead of a pumpkin? Find out where this old tradition came from and discover how to carve your own turnip to terrify the trick-or-treaters this Halloween.
Watch on YouTube
Get ready to step into the past this Halloween with these cool dress-up ideas!
Spooktacular Halloween activities
Get ready for Halloween with our selection of activity ideas! Do you know why we carve Halloween pumpkins? Read our history of pumpkins to find out, then have a go at carving your own! Plus, get creative and make a scary mythical beast mask, cook up some spooky recipes or light up a dark night with a crafty castle lantern!