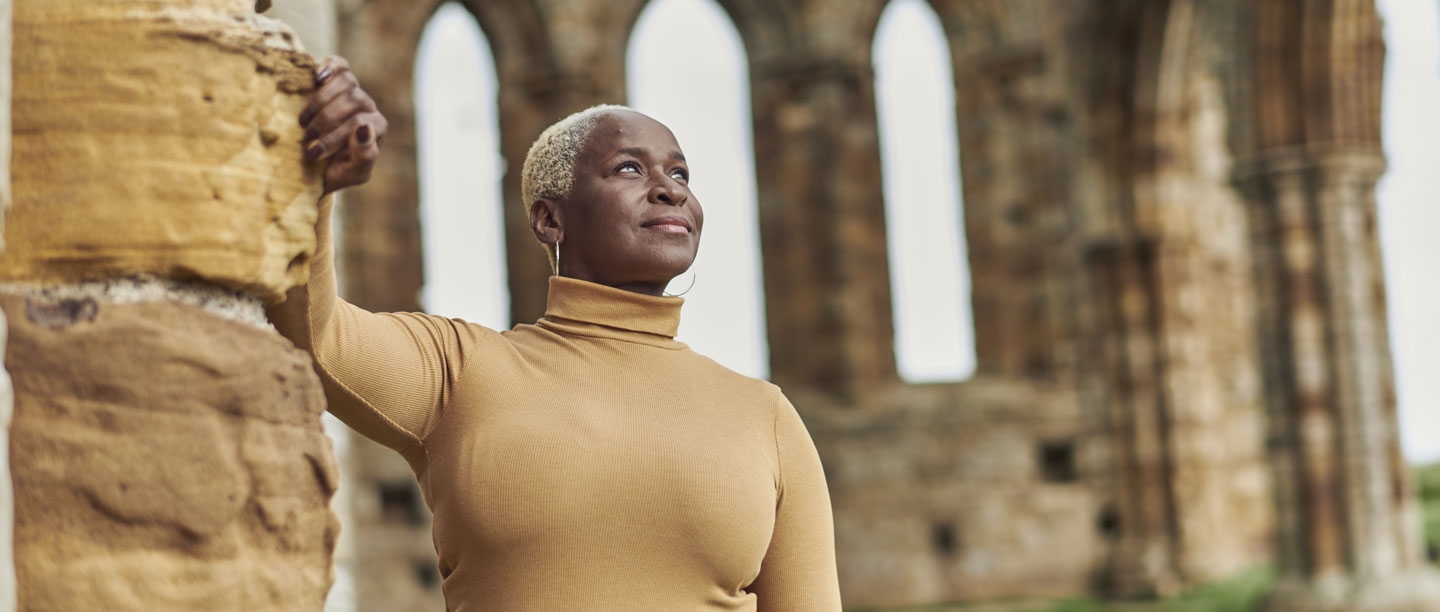 Be Present in the Past
Discover England's amazing past in all its autumnal glory. Explore castles and abbeys nestled in golden woodland, see country houses swathed in morning mist and wander through historic gardens ablaze with spectacular seasonal colour.
With hundreds of sites across the country waiting to be discovered, autumn is the perfect time to make the most of our past.
Saint Aelred at Rievaulx Abbey
with Stephen Fry
Aelred was abbot of the spectacular Rievaulx Abbey in North Yorkshire from 1147–67 and wrote about life at the Abbey. We asked Stephen Fry to read some of Aelred's words, capturing the unique peace and tranquility of the monastic life.
How Silent Were Medieval Monasteries?
When we visit the ruins of monasteries or abbeys, we think of them as having been peaceful, contemplative places.
But just how quiet was day-to-day monastic life?
Our historian Michael Carter explores this question.
Read More
Regional Guides

From London to Northumberland, Yorkshire and Derbyshire to the Isle of Wight, our comprehensive travel guides have everything you need to plan a getaway: where to stay, getting around and — most importantly — things to see and do.

Cycling Guides

Whether you're a novice or bike enthusiast, our cycling guides offer a fun way to take in multiple historic places. Wheel your way across the Isle of Wight, find serenity in North Yorkshire, or tour across the Wiltshire countryside and its 5000 years of history.

Coastal Walks

Enjoy the great outdoors. Combine an invigorating seaside stroll with an inspiring visit to one of our historic sites, following these glorious routes along England's most beautiful coastlines.
Dog Friendly Days Out
Our special historic places are popular with dog walkers and those who want to share an adventure with their four-legged-friends. If you're looking for a day out but don't want to leave your dog at home, then you're in luck. We've gathered our favourite dog friendly days out here for you to enjoy. Your pets will love exploring new sights, sounds and smells at castles, abbeys and historic gardens all across England, and you'll have a great time too.
Find out More
Top Tearooms
With kids back to school and the summer holidays over, late summer is the perfect time to enjoy some well deserved time off for yourselves. There's no better way to relax than with a hot drink or delicious snack at a tea room amid historic surroundings. To help you find the perfect place to get off your feet, here's our list of top tearooms from historic places around the country.
Discover our top tearooms
English Heritage Gardens in Autumn
As summer turns to autumn, our historic gardens enter one of their most beautiful seasons. Leaves turn from greens to vibrant reds and golds, and delicate fungi begin to emerge among the undergrowth. Our gardeners are hard at work sowing bulbs, and at our kitchen gardens the harvest season is in full swing.
Discover our picks for the most impressive gardens at this time of year.
Find out More