Walking Guide: Dover Castle to Deal Castle
This 10 mile linear walk offers panoramic views of the English Channel. Three of England's mightiest coastal forts stand on the route, from the medieval "Key to England" at Dover to Henry VIII's defences of Walmer and Deal. It's a wonderful day's hike for experienced walkers. Just keep the sea on your right, and you can't go wrong.
Take care on the clifftops and stick to the marked coastal footpath. Some sections of the White Cliffs include very steep drops.
DISTANCE - 10 miles (16 km) linear walk. 3-4 hours walking time. Take a full day to allow for visits to the castles, enjoying the views and a lunch stop.
TERRAIN - Mostly downhill, but with climbs out of Dover and St Margaret's Bay. Uneven terrain so make sure to wear appropriate footwear.
TRANSPORT - Parking available at Dover Castle if visiting, and public parking in Dover and Deal. A railway line connects the two towns.
FOOD & DRINK - Various pubs and cafes in St Margaret's Bay. Small seasonal cafes along the route. Toilets available at the three castles during opening hours.
ACCESS & DOGS - Unsuitable for wheelchairs unless specialised for off-road terrain. Great for dogs but take care on cliffs and follow any signposted rules.
MAP REFERENCE - OS Explorer 138/150
The Route
Start
Dover Castle
Our walk begins at the mighty 'Key to England', the medieval fort of Dover Castle. There is lots to see and do at Dover, so consider visiting early in the day to allow plenty of time.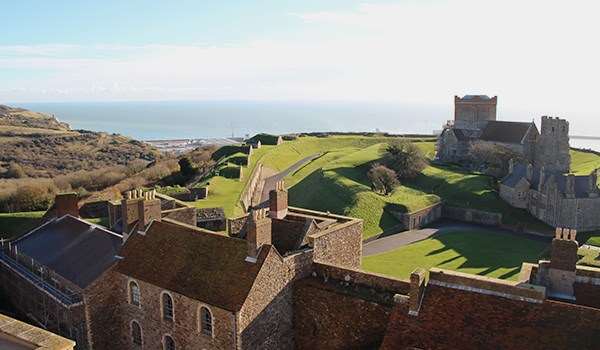 Visit Dover Castle
0.7 miles
The Blériot Memorial
Leaving Dover Castle by the north-west (Constable's Road) exit, follow Castle Hill Road up to the right. Turn right at the brown sign for the Blériot Memorial. Follow the path through the woods, and fork left to reach the memorial. This granite outline of an aircraft in the grass marks the landing point of Louis Blériot when he made the first flight across the English Channel in 1909.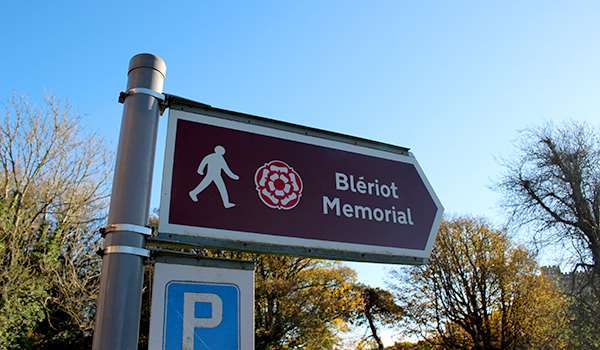 Place(s) To Stay
Key:
Multiple places
Place
Other
Travel Guides
Looking for a longer getaway?
Our regional travel guides can give you inspiration for a short break or weekend away in England. They're packed with ideas of things to do along the way, places to stay, historical places of interest, and practical transport advice.
Cornwall

Castles dominate the coastline, isolated settlements and sites steeped in myth and legend are just a small part of what Cornwall has to offer. Plan a long weekend of history in this incredible part of south west England.

Hadrian's Wall

Hadrian's Wall is now the most famous frontier of the mighty Roman Empire. Today, it remains an inspiring and atmospheric monument to this incredible civilisation and there are all sorts of places to visit and learn about the Romans.

London

At the heart of English history. London is unrivalled for the sheer amount of things to do. We've picked out historical highlights in four areas for you to plan a long weekend or a series of days out in the capital.