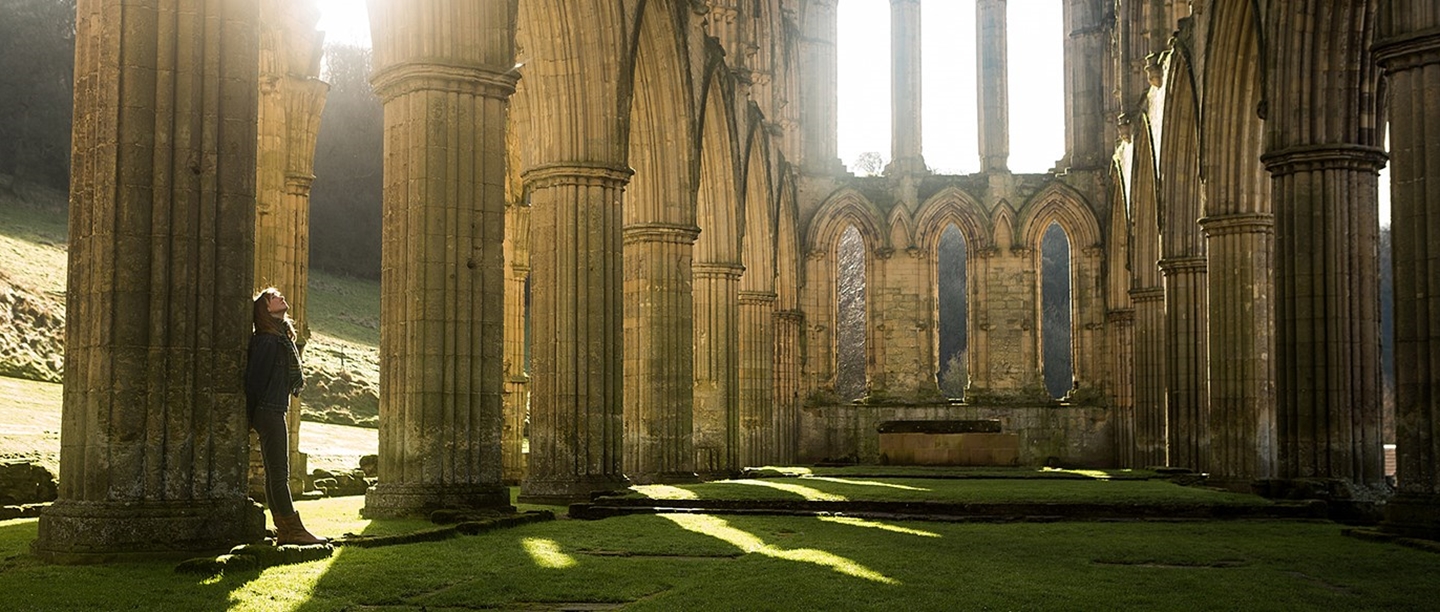 England's Top Abbeys
We asked on Facebook and Twitter for your favourite historic abbeys, priories and churches in England – and thousands of you responded.
So we've put together this list of the most popular ecclestiastical ruins, to help you plan your next visit.
Visited one of our abbeys recently? Share your experiences and photos with us on Facebook , Twitter and Instagram.
Your favourite site
Whitby Abbey
Perched high on the Yorkshire cliffs and commanding broad views over the bay below, it's no surprise that Whitby Abbey has been chosen as your favourite. A monastery was first founded on the headland in about 657 AD, and today the shell of the 13th-century Benedictine abbey is one of the largest and most impressive ecclestiastical ruins in the country. Explore the dramatic ruins that were inspiration for Bram Stoker's Dracula, and see the pretty seaside town of Whitby from this natural vantage point.
"Has to be Whitby Abbey, been visiting for the past 11 years and find it as awe-inspiring as the first time." - Jayne on Facebook
Visit Whitby Abbey
Rievaulx Abbey
The impressive ruins of one of England's most influential Cistercian monasteries, Rievaulx Abbey sits in a tranquil valley on the North York Moors. St Aelred said of Rievaulx that there was 'everywhere peace, everywhere serenity', and this reflective atmosphere still attracts many visitors today. Explore the high ruins to imagine life in the monastery, or step beyond the walls to enjoy views of the abbey in its solitary wooded setting. Rievaulx is sure to make an impression.
"Loved my visit to Rievaulx. One of the most beautiful ruins - one of the glories of North Yorkshire." - Kristin on Instagram
Visit Rievaulx Abbey
Lindisfarne Priory
Situated on beautiful Holy Island just off the wild Northumberland coast, Lindisfarne Priory is reached via a tidal causeway. Follow in the footsteps of ancient monks who established their priory here nearly 1400 years ago. Learn more about the famous Lindisfarne Gospels, one of the nation's finest manuscripts, produced by an artist monk at the priory in the late 7th or early 8th century. Lindisfarne is remote and tranquil, a haven of early Christianity during England's most turbulent times and the site of dramatic Viking raids.
"Undoubtedly, Lindisfarne. I don't think we will visit a more astonishing place in terms of location, history and landscape." - Marcos on Facebook
Visit Lindisfarne Priory
Battle Abbey
Founded by William the Conqueror on the spot where King Harold died in 1066, Battle Abbey stands as a lasting symbol of the Norman invasion that changed English history forever. Walk on the battlefield where perhaps England's most significant conflict took place, and explore the ruins of the vast medieval abbey constructed by its victor. Kids will love exploring a real battlefield and finding wooden sculptures of Norman and Saxon soldiers around the footpath. Battle makes for a day out the whole family can enjoy.
"It was a totally awesome experience! My boys absolutely loved it! Amazing!" - Mrs Sheard on Twitter
Visit Battle Abbey
Mount Grace Priory
Mount Grace is the shell of a once great Carthusian priory, and the best preserved in Britain. Visit the reconstructed monk's cell to imagine life here 600 years ago, and keep your eyes peeled for the famous Mount Grace stoats that inhabit passages beneath the priory. The priory's gardens will soon be renovated under the direction of award-winning garden designer Chris Beardshaw.
"The loveliest setting with a peaceful atmosphere. Love visiting in autumn!" - Elizabeth on Twitter
Visit Mount Grace Priory
Roche Abbey
Roche Abbey is a special place, combining the excavated foundations of a Cistercian monastery with a setting created by the renowned landscape designer 'Capability' Brown. Explore the ground plan and beautifully preserved Gothic transepts of the abbey that was home to 50 monks and 100 lay brothers. Roche is a unique building, smaller than others in Yorkshire but typically spectacular in its grandeur.
"It must have been magnificent. The ruins take my breath away." - Marilyn on Facebook
Visit Roche Abbey
Cleeve Abbey
Cleeve Abbey in Washford is a must-see, said to contain the finest cloister buildings in England. Imagine what monastic life was like 800 years ago, and see medieval heraldry on the remarkably well-preserved 13th century tiles. The abbey is located in a beautiful countryside valley, so is popular with walkers and cyclists as well as passengers on the West Somerset Railway.
"It's quiet, tranquil, incredibly beautiful and unique. Don't tell everyone - they'll all want to see it." - Edwin on Twitter
Visit Cleeve Abbey
Wenlock Priory
An Anglo-Saxon monastery was founded on the fringe of beautiful Much Wenlock in about 680 by King Merewalh of Mercia, whose abbess daughter Milburge was hailed as a saint. The Normans later re-founded the site as a Cluniac priory, the impressive remains of which survive today. See the Cluniac love of elaborate decoration in abundance throughout the ruins, and parts of the great 13th century church which still stand tall.
"When I first saw it, it stopped me in my tracks it was so beautiful." - Helen on Facebook
Visit Wenlock Priory
Castle Acre Priory
Home to one of the first Cluniac orders of monks in England, Castle Acre is also one of the largest and best preserved monastic sites in England, dating back to 1090. The priory's key feature is the beautiful west end church gable, an immaculate example of the Cluniacs' love of intricate architecture. See the recreated herb garden which grows herbs that would have been used by monks for medicinal, culinary and decorative purposes.
"I love Castle Acre. Beautiful remains in a beautiful setting." - Helen on Facebook
Visit Castle Acre Priory
Abbeys, priories and churches to visit