Walking Guide: Bolsover Castle to Sutton Scarsdale Hall
This 11km (7 mile) circular walk links two of Derbyshire's many castles and historic houses: glamorous Bolsover Castle and the ruin of Sutton Scarsdale Hall.
Facing each other across a valley with the M1 rumbling in between, both were built on land belonging to William Peveril after the Norman Conquest. That's where the similarities end, but you can discover the landscape which connects them on this walk.
Muddy boots warning: this route crosses several fields - stay on the footpaths. Please also note that livestock may be grazing along the route so keep your dog on a lead.
DISTANCE - 11km (6.8 miles) circular walk. 2.5-3hrs walking time. Allow extra time to visit both sites - at least an hour at Bolsover Castle.
TERRAIN - Up and downhill through fields. Some sections are steep and there are stiles to climb over - study footwear is advisable.
TRANSPORT- Parking is available at Bolsover Castle if you're visiting the site.
FOOD & DRINK - Bolsover Castle has a cafe and toilet facilities. More cafes and pubs are available in the town of Bolsover too.
ACCESS & DOGS- Livestock may be grazing along this route, so keep your dog on a lead. The route isn't suitable for pushchairs or people with limited mobility.
MAP REFERENCE - OS Explorer 269
The Route
Start
Bolsover Castle
This walk starts (and ends) at Bolsover Castle, so you can explore this fairytale Stuart mansion either at the start or end of your day. You'll get a fantastic view over your route from the Terrace Range. The toilets and cafe here are the only facilities on this route, so make sure you're prepared before you set off.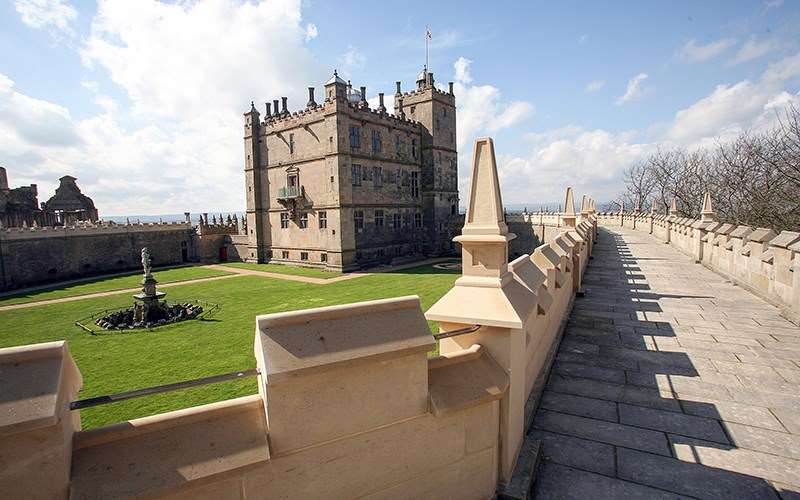 Visit Bolsover Castle
0.2km
Leaving Bolsover Castle
Come out of Bolsover Castle and follow the road round to the right, then turn right again down Castle Lane. The road curves down and around the hill - as it turns back round to the left, follow the footpath sign through the trees, along the tarmac path off to the right.
You'll come out at an open field with Bolsover Castle above on your right. Turn left down the hill and follow the path parallel to the hedge until you get to the bottom of the field.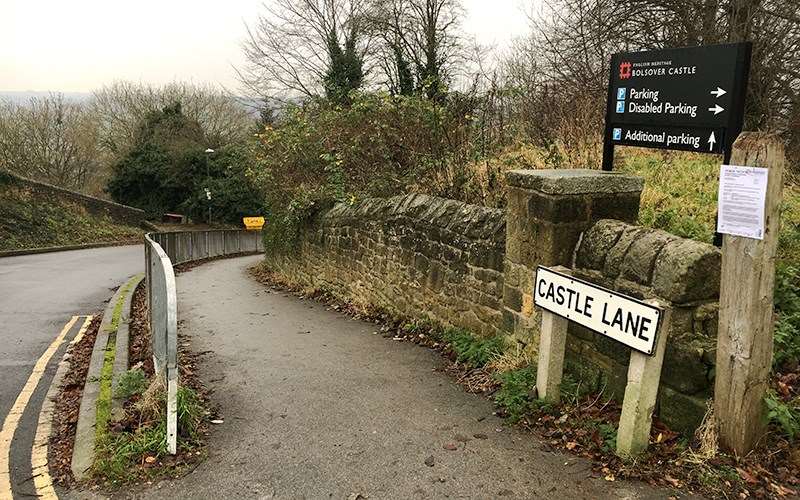 Place(s) To Stay
Key:
Multiple places
Place
Other
Travel Guides
Looking for a longer getaway?
Our regional travel guides can give you inspiration for a short break or weekend away in England. They're packed with ideas of things to do along the way, places to stay, historical places of interest, and practical transport advice.
A guide to the midlands is coming soon. In the meantime, plan a stay near this walk at East Lodge on the Hardwick estate, or take a look at our other guides.
Stay at Hardwick Old Hall

Explore the historic houses and castles of Derbyshire from the comfort of East Lodge, at the heart of the Hardwick estate. It's less than 5 miles from this walk, and sleeps 4+cot .

Hadrian's Wall

Hadrian's Wall is now the most famous frontier of the mighty Roman Empire. Today, it remains an inspiring and atmospheric monument to this incredible civilisation and there are all sorts of places to visit and learn about the Romans.

London

At the heart of English history. London is unrivalled for the sheer amount of things to do. We've picked out historical highlights in four areas for you to plan a long weekend or a series of days out in the capital.