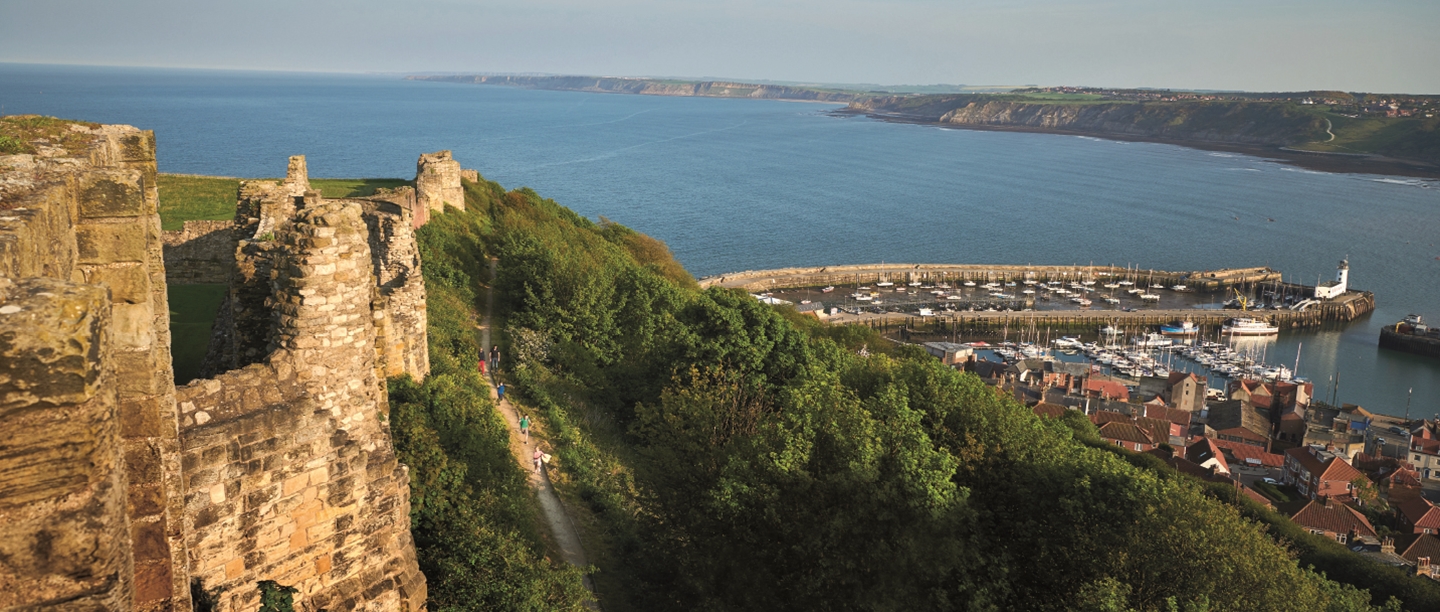 Coastal Walks
Enjoy the great outdoors this summer and combine an invigorating seaside stroll with an inspiring visit to one of our historic sites following these glorious coastal routes.
Filey Brigg to Scarborough Castle
Distance: 9.2 miles/14.8km
Difficulty: 3/5
Terrain: Undulating coastal paths
This route follows the Cleveland Way, a national trail that stretches for 109 miles along the North Yorkshire coast. You'll start at the beginning of the trail in Filey and then walk along stunning coastline towards Scarborough, finishing with a look around Scarborough Castle. The castle's history spans 3,000 years, and from its rocky vantage point you'll take in amazing views of both the north and south bay of Scarborough. Literary fans may well wish to pause in the graveyard of St Mary's Church to see the final resting place of Anne Brontë. Once you've enjoyed a well-deserved cuppa or something stronger, there are regular trains and buses back to Filey.
More Details
Dover Castle to Western Heights and Knights Templar Church
Distance: 2.1 miles/3.3km
Difficulty: 2/5
Terrain: Urban streets and grassy, uneven surfaces. Western Heights is on a steep, cliff-side location.
Dover Castle is one of England's most iconic fortresses, with a defensive history stretching from medieval times until the Cold War. This walk also visits our two other sites in Dover: the Napoleonic fort of Western Heights, whose cliff-top position affords magnificent views out to sea, and the medieval ruined Knights Templar church. This route is easy to turn into a circular one – return to the castle from Knights Templar along the same route, or head over to the marina and walk back along the water's edge.
More Details
Dunstanburgh Castle circular walk
Distance: 4 miles/6.4km
Difficulty: 2/5
Terrain: Country and coastal paths that are mostly flat
Dunstanburgh Castle was started in 1313 and was once one of northern England's greatest castles. While it's now a ruin, you can still see its great twin-towered keep, and its magnificent silhouette against the wave-battered shore has inspired many people from artist JMW Turner to poet Matthew Lewis. This circular walk starts at the fishing village of Craster – well known for its kippers – and heads north inland before turning south along the coastline to visit the castle and return to the village. This walk is courtesy of Northumberland Coast AONB Partnership, and its trail leaflets are available to buy in Craster Tourist Information Centre for this and other local trails.
More Details
The Needles to Yarmouth Castle
Distance: 6 miles/9.5km
Difficulty: 3/5
Terrain: Undulating coastal path and urban streets
This rugged walk starts at the south western tip of the Isle of Wight, by the famous Needles rock formations, and heads north to the pretty seaside town of Yarmouth and its castle that was built by Henry VIII. You'll pass Alum Bay, with its 20 differently coloured sands, and enjoy a great view of Hurst Castle over on the mainland, another Tudor fortification that's cared for by English Heritage. This route follows the Isle of Wight Coast Path, so use the waymarkers where possible.
More Details
Tintagel Castle circular walk
Distance: 4.6 miles/7.4km
Difficulty: 2/5
Terrain: Undulating coastal path and minor roads
The enigmatic Tintagel Castle is one of England's most dramatically situated historical sites and is steeped in myths and legends. Its spectacular new footbridge has recently been unveiled, linking the mainland to the island for the first time in centuries, so there's never been a better time to visit. This circular walk takes you south from the castle to Trebarwith Beach along the South West Coast Path, which will afford you panoramic views over the sea, before turning inland and returning to the castle via Treknow, one of Cornwall's oldest slate mining villages.
More Details
Dartmouth Castle to Bayard's Cove Fort
Distance: 1 mile/1.6km
Difficulty: 1/5
Terrain: Undulating coastal path
You'll follow the River Dart on this walk between Dartmouth Castle and Bayard's Cove Fort, going along a section of the South West Coast Path. Dartmouth Castle has an impressive history of defence stretching from the 1300s up until the Second World War, with the complex including a church as well as a gun tower with brilliant views across the estuary. Bayard's Cove Fort was built between 1522 and 1536 to defend Dartmouth, and occupies a picturesque position at the mouth of the harbour.
More Details
Pendennis Castle to St Mawes Castle
Distance: 5 miles/8km, including 3 miles/4.8km ferry trip
Difficulty: 1/5
Terrain: Urban streets
Pendennis Castle is one of Henry VIII's most magnificent artillery fortresses and has since acted as a defence during the Civil War and both World Wars, as well as being a supply base during the Napoleonic Wars. Perched just across the bay, St Mawes Castle is another of the Tudor artillery fortresses, elaborately decorated with carved Latin inscriptions in praise of the king and his son. This walk takes you between the two fascinating castles, with a short journey across the water on the St Mawes ferry. This runs up to three times an hour in the summer and once an hour in the winter – check the website for the latest timetables.
More Details
Whitley Bay to Tynemouth Castle and Priory
Distance: 3 miles/4.8km
Difficulty: 1/5
Terrain: Beach and urban road
A gentle three mile walk following the coast south from Whitley Bay through Cullercoats and into Tynemouth, finishing at the magnificent Tynemouth Castle and Priory, once one of the largest fortified areas in England. Once you've finished looking around this historic site, walk south for an extra mile to visit Tynemouth Pier – this Grade II listed Victorian structure extends for 900m and will give you magnificent views back towards the priory. There are regular trains and buses back to Whitley Bay.
More Details
Cromwell's Castle, King Charles's Castle and Old Blockhouse
Distance: 3.5 miles/5.6km
Difficulty: 1/5
Terrain: Coastal paths and beaches
Visit three sites during this circular walk around the pretty island of Tresco, part of the Isles of Scilly. Tresco is renowned for its turquoise seas and white sandy beaches, so you'll feel as if you're in the Caribbean rather than England! Cromwell's Castle is one of the few surviving Cromwellian fortifications in Britain, while King Charles's Castle was built in the mid 1540s as an artillery fort and used by the Royalists in the Civil War. The Old Blockhouse was constructed in the 16th century to protect Old Grimsby Harbour, and also saw action during the Civil War.
More Details