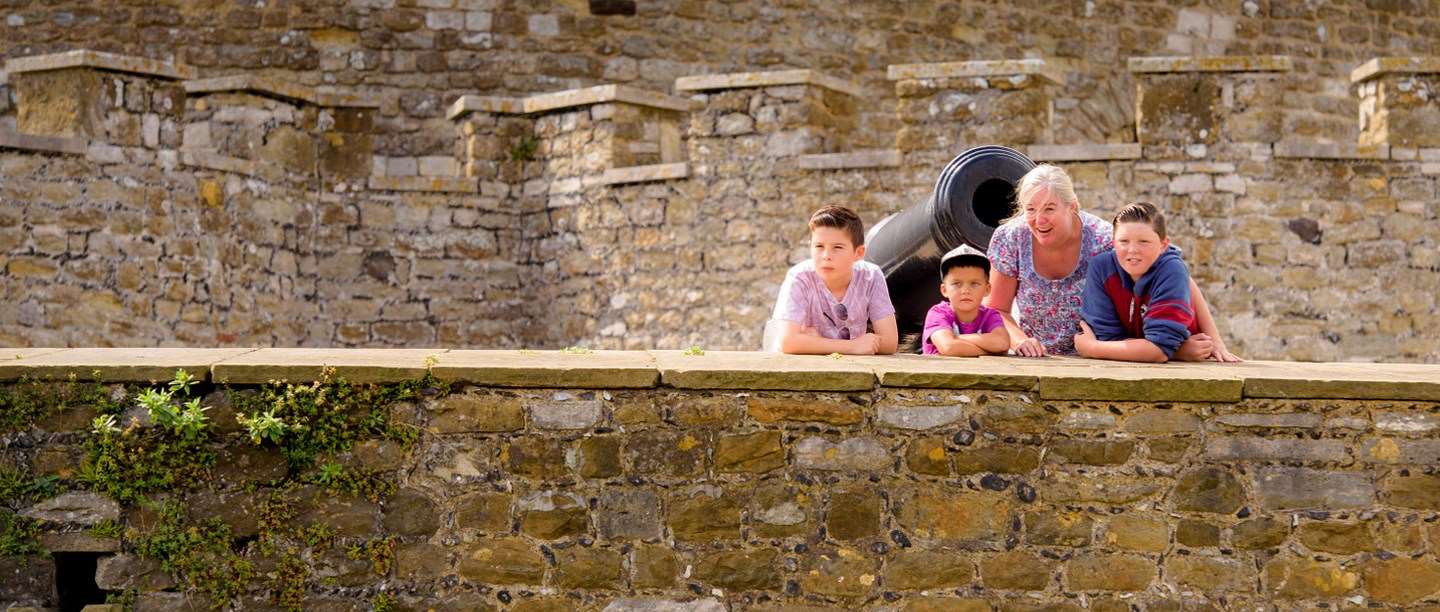 Members' Voices
Nobody knows about English Heritage membership better than our own Members. Watch videos to discover how other Members make the most of their membership and be inspired by advice, feedback and tips from other Members who want to share their experiences.
Why Support English Heritage
Find out from Members around the country what the best things are about being an English Heritage Member, from supporting the hard work which goes into the preservation of sites, to helping keep history alive.
Top Tips from Our Members
Members, staff and volunteers have many different ways of making the most out of their English Heritage experience, and we wanted to share a few in this video to help you make the most of yours.
Member recommendations
We asked our Members for their favourite sites in a few different categories, including best sites for a picnic, top five historic gardens and the most popular places to visit for our younger Members. Did your favourites make the list?
See our Member recommendations
Members' videos
With English Heritage membership the possibilities are endless. From experiencing inspirational adventures into history to tranquil retreats in beautiful surroundings – there is something for everyone to enjoy. But don't just take our word for it; hear what our Members have to say.
Discover advice, feedback and tips from our Members who make the most of their membership and want to share their experiences.
English Heritage Member, Thomas Taylor, was motivated to join English Heritage by the broad range of sites he could visit with his membership which fuel his passion for history, "They've all got a story to tell, and they all tell England's story, bit by bit."
Watch our videos to discover how Members like Thomas make the most of their membership.
"THE BIGGEST ENJOYMENT IS JUST RELAXING WITH MY FAMILY."

Meet English Heritage Member Tamsin Partridge, along with her husband Jon, son Harry and dog Buddy, on a family day out at Kenilworth Castle and Elizabethan Garden, to discover what keeps them coming back to this palace 'fit for a queen'.

"SOMETIMES WE JUST WANT TO GO OUT FOR A PICNIC"

Join Members Maria and Nick Broad on a day out at Audley End House and Gardens, to find out what made them fall in love with this opulent Jacobean mansion house over 18 years ago – and what keeps them coming back every year.

EVENTS THAT BRING HISTORY TO LIFE

We asked some of our Members to explain what makes a battle re-enactment event an unforgettable day out and why they would recommend going to one - from the feeling of being transported back in time, to the opportunity of experiencing history first hand.

HELP YOUR CHILDREN LOVE HISTORY

We asked a selection of our Members to explain how our sites and events help to nurture a life-long passion for the past. Don't forget you can take up to six children under 19 for free with every adult Member to visit our properties.
The Members' Panel
What is the members' panel?
From exclusive previews to action-packed family activities, our English Heritage Members' Panel have been making the most of their membership and keeping us informed of their adventures along the way.
Since 2013, our Members' Panellists have been out and about reviewing properties, events and experiences all over the country. They have been sharing tips, writing blog posts, and inspiring others with stories about how to make the most of English Heritage membership.
Find out more
Become a guest blogger
We're looking for current Members to contribute to our blog. It's a great opportunity for you to share your expertise with visitors as well as to join in the conversation with fellow experts. As well as inviting historians and English Heritage staff to contribute, we're keen to find enthusiastic Members to get involved; see the work of two Members' Panellists: Whitby Abbey by Lindsay Anne Kendall and Audley End House and Gardens by Natalie Payne.
So here's where you come in. If you would like to become an English Heritage Guest Blogger and feel that you could write a short piece (up to 800 words) about one of the following topics, then we'd love to hear from you:
Your ideal day out: Your favourite English Heritage site, and why you would recommend it to others.
Road-trip round-up: The English Heritage places that absolutely shouldn't be missed on a visit to Yorkshire, Cornwall, the Isle of Wight (or any county or region of your choosing).
Hidden gems: The properties, or parts of properties (architectural features, wildlife, secret corners off the track) that you think are amazing, but that others might have missed.
Seasonal top tips: Your favourite English Heritage places to visit during any particular season.
Best English Heritage sites for keeping families entertained; or escaping from the hustle and bustle of modern life; walking the dog; or for afternoon tea.
Visit the blog
Join the conversation
Why not join the conversation on Facebook or Twitter now and share your own Membership tips? What are the best things about being an English Heritage Member? How do you make the most of your membership? What is your best memory of a visit to one of our events or properties? How long have you been a Member for and how did you join?
Post your message and photos on Twitter or Instagram using #EHmembership
Facebook

Follow us on Facebook to stay up-to-date with the latest news and views on our historic properties.

Instagram

Follow us on Instagram to see our photos and videos and share your own using #EHmembership.

Twitter

Join the conversation on Twitter and share your experiences with fellow Members using #EHmembership.