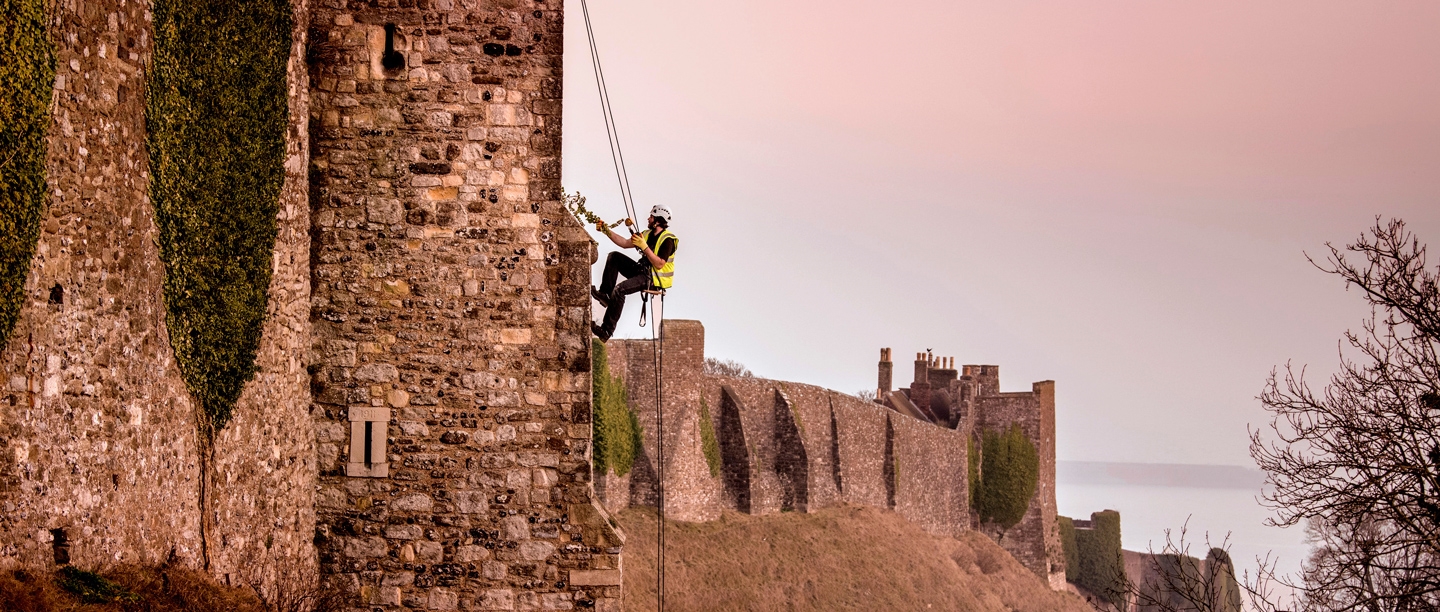 Sustainability
Climate change is one of the biggest challenges facing our historic sites. While our properties are vulnerable to the effects of climate change, we're aware they also contribute to the causes. That's why we're making changes to reduce our impact on the environment, and address issues such as energy use, single-use plastics, sustainable procurement and waste management. Through our Climate Action and Sustainability Plan, we are aiming to reducing energy use, cut costs and work towards a low-carbon, low-waste future.
Energy consumption and carbon emissions
Energy efficiency is a core element of our sustainability strategy, and we're committed to reducing energy use and beginning our journey towards becoming net carbon zero. By doing this, not only will we reduce our carbon emissions, but we'll also save money – money we can instead spend on protecting our sites.
Knowing how, when and where we use energy is crucial in planning specific solutions tailored to individual properties. We know that just 10 of our sites use 60% of our total energy, including Wrest Park, Dover Castle, Stonehenge and Osborne.
By focusing our efforts on reducing energy use at those sites we'll make a big difference to our overall consumption.
We're replacing old heating and lighting systems with more efficient alternatives, and we're using wireless sensors to monitor and control temperature, humidity and light levels. We've also recently switched to a green energy supplier.
Case study: Our sustainability strategy in action at Wrest Park
Wrest Park has the third biggest energy footprint of our properties, and is our pilot site for our sustainability strategy. Our goal is to reduce our energy consumption at Wrest Park by 30% – a saving of £60,000 per year. We can take what we learn from this and apply it to many of our other sites.
We've installed pipe cladding to improve insulation and reduce energy loss – saving £1,500 per year.
We're looking to install solar panels on the modern, low lying areas such as our café roof, where there will be no impact on the wider historic setting. This will help reduce our annual energy bills by around 25%.
We're aiming to replace the current oil heating system with either a biomass boiler or heat pumps to make our heating systems 15% more energy efficient.
Single-use plastics and recycling
In 2019 we replaced the wrapping on our Members' Magazine with a compostable alternative made from potato starch. We will also strive to ensure we significantly reduce our plastic usage across all our cafes to be single-use plastic free where viable. We have already stopped ordering plastic bags for all our shops, replaced plastic cutlery with wooden alternatives, and switched from plastic bottles to glass. We're also looking at the footprint of the packaged products we sell in our catering outlets, and we're exploring a national waste-management system to ensure consistency across all sites.
We're always mindful of how and where we buy our food, and we aim to source it as locally as possible, inspired by local dishes and local traditions. In some cases we're even producing our own food, such as at Walmer Castle in Kent, where we're harvesting produce from the walled garden to use in the café.
We are aiming to become Soil Association accredited by 2023, which demonstrates our commitment to local produce, ethical sourcing and sustainability.
Biodiversity
We're faced with an ecological crisis alongside the climate crisis, and the planet's vital biodiversity is coming under ever-increasing threat. Properly managed, our sites can be oases for wildlife such as birds, bats and insects.
We're joining forces with other organisations to protect and promote biodiversity at our sites, for example at Dover Castle, where we're working with Kent Wildlife Trust to graze the moat with sheep and have installed an aviary to help reintroduce the chough – an iconic bird that became extinct in England over a century ago. We are also improving habitats at sites including Marble Hill in London.
Our Climate Action and Sustainability Plan
We're currently finalising our Climate Action and Sustainability Plan to give us clear targets and a detailed overview of the steps we need to take to reach them. The plan will be published on this page in the near future.