27/06/2023
THE BEST THING SINCE SLICED BREAD: ENGLISH HERITAGE RE-CREATES GEORGIAN BROWN BREAD ICE CREAM THIS SUMMER
From Dover Castle, to Stonehenge to Kenwood, 13 English Heritage sites will be serving the 18th-century treat this summer
Unusual rejected Georgian flavours include cucumber, parmesan, black tea and marmalade
Pass on pistachio and say no to strawberry; a Georgian favourite ice cream flavour has been re-created by English Heritage, the charity announced today (27 June) as it serves soft scoops of brown bread ice cream at historic sites across the country. Created in partnership with family ice cream makers, Marshfield Farm, the new flavour is inspired by the Georgian obsession with 'icy cream', which included bizarre flavours such as cucumber, pineapple and parmesan. Brown bread ice cream will be available throughout the summer at 13 sites including Dover Castle in Kent and Stonehenge in Wiltshire.
Despite freezers not becoming a household staple until the 20th century, ice cream enjoyed a hey-day during the 1700s. Some of today's favourite ice cream staples – such as chocolate and pistachio – were enjoyed during the Georgian period, however these appeared at ice cream parlours and confectionary shops alongside more unusual flavours including pineapple, jasmine, artichoke, rosewater, cucumber, orange-blossom, brown bread and even parmesan. English Heritage challenged Marshfield Farm, the award-winning ice cream manufacturer, to resurrect a popular Georgian flavour and give visitors to its historic sites a taste of the past. After taste testing a variety of weird and wonderful Georgian flavours, including marmalade, black tea and pineapple, it was unanimously agreed that brown bread was the tastiest – with flavours reminiscent of biscotti or nougat.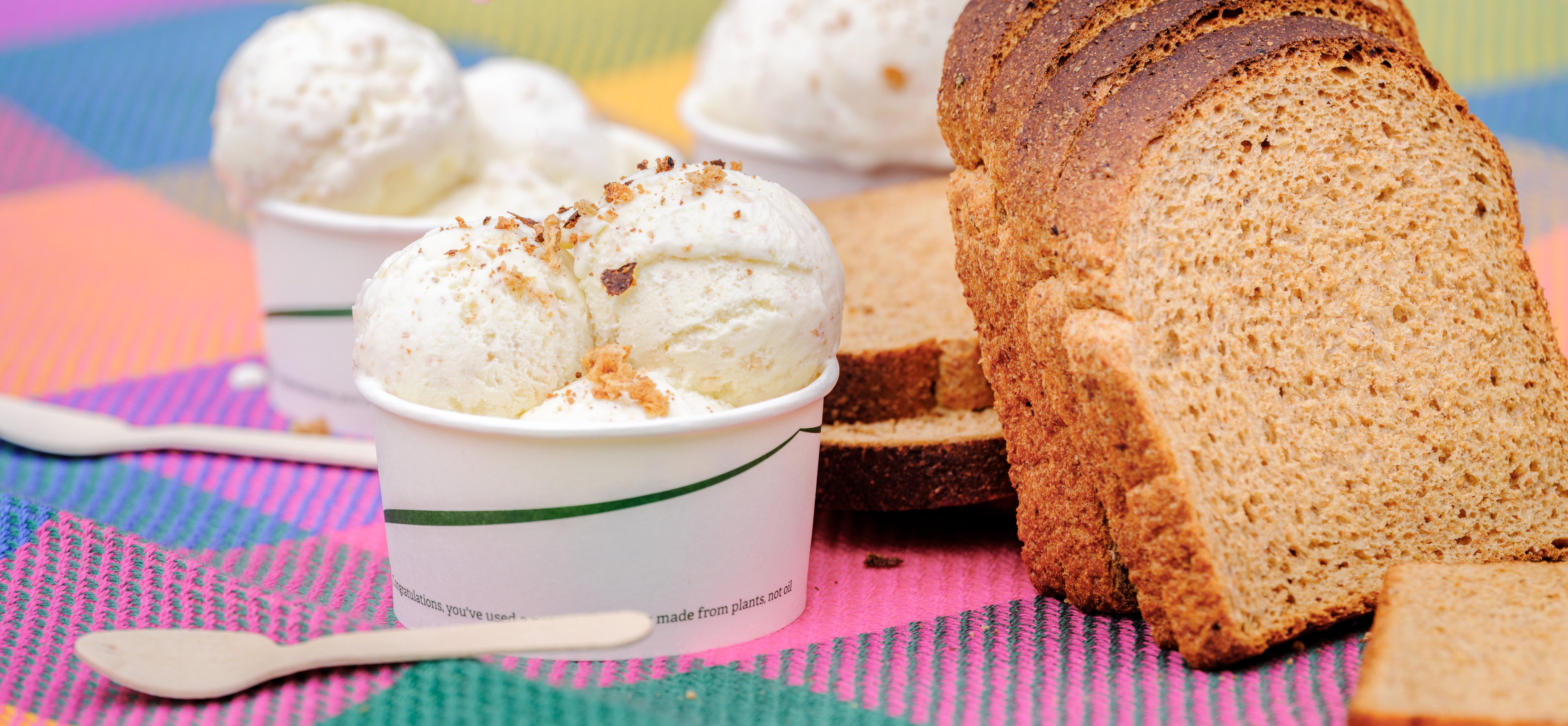 Louise Cooling, Curator at English Heritage, said: "The Georgians certainly had a taste for the unusual, and this summer English Heritage have decided to indulge in that fact! Although parmesan and cucumber (thankfully) didn't make the cut for our Georgian ice-cream, we hope our traditional but new flavour will make visitors feel like they've stepped back in time when they enjoy a taste of our delicious concoction – though I imagine brown bread flavoured ice cream might not be for everyone!"
Dawn Hawking, Owner of Marshfield Farm, said: "We were super excited to work with English Heritage on such an unusual project. We love to be creative with our flavours and take inspiration from many different places, so why not from history? Brown bread ice cream is proving a divisive flavour, it's a real 'love it or hate it', but we're hoping it will get people talking and trying new flavours both from past and present!"
Making ice cream before freezers involved a piece of equipment called a sorbetiere. Usually made of pewter, the vessel was nestled into a wooden bucket containing a mixture of ice and salt, with the ice cream mix then poured inside. The technique of adding salt to the ice surrounding sorbetiere allowed mixtures to be frozen solid. The salt creates an endothermic reaction that lowers the freezing temperature of water, making it colder. Once the ice-cream mixture was poured into the sorbetiere, it was agitated using the handle, or a flat spoon, known as a spaddle. The technology was surprisingly effective, actually freezing the mixture in a shorter amount of time than most contemporary ice cream machines, and some original Georgian sorbetieres are on display at London's Kenwood today.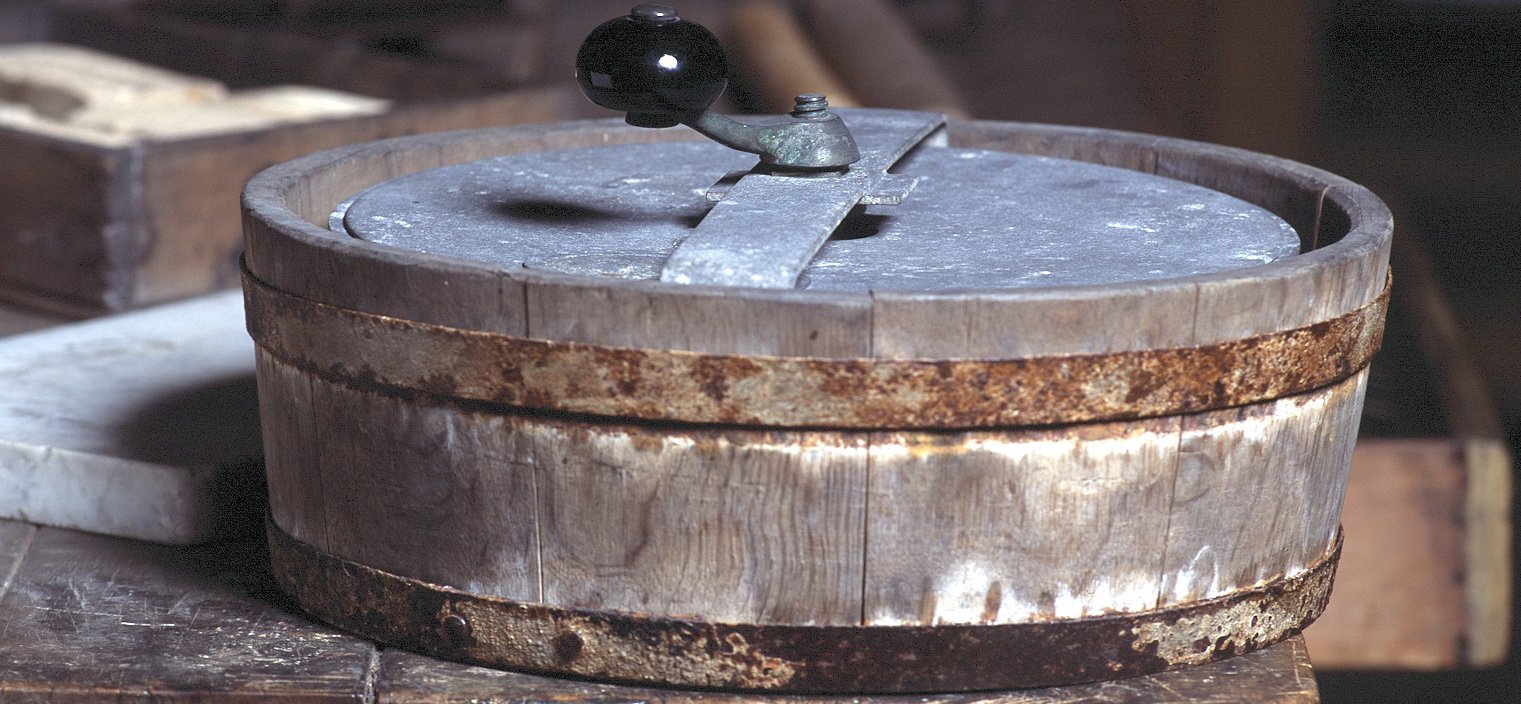 On display at South Yorkshire's Brodsworth Hall, there is a Marshall ice-cream maker, supplied by Agnes Marshall, a cookery book writer famed for her ices (one of her publications was 'The Book of Ices', 1885). It is a large circular wooden barrel, with black china knob for turning handle on top. The cream would have been placed in the centre with ice packed around the edge, and turned by the handle until it started to solidify. As well as this, there are also a number of ice creams moulds in the shape of strawberries, peaches, plums, apples, pears, pineapples, pomegranates, raspberries and oranges.
There was so much demand for cold treats in the Georgian period that wealthy homeowners built ice houses on their estates, including Lord Mansfield at Kenwood, the owners of Audley End House and Gardens in Essex and even Queen Victoria at Osborne on the Isle of Wight. Ice was 'farmed' in and stored under straw and bark in ice houses, until the summer, when it was used for cooling drinks, making water ices and 'icy cream' or 'iced-cream'. The ice was generally of such a poor quality that it was never actually put in food, it was only ever used to chill and freeze food and drinks.
Georgian Brown Bread ice cream is available at 13 English Heritage sites this summer:
Stonehenge, Wiltshire
Osborne, Isle of Wight
Audley End House and Gardens, Essex
Scarborough Castle, North Yorkshire
Brodsworth Hall and Gardens, South Yorkshire
Witley Court and Gardens, Worcestershire
Tintagel Castle, Cornwall
Kenilworth Castle and Elizabethan Garden, Warwickshire
Belsay Hall, Castle and Gardens, Northumberland
Dover Castle, Kent
Wrest Park, Bedfordshire
Kenwood, London
Pendennis Castle, Cornwall (from July)