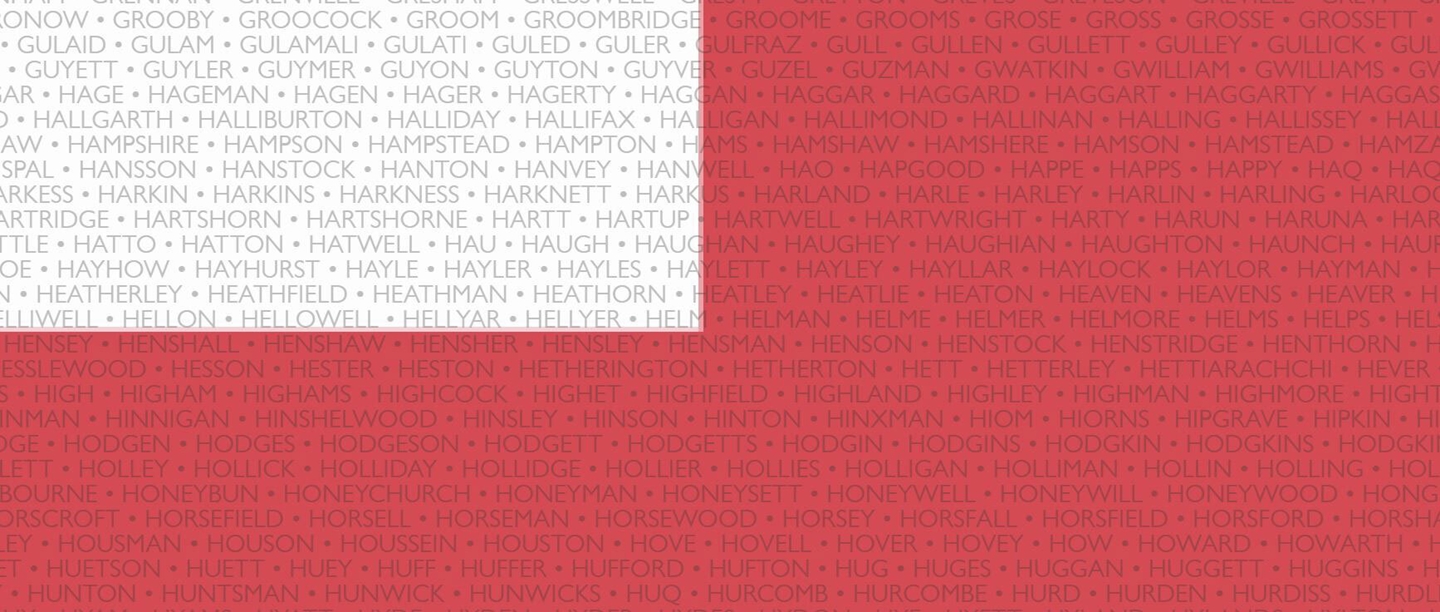 England United - A Flag by English Heritage
Over 140 years since the first international football match was played between England and Scotland in 1872, fans of the sport are gearing up for a showdown between England and Italy in the Euro 2020 final.
To cheer the team on this Sunday and show that the whole nation is behind them, we'll be flying a special version of the England flag featuring the surnames – about 32,000 – of almost everyone living in the country today. You can either view the flag online, or visit the physical versions flying at 11 of the properties in our care.
WHAT'S IN A NAME?
For thousands of years people have moved over land and sea to make England their home, from the Romans to the Anglo-Saxons, the Huguenots to the Windrush generation, and a surname can map those journeys. We hope that our flag will help you explore the history and meaning of your surname, as well as the surnames of others.
If your name doesn't appear it must be quite rare and we'd love to include it! Just select 'submit' whilst searching for your surname and we will add it to the flag.
SEARCH THE DIGITAL FLAG
SEE THE FLAG FOR YOURSELF
We'll be flying 11 flags at 11 historic places across the country:
A CELEBRATION OF ENGLISH SPORT
England has often been at the forefront of creating and codifying games and sports. Cricket, football, rugby, darts, badminton, boxing, table tennis, squash and even baseball all have English roots.
In this article, sports historian Nigel à Brassard takes a closer look at seven stories from England's sporting past.
READ MORE
Become a member

Experience memorable days out at hundreds of majestic castles, historic houses, awesome abbeys and glorious gardens.

Days out under £20

From castles and monastic ruins to Iron Age hillforts, here are our top picks for family days out on a budget.

Family Property Guides

Our family guides cover things for all ages to see and do, as well as practical advice on food and drink, parking, toilets and access.