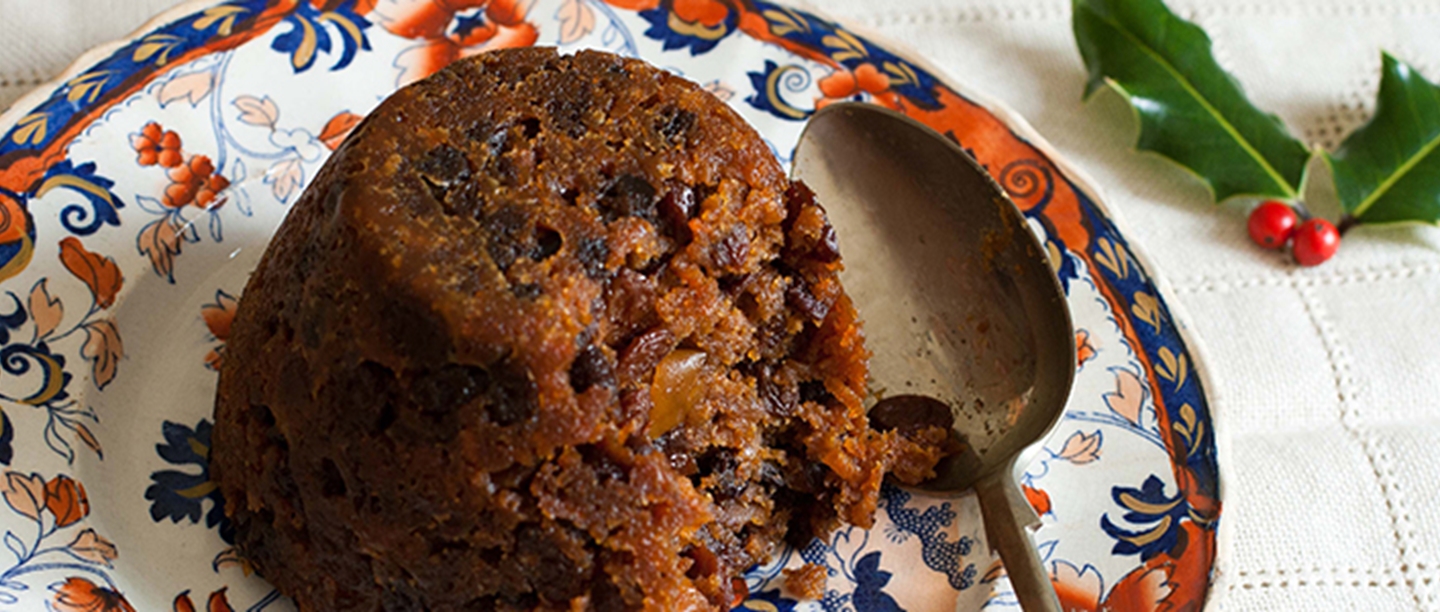 Published: 17 November 2021
Category: Food and drink
What would Christmas dinner be without a Christmas pudding? As Stir Up Sunday (the day that you're traditionally supposed to make your pud) approaches, Sam Bilton looks at the origins of the Christmas pudding. She's also found some historical recipes to try at home, including medieval figgy pudding and a classic Victorian Christmas pudding recipe – straight from Queen Victoria's chef.
A thoroughly Victorian invention?
Following the marriage of Queen Victoria and Prince Albert, the Royal family celebrated Christmas with gusto and the rest of the nation followed their example. Charles Dickens has certainly helped plant Christmas in our minds as a very Victorian custom.
"In half a minute Mrs Cratchit entered – flushed, but smiling proudly – with the pudding, like a speckled cannon ball, so hard and firm, blazing in half a half a quartern of ignited brandy, and bedight with Christmas Holly stuck into the top. Oh, what a wonderful pudding!" A Christmas Carol by Charles Dickens
However, the Christmas pudding itself has much earlier origins.
Bring us some figgy pudding!
The pudding we know today began life as a pottage. This was a kind of broth, including raisins and other dried fruit, spices and wine. It was thickened with breadcrumbs or ground almonds. Not dissimilar to the mince pies of yesteryear, it often included meat or at least meat stock.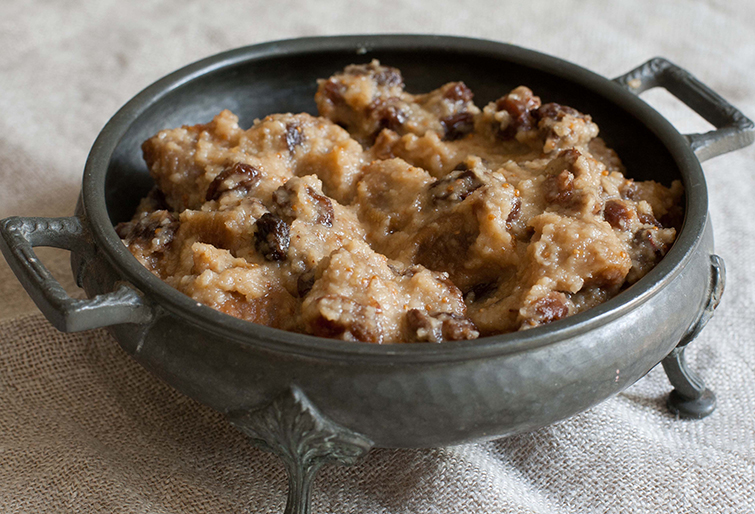 The original 'figgy pudding' was almost unrecognisable from modern Christmas pudding.
MEDIEVAL FIGGY PUDDING RECIPE
Fygey from the Form of Cury (1392)
Take almaundes blanched, grynde hem and draw hem up with water and wyne: quarter fygur, hole raisouns. cast perto powdour gyngur and hony clarified, seeth it well & salt it, and serue forth.
This plum pottage would be served at the start of the meal rather than at the end of the meal as we do today.
It was not until the end of the 17th century that the pottage took on a more solid appearance. It was served like a porridge or cooked inside a skin, like a sausage. Even then, it was more likely to have been sliced and cooked under a roasting joint and served alongside the main meal or as a starter – not a dessert.
During the 18th century, plum porridge would become associated with Christmas. It would be the Victorians who raised its prominence at the festive table.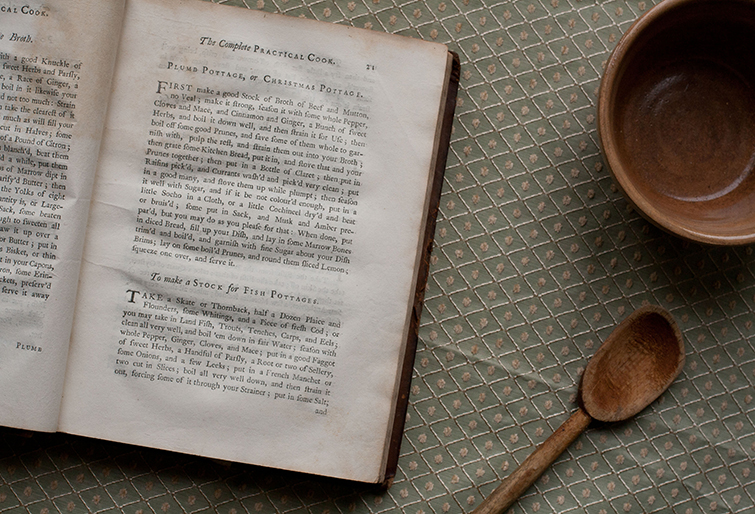 Recipe for Christmas Pottage is from Charles Carters Complete Practical Cook (1730)
Christmas Pudding and Stir Up Sunday
Conservative though they were, the Victorians believed Christmas should be celebrated (although excessive drinking and frolicking were frowned upon). It was they who established the tradition of making the Christmas pudding on Stir Up Sunday, the fifth Sunday before Christmas.
Inspiration was taken from the Collect in the Book Of Common Prayer:
"Stir up, we beseech thee, oh Lord, the wills of thy faithful people; that they, plenteously bringing forth the fruit of good works, may by thee be plenteously rewarded; through Jesus Christ our Lord, Amen."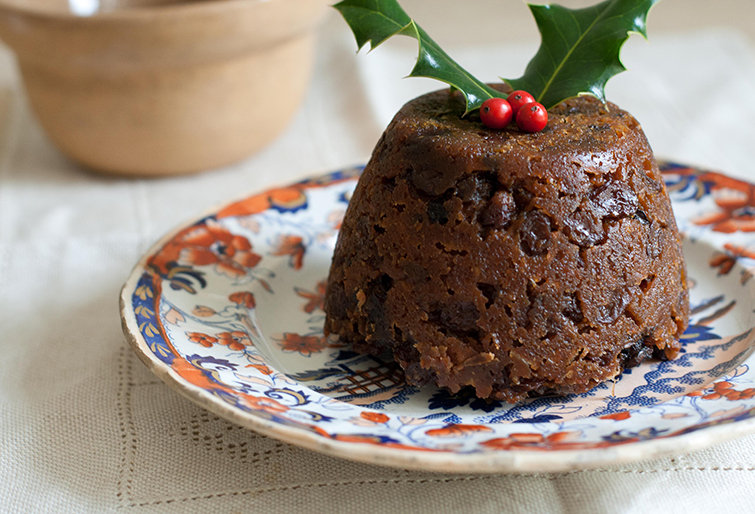 Trinkets were stirred into the Christmas pudding mixture on Stir Up Sunday.
Stir Up Sunday was a family affair. Each family member was supposed to stir the mixture from east to west to honour the journey of the Magi. This ritual was also thought to bring the family luck in the coming year.
Originally the puddings would have been shaped into a sphere and boiled in a cloth. This practice eventually gave way to steaming the dessert in a pudding basin or elaborate mould, particularly in wealthier households. The traditional accompaniment to the Christmas pudding was a sweet custard or a hard sauce (nowadays known as brandy butter).
It was customary to hide a number of small trinkets in the mixture, a bit like the twelfth night cake. These charms often included a silver coin which signified wealth, and a ring to represent a future marriage. Woe betide the guest who stumbled across a thimble in their serving… this meant certain spinsterhood for the recipient!
The plum pudding would come to epitomise Christmas and appeared on greeting cards and in satirical cartoons of the time. Rich or poor, every Victorian would expect a pudding as the finale to their festive meal.
In Modern Cookery for Private Families, Eliza Acton even provides a recipe for an economical vegetable plum pudding (containing potato and carrot but no brandy) which she declares to be 'cheap and good'.
A recipe for Queen Victoria's Christmas Pudding
This is Francatelli's Plum Pudding from The Modern Cook (1846). Charles Elmé Francatelli was Queen Victoria's chef from 1840-42.
INGREDIENTS:
¾lb (335g) raisins
¾lb (335g) currants
½lb (225g) candied orange, lemon and citron
1¼lb (560g) chopped beef suet
1lb (450g) flour
¾lb (335g) moist sugar
4 medium eggs
3 gills (450ml) of milk
Grated zest of 2 lemons
1 tsp each of ground nutmeg and cinnamon
½ tsp ground cloves
Glass of brandy (about 50ml)
A very little salt
METHOD:
Mix the ingredients thoroughly together in a large basin several hours before the pudding is to be boiled; pour them into a mould spread with butter, which should be tied up in a cloth. The pudding must be boiled for four hours and a half; when done dish it up with a German custard sauce spread over it, made as follows:
Put four yolks of eggs into a bain-marie or stew pan, together with two ounces of powdered sugar, a glass of sherry, some orange or lemon peel (rubbed on loaf sugar), and a very little salt. Whisk this sharply over a very low fire, until it assumes the appearance of a light frothy custard.
Anyone for seconds?
Whilst there may, even today, be an expectation for a pudding to appear at a Christmas feast it seldom gets eaten up on the day. In Food In England Dorothy Hartley recounts some of the ways different regions in England use up leftover Christmas pudding. In Lancashire they make a type of Eccles cake with the crumbs and in Devon they turn the leftovers into a type of custardy pudding. Some people prefer it sliced and fried, just like the original plum porridge.