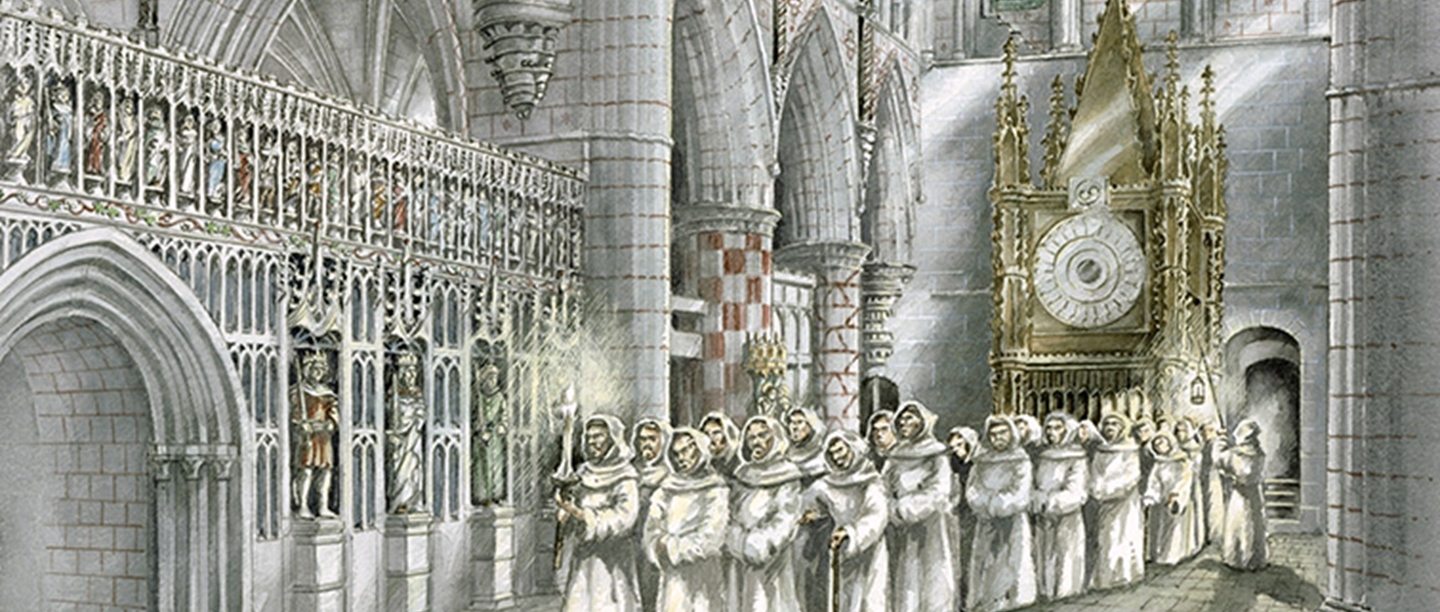 Published: 22 December 2015
Category: History In-depth
Christmas is one of the major festivals of the Christian church and was treated as a period of solemn observance in the medieval period. But how else was the festive season marked by the monks at Rievaulx Abbey?
DAILY PRAYERS AND KEEPING WARM
Life at Rievaulx Abbey was governed by the rising and setting of the sun. The monks' daily routine was split into three parts, dominated by the opus Dei, eight church services or 'offices' which punctuated the day.
The other two parts of the day were the lectio divina - time for spiritual reading in the cloister during the morning, and finally opus manuum - manual labour in the afternoon, which could be anything from gardening and joinery to copying manuscripts.
Close-up of the cloister at Rievaulx Abbey
The abbey's community of lay-brothers, who lived apart from the monks, had different routines which involved more time doing manual labour and fewer offices in church. In winter both routines were contracted to make the most of the shorter daylight hours.
Keeping warm in winter was a priority for everyone at Rievaulx. There were special instructions to make sure a fire was burning in the Warming House on morning of Christmas Day, so that the monks could warm themselves after Midnight Mass before returning to church to sing the service of Lauds.
CHRISTMAS DAY AT RIEVAULX ABBEY
There were three masses on Christmas Day itself – Midnight Mass, Mass at Dawn, and the Mass of the Day - also known as High Mass.
The monks also returned to church at regular intervals to sing the usual eight daily offices. These began with Matins at around 3.30am in winter, followed by Lauds, Prime, Terce Sext, None and Vespers throughout the day, ending with Compline at 6.15pm before retiring to bed.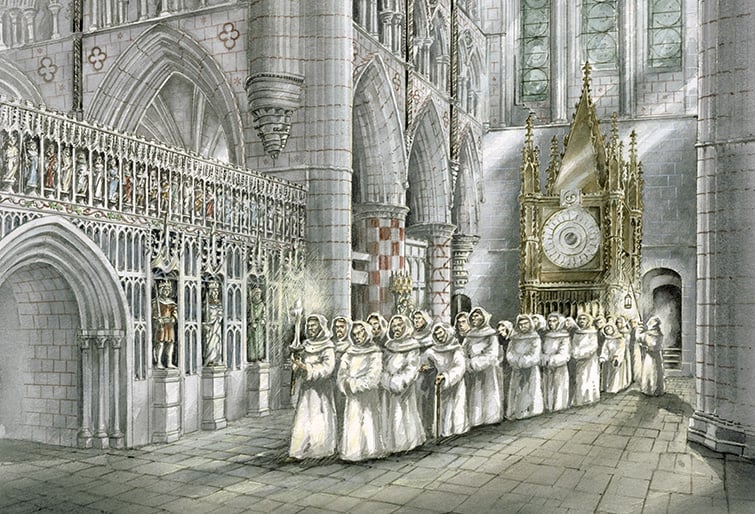 Monks processing through the south transept as it may have looked in the 14th century
There would also have been a sermon in the chapter house in the morning.
On Christmas Day in 1166, just days before his death, Rievaulx's most famous abbot Aelred preached 'a sermon crowned with a proem [preface] of deep humility, delivered from the heart to the heart, and with much fatigue of body.'
Celebrations were not limited to Christmas day. The days between Christmas and the Epiphany were marked with extra masses too:
26 December, St Stephen's Day – 2 masses
27 December, St John the Evangelist – 2 masses
28 December, Holy Innocents – 2 masses
29 December, St Thomas of Canterbury (Thomas Becket) – 2 masses. There was an altar at Rievaulx dedicated to this saint
31 December, St Sylvester – 1 high mass
1 January, Circumcision of the Lord – 2 masses
6 January, Epiphany of the Lord – 2 masses and a sermon in the chapter house
MEDIEVAL CHRISTMAS DINNER
During Advent (the month before Christmas), the monks' diet was even more austere than normal as they were forbidden eggs, animal fat, milk and foods made from milk. This restriction was lifted at start of Christmas, but until the mid 14th century their diet was still strictly vegetarian.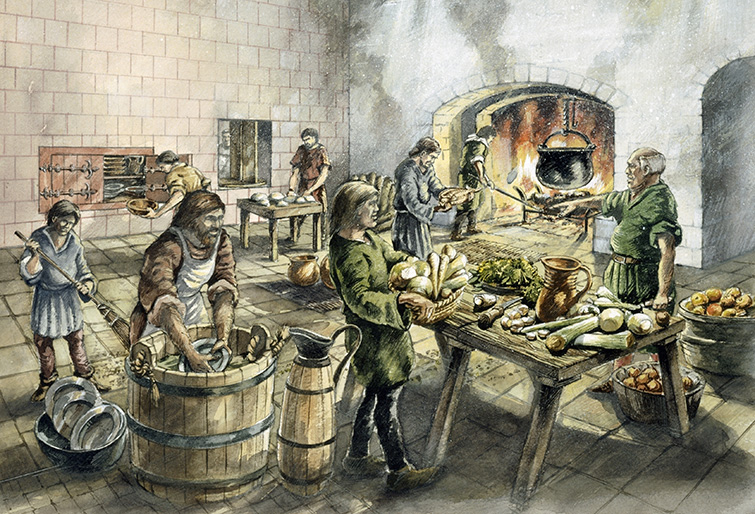 Illustration of the kitchens at Rievaulx Abbey
It's possible that the monks' diet was enlivened by 'pittances' – gifts made by benefactors of extra dishes of food and drink. We know that monks of Sawley Abbey (a Cistercian house in West Riding, now one of English Heritage's Free Sites) had such a pittance on Christmas Eve.
However, by 15th century meat was being eaten twice a week and it's very likely that it was eaten on Christmas Day at Rievaulx Abbey. Evidence from other Cistercian monasteries in England and around Europe shows that beef and other meat was obtained for Christmas.
MAKING MERRY LIKE A MONK
Although Christmas was a religious celebration, evidence from Fountains Abbey in 1456-7 and other Cistercian abbeys shows that gifts were given to some of the abbey servants and money was spent on entertainment.
We know that 5s 9d (the equivalent of approximately £211*) was spent on gifts of knives and gloves to the abbot's servants, 20d (£60*) was paid to minstrels and 6d (£18*) was spent on gratuities paid to tenants.
Games were played too – but not necessarily by the monks. In 1496, King James IV of Scotland spent Christmas at Melrose Abbey, a daughter house of Rievaulx in the Scottish borders, playing cards.
This Christmas at Rievaulx
Rievaulx Abbey is one of the 21 historic properties which will be open between Christmas and New Year - one of the ways that we're celebrating English Heritage's first Christmas as a charity. While you're in the neighbourhood, you can explore the Rievaulx valley between the abbey and nearby Helmsley Castle on this scenic walk.
In 2016, we will be opening a new museum and visitor centre at Rievaulx. You can still be part of this project, find out how here.
*We've used the calculator on MeasuringWorth.com to give an indication of the approximate relative value of the sums mentioned.
Thanks and Merry Christmas to Michael Carter, Senior Properties Historian at English Heritage who provided most of the information for this post.