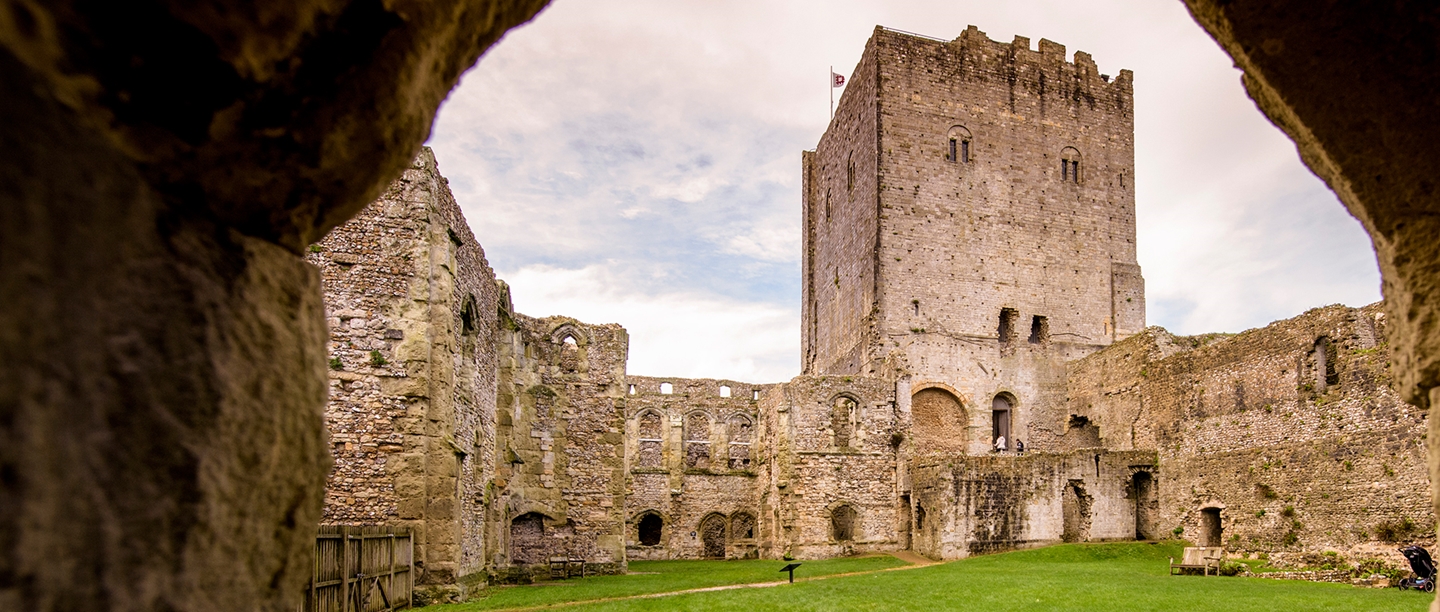 Episode 2: The Caribbean Prisoners of Portchester Castle
When France declared war on Britain in 1793 their overseas colonies were also drawn into the ensuing conflict. Black prisoners of war captured from the French Republic in the eastern Caribbean were among the thousands brought to Portchester Castle in Hampshire and imprisoned there. Arriving in Portsmouth Harbour after months of sailing across the Atlantic, the prisoners were faced with a new life in an unfamiliar landscape.
Josie Long explores the lives of the Caribbean prisoners of Portchester Castle in our second episode of Speaking with Shadows – the podcast that listens to the people that history forgot.
Listen
Exploring Portchester Castle, Josie meets historians Abigail Coppins and Steve Martin, and local councillor Nick Walker, to learn about the black prisoners of war who were held at the castle during the Napoleonic wars. We hear about prisoners such as General Marinier, commander-in-chief of the French forces in Saint Lucia, explore how prisoners lived at the castle, and discover some of the unique hand-made objects that were made by the prisoners during their time there.
Listen to this episode and subscribe to Speaking with Shadows on your favourite podcast platform:
Bonus Episode
In this bonus episode we hear more about the prisoners' stories through the French prisoner of war theatre that took place during the Napoleonic wars, and a new audio artwork recently installed at Portchester Castle.
Discover more about the Black Prisoners at Portchester
Read more about the black prisoners who were transported thousands of miles from the Caribbean to Portchester. Their story is not only part of the castle's history, but also the history of race and diversity in Britain. How did they come to be at Portchester, what were their lives like as prisoners, and what happened to them after their release?
Read more
Further Reading
Chamberlain, P, Hell upon Water: Prisoners of War in Britain 1793–1815 (Stroud, 2008)
Chamberlain, P, The Napoleonic Prison of Norman Cross (Stroud, 2018)
Chartrand, R, Napoleon's Overseas Army (London, 1989)
Chartrand, R, British Troops in the West Indies, 1793–1815 (London, 1996)
Chater, K, Untold Histories: Black People in England and Wales During the Period of the British Slave Trade, c.1660–1807 (Manchester, 2009)
Cunliffe, B, Excavations at Portchester Castle, Volume V (London, 1995)
Girard, P, Toussaint Louverture: A Revolutionary Life (New York, 2016)
Howard, M, Death Before Glory: The British Soldier in the West Indies in the French Revolutionary and Napoleonic Wars, 1793–1815 (Barnsley, 2015)
Reiss, T, The Black Count: Glory, Revolution, Betrayal and the Real Count of Monte Cristo (London, 2012)
Smith, D, The Prisoners of Cabrera: Napoleon's Forgotten Soldiers, 1809–1814 (New York, 2001)
Download a transcript of episode 2
Episode Credits
Presenter: Josie Long
Producer: Katharine Kerr for Fresh Air
Contributors (episode 2):
Abigail Coppins

–

Historian
Steve Martin

–

Writer and Historian
Nick Walker

–

Councillor for Portchester West
Contributors (bonus episode):
Kate Astbury

–

Professor of French Studies at the University of Warwick
Elaine Mitchener

–

Artist and Musician