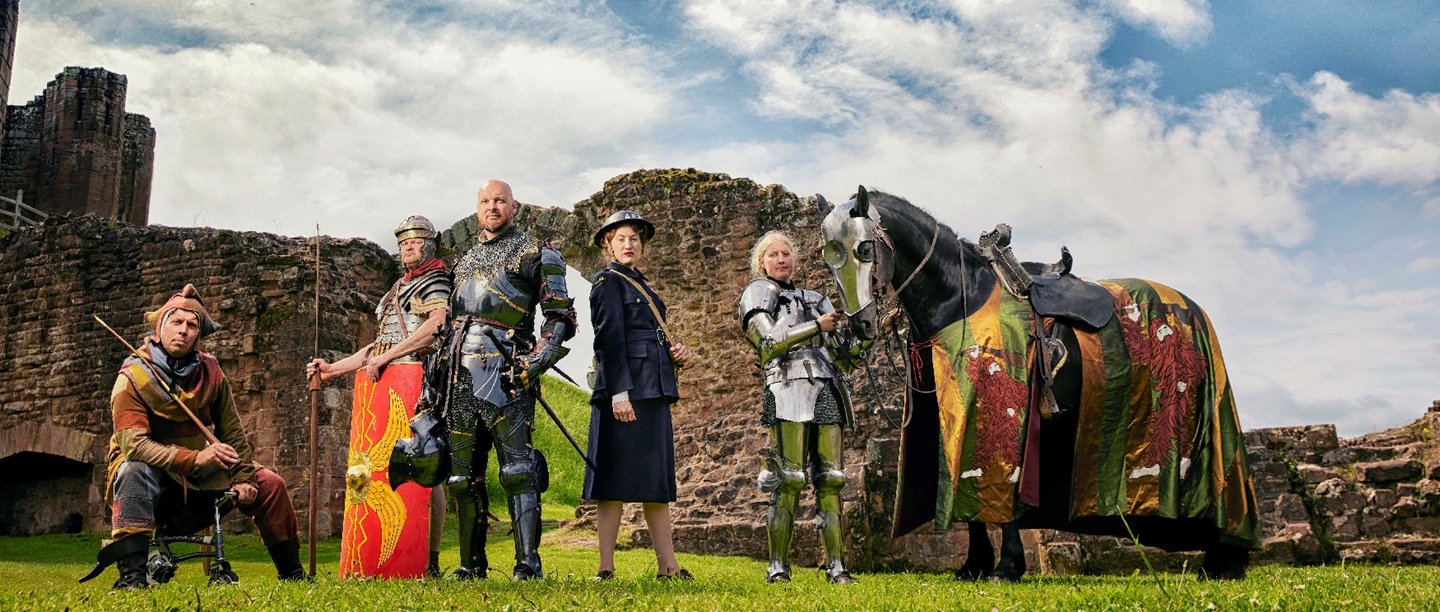 Top 5 Things To Do in August
Summer's in full swing and so is our events programme, offering the best days out in history at historic sites all across England.
Join us for unique live sport at legendary jousts and knights tournaments, hit the road with our brand new history-infused cycling guides and beat the heat with the latest recipe from Victorian cook Mrs Crocombe.
Here's our pick of the best things to do with English Heritage this month.
The Month in History
Britain's first electric traffic lights appeared on the streets of London on 3 August 1926. Find out more about the history of lighting
The bacteriologist Alexander Fleming was born on 6 August 1881. Best known for discovering penicillin, the Scottish scientist moved to London to study and lived at 20a Danvers Street in Chelsea, where a blue plaque commemorates him today.
The first transatlantic telegraph message was sent by Queen Victoria to President James Buchanan on 16 August 1858. The tickertape of the message remains in the Swiss Cottage Museum at Victoria's holiday home Osborne, where — 20 years later — Alexander Graham Bell would demonstrate the next step in distant communication: the telephone.
1. Join Us for the Best Days Out in History
Spectacular live events are back at English Heritage sites and we're bringing the historical action throughout the summer months.
See armoured knights clash in fierce competition, witness Victorian falconry as birds of prey swoop overhead and discover grand family days out where kids of all ages can experience the past first-hand.
Our amazing events couldn't happen without the hard work of expert re-enactors. We visited them at home as they prepared to return to work at our events. Watch this new short film to meet our History Makers and keep an eye out for them when you visit sites this summer.
Find an event
2. Hit the road for a cycle through history
If you're planning a visit to our historic places this summer, why not make a day of it? Enjoy some fresh air, get in some exercise and help the planet with a history-infused bike ride.
Take in the sea air with a coastal cruise along the White Cliffs from Dover Castle to Walmer and Deal. How about a nice flat jaunt from Osborne to Carisbrooke Castle on the Isle of Wight? Or perhaps a ride through the ancient Stonehenge landscape?
Our brand new cycling guides have everything you need to plan a two-wheeled adventure between England's historic sites.
Explore our new cycling guides
3. Beat the heat with homemade ginger beer... the Victorian way
She's back.
Whether you're planning a barbecue, a picnic in the park or just want a refreshing drink to enjoy at home, don't miss this recipe. Our ever-popular Victorian cook, Mrs Crocombe, has been busy preparing a batch of ginger beer at Audley End House. Ideal for hot summer days. Follow along as she takes you through the steps.
For this recipe, you will need... bread?
Watch on YouTube
4. Explore the history of sport at our places
To the untrained eye, clues to sporting legacy at historic sites are easy to miss: a lawn once used for bowls or croquet, a golf course at an island palace, or a wooden hut which was once a mobile changing room for royal swimmers.
In this short guide, gardens and landscapes expert Emily Parker highlights some of the historic sporting features that can be seen at English Heritage sites.
Plus, if the Olympics have you in the mood for sport, discover the heroes and highlights of England's sporting history with this article by historian Nigel à Brassard.
Sport at historic places
5. Experience the thrill of medieval sport
This summer, our legendary Knights and Jousts tournaments return with a bang. Join us at sites across England as armoured knights come together in action-packed team tournaments and high-speed jousts. Cheer on your champion and experience the sights, sounds and smells of medieval life with living history encampments featuring costumed re-enactors, armour demonstrations and authentic food tents.
This is live sport like you've never seen it before.
Book your tickets