History of Croxden Abbey
Croxden Abbey was begun in 1179 after Bertram de Verdun, an important local nobleman, granted land to a community of Cistercian monks in 1176. At its peak in the 13th century, Croxden housed about 70 monks. Following the monastery's suppression in 1538 the abbey and its lands were converted into a farm. The visible remains today include parts of the abbey church, which was one of the most elaborate churches of any Cistercian abbey in England, together with the infirmary and abbot's lodging.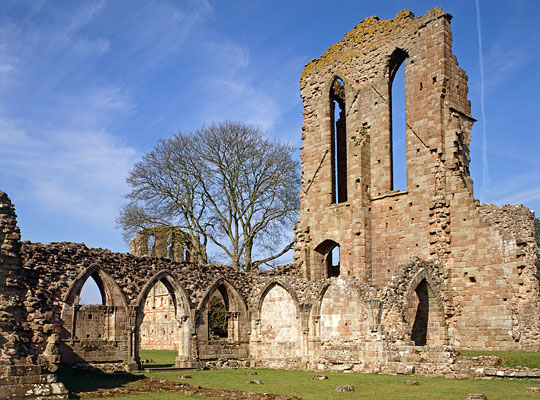 Foundation and Early History
In 1176 Bertram de Verdun, Lord of Alton (d.1192), granted land in Croxden and Cotton (a few miles north) to monks from the Cistercian abbey of Aunay-sur-Odon in Normandy, to found a monastery. The reforming Cistercian monks followed a strict, literal observance of the Rule of St Benedict, written in the 6th century, and endeavoured to be self-sufficient communities, favouring remote, isolated sites.
The monks moved from Cotton to the more remote site of Croxden in 1179. The church was built first, followed by the buildings around the cloister. Completion and further enlargement of the buildings followed under the leadership of Abbot Walter London (1242–68).
Decline and Suppression
The abbey flourished in the 13th century, when it may have supported as many as 70 monks, but during the 14th century the community suffered from the effects of crop failure, cattle disease and plague.
Henry VIII eventually suppressed the abbey in 1538, ordering the removal of the church roof to prevent the monks from using the site. The abbey and its lands became part of a farm. The cloister became a yard and a track was cut across the church, bisecting the site. The ruins were taken into state guardianship in 1936.
Further Reading
Baillie Reynolds, P, Croxden Abbey, Staffordshire (HMSO guidebook, London, 1969)
Saltman, A, 'Houses of Cistercian monks: the abbey of Croxden', A History of the County of Stafford, vol 3, ed MW Greenslade and RB Pugh (1970), 226–30 (accessed 28 Oct 2014)