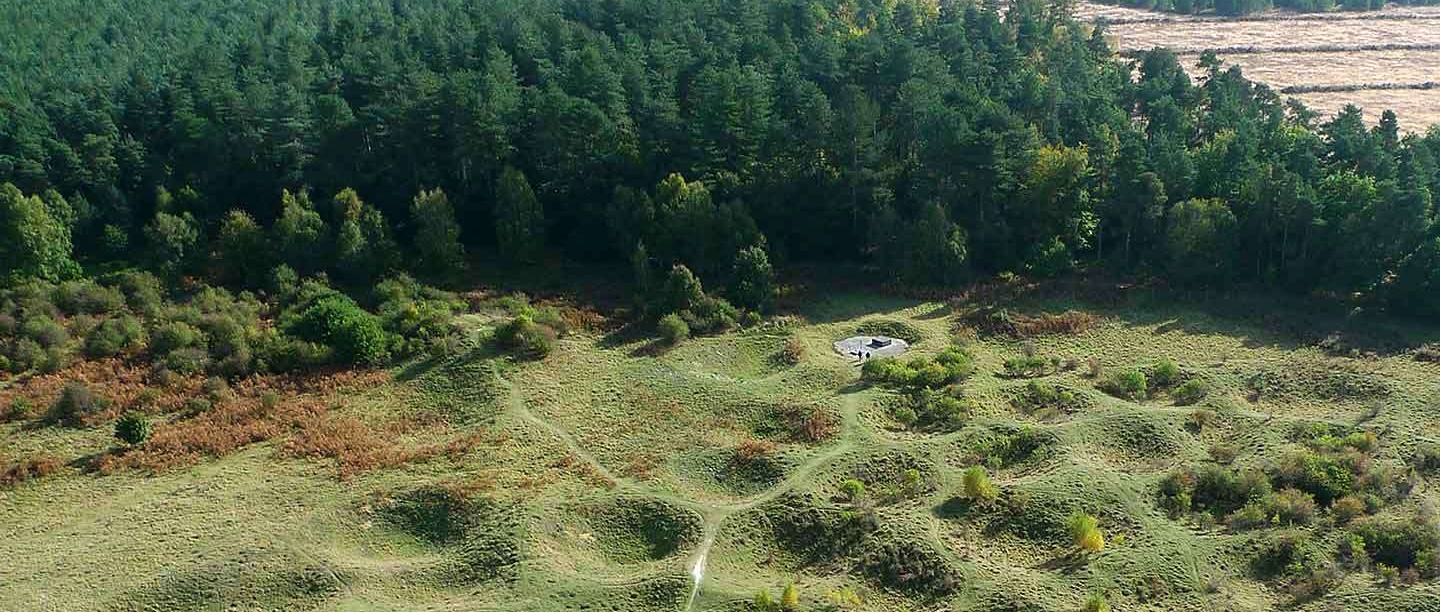 History of Grime's Graves
The mysterious lunar-like landscape of Grime's Graves is the legacy of hundreds of years of activity by Neolithic flint miners. From about 4,500 years ago – around the time many of the stones at Stonehenge were first raised – miners dug over 400 pits here to extract the fine quality, jet-black flint from which they fashioned tools, weapons and ceremonial objects. Today Grime's Graves is one of only ten known prehistoric flint mines in England.
The Mesolithic Period
Although the first mines at Grime's Graves were dug about 4,500 years ago, the site has evidence of human activity over some 8,000–10,000 years. During the Mesolithic period (about 9500–4000 BC) hunter-gatherers inhabited a densely wooded landscape in this area, foraging for seasonally available foods and resources. At Grime's Graves, however, evidence of Mesolithic hunter-gatherer activity is found only in two possible hearths from a campsite and a number of flint tools.
Find out more about Prehistoric Britain
The Neolithic Period
The Neolithic period (about 4000–2300 BC) saw significant changes, both socially and technologically. Farming was introduced by migrants from the Continent about 4100 BC, along with pottery and new types of stone artefact. In about 4000 BC the first flint mines – one of the earliest types of Neolithic site – in England were dug on the South Downs. Soon afterwards, new types of structure such as causewayed enclosures, barrows and chambered tombs were being built.
About 2650 BC, during the late Neolithic period, flint mining began at Grime's Graves. This was about the same time that the first standing stones were being erected at Stonehenge and Avebury, and is also contemporary with the building of Silbury Hill. The period also saw new burial customs appearing, with a move away from communal to individual burials. Trade networks were extensive, and the fine black flint from Grime's Graves was exchanged or traded over long distances.
At Grime's Graves, the miners dug shafts up to 13 metres deep to where the best flint lay, and worked in subterranean galleries at the base of each shaft, prising out the flint using picks made from antlers. Although the earthworks visible today represent 433 mines and pits, excavations and recent geophysical surveys suggest that the mines covered a much greater area.[1]
Download a plan of Grime's Graves
Rituals in the Mines
Artefacts that may be deliberate offerings or evidence of ceremonial activities have been found in pits at Grime's Graves. These imply that the process of flint mining in some shafts followed ritualised practices. Such activities may have been commonplace to the miners, for whom ritual would have been a part of everyday life.
In 1971 two highly decorated Grooved Ware pots were discovered on a raised chalk platform at the base of a shaft.[2] Pit 15[3] produced seven antler picks on another platform,[4] and many mines contained chalk carvings of 'cups', balls, phalli and other objects.[5] In a gallery leading from Greenwell's Pit a dog skeleton, which had been carefully buried, was discovered.[6] Hearths were found on many shaft floors. These had not been used for lighting or cooking, but instead may have had ritual functions.[7]
Even after they had been abandoned, the shafts were a focus for special events. Fires were lit periodically, and offerings of animal remains and occasionally human bones, such as the skull in Pit 1,[8] were placed in the shaft fills. These deposits may have been part of renewal rituals.
Read more about the Rituals at Grime's Graves
Grime's Graves in the Bronze Age
The appearance of the first metal objects in about 2400 BC heralded the arrival of a new technology, and the beginning of the Bronze Age (about 2300–800 BC). Mining continued at Grime's Graves until about 2100 BC, but may then have been abandoned, only to resume briefly between 1550 and 1450 BC. In this later period, the pits were shallower than the earlier, deep shafts, and lacked underground galleries. They relied instead on man-sized niches dug about a metre below the overhanging pit walls.[9]
Mining probably eventually ceased because bronze metalwork had been adopted for tools and status items, eclipsing traditional flint tools. However, from about 1400 BC there was a sudden increase at Grime's Graves in the sort of waste that suggests a settlement. Large waste dumps (middens) were found in at least four Neolithic mineshafts, while in other shafts hearths had been set in the silted-up hollows. The middens contained more than 8,000 fragments of Deverel–Rimbury ware (a type of Bronze Age pottery), evidence for metalworking, and 6 tonnes of worked flint (recycled from earlier waste dumps, rather than mined).
Evidence of textile production, leatherworking and woodworking was discovered alongside the bones of cattle, sheep, goats, pigs, horses and deer. Wheat and barley were also found, demonstratinging cereal cultivation. Clearly such large middens represent a long-lived settlement, although as yet no other evidence of a settlement has been found.[10]
Iron Age Activity
There is little evidence for settlement at Grime's Graves during the Iron Age (about 800 BC–AD 43), but the site was used as a burial ground between about 390 and 150 BC. This practice followed a regional tradition of reusing existing hollows and pits as graves.
The two most significant burials were discovered in the upper levels of a shaft excavated in 1971. The first was of a young adult woman with a decorated chalk plaque by her hip. This was later disturbed by the burial of an adult male with a necklace (or earrings) comprising two iron beads.
Both burials appear to have been accompanied by ceremonies at which fires were lit and offerings placed beside the bodies. It is possible that other undated skeletons previously found in the upper levels of shafts, such as a female skeleton in Pit 2, may also be of Iron Age date.[11]
The Roman and Medieval Periods
During the 1st to late 4th centuries AD Roman visitors left behind pottery sherds from vessels manufactured in Gaul (now France), Spain, Oxfordshire, the lower Nene valley (near Peterborough) and probably East Anglia.[12]
The name Grime's Graves, together with that of Grimshoe mound on the eastern side of the site, is Anglo-Saxon in origin. The Anglo-Saxons believed that the landscape was the work of the Saxon god Grim (or Woden). 'Grimshoe' is a corruption of 'Grim's Howe' or 'Grim's burial mound'.
Grimshoe mound later gave its name to the local administrative unit known as the hundred, and in the late Saxon period it became the meeting place of the hundred court, where disputes were settled.
Domesday Book (1086) records that the Breckland (the heathland area of Norfolk in which Grime's Graves lies) was the least populated area of East Anglia. From the 12th century onwards manorial lords established rabbit warrens as a practical response to the poor soils, which were inadequate for cereal farming, and the shortage of peasants to work the land.
The warrens proved successful, as they required little manpower and provided saleable meat and skins. From 1224 Grime's Graves appears to have been owned by nearby Broomhill Priory and was probably also used as a warren.
Find out more about Medieval Rabbit Warrens
Later History and Antiquarian Interest
By the 16th century Grime's Graves may have become sheep pasture, as suggested by a reference in a rental of 1541–2.[13]
The first reference to Grime's Graves as a place of antiquarian interest was in Edmund Gibson's additions to William Camden's Britannia (1695), where the site was described as 'a hill with certain small trenches … call'd Gimes-graves'.[14] In 1739 the Revd Francis Blomefield continued the confusion by describing Grime's Graves as 'a very curious Danish incampment … [with] … great numbers of large deep pits'.[15]
In 1761 John Parker produced a map depicting the site as 25 circles, with an additional circle for Grimshoe mound.[16] The Ordnance Survey mapped the site in 1824 as a series of hollows on a low spur.[17] This was followed by the earliest known sketch of the site, made by the Revd Francis Vyvyan Luke in 1852 (see Sources for Grime's Graves).[18]
The earliest recorded excavations took place in 1852, when the Revds ST Pettigrew and CR Manning dug several pits. But it was not until 1868–70, when Canon William Greenwell (a notable Victorian antiquarian and archaeologist) excavated a shaft, that Grime's Graves was proved to be a Neolithic flint mine – the first to be recognised as such in Britain.
Read more about the Excavations
The 20th Century
Further excavations took place in 1914 at Pits 1 and 2, and at others during the interwar years, culminating with Pit 15 in 1939. The most recent campaign of excavations was during the 1970s, first by Roger Mercer on behalf of the Department of the Environment, and then by the British Museum.
In 1931 Grime's Graves became a guardianship monument under the protection of the Commissioner of Works and Public Buildings, and as a result of its special natural habitats it was designated a Site of Special Scientific Interest in 1985.
About the Author
Peter Topping was formerly Head of Archaeological Survey and Investigation at English Heritage, and is a specialist in prehistoric extraction sites, primarily Neolithic mines and quarries. He is the author of the English Heritage guidebook to Grime's Graves.
Buy the Guidebook to Grime's Graves
Footnotes
1. NT Linford, L Martin and J Holmes, Grime's Graves, Norfolk: Report on Geophysical Survey, November 2007, English Heritage Research Report 64/2009 (Swindon, 2009; accessed 1 Sept 2015); information from Dr B Bishop.
2. RJ Mercer, Grimes Graves, Norfolk: Excavations 1971–72, volume 1 (London, 1981) (accessed 22 Aug 2016).
3. The mines were first numbered in 1915, both to record the excavations and to help archaeologists orientate themselves within the site.
4. I Longworth, A Herne, G Varndell and S Needham, Excavations at Grimes Graves, Norfolk, 1972–1976, Fascicule 3: Shaft X: Bronze Age Flint, Chalk and Metal Working (London, 1991); I Longworth and G Varndell, Excavations at Grimes Graves, Norfolk, 1972–1976, Fascicule 5: Mining in the Deeper Mines (London, 1996).
5. Longworth et al, op cit.
6. Longworth and Varndell, op cit, 13–17.
7. WG Clarke, Report on the Excavations at Grime's Graves, Weeting, Norfolk, March–May 1914 (London, 1915); Longworth and Varndell, op cit.
8. Clarke, op cit.
9. Information from Dr F Healy; see F Healy et al, Grime's Graves, Weeting-with-Broomhill, Norfolk: Radiocarbon Dating and Chronological Modelling, English Heritage Research Report 27/2014 (Swindon, 2014) (accessed 18 Aug 2016).
10. I Longworth, A Ellison and V Rigby, Excavations at Grimes Graves, Norfolk, 1972–1976, Fascicule 2: The Neolithic, Bronze Age and Later Pottery (London, 1988); Longworth et al, op cit; AJ Legge, Excavations at Grimes Graves, Norfolk, 1972–1976, Fascicule 4: Animals, Environment and the Bronze Age Economy (London, 1992).
11. Mercer, op cit.
12. Longworth, Ellison and Rigby, op cit.
13. For a sheepwalk held by John Cross 'upon ye north of Grymes Graves & abbutteth upon Grymes Graves'.
14. W Camden, Britannia, or a Chorographical Description of Great Britain and Ireland, together with the Adjacent Islands, rev edn by E Gibson, vol 1 (London, 1722; accessed 21 Sept 2015).
15. F Blomefield, 'The Hundred of Grimeshou', An Essay Towards a Topographical History of the County of Norfolk, vol 2 (London, 1805), 148–50 (accessed 21 Sept 2015).
16. J Parker, 'Map of the manor of Weeting' (1761), Norfolk Record Office, Norwich (NRS 21394).
17. Ordnance Survey first edition 1-inch map, sheet 65 (1824).
18. FV Luke, charcoal and pencil sketch of the earthworks of Grime's Graves (1852), Norfolk Record Office, Norwich (PD 312/27).