Leicester's Gatehouse
Built by Robert Dudley, Earl of Leicester in 1571 as part of his grand plan to woo Queen Elizabeth I, the gatehouse is set up as it may have looked in the 1930s. Visit the exhibition on the top floor to explore the royal love story of Elizabeth and Dudley.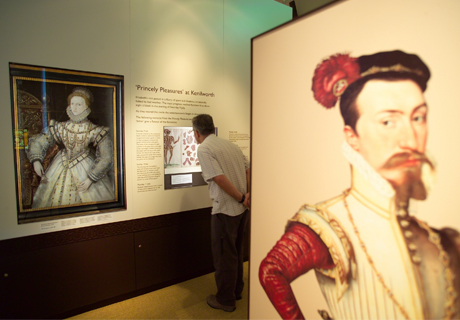 The Queen and her Courtier
Explore the famous relationship between Elizabeth I and her favourite courtier, Robert Dudley in this inspiring and informative exhibition.
The exhibition reveals some fascinating facts about Elizabeth's visit to the castle in 1575 and features paintings of the Queen, her favourite, and an original tapestry commissioned by Robert Dudley.
Elizabethan Bedroom
Walk around the impressive 'tester' bed in the Elizabethan Bedroom which originates from the 1590s. It is shorter in length than we are used to, but this is not because people were shorter in those days, but because people actually slept sitting up.
Drawing Room
The Drawing Room shows what life was like in the gatehouse in the early 20th century.
In the Siddeley room next door your children can take up the challenge to draw their own postcard from Kenilworth Castle. The best cards and drawings are displayed in our Stables Exhibition.
Oak Room
Find Robert Dudley's family motto ('Droit en Loyal') on the grand alabaster fireplace, as well as the ragged staff and the Leicester cinquefoil that represented Dudley.
This magnificent fireplace was once painted red, blue and gold and if you look closely you may still be able to spot some of the gold paint in the crevices.
Above the fireplace is a grand wooden carving, which in a previous life was once the headboard of a bed, thought to have belonged to Elizabeth I on her stay at the castle in 1575. In the Tudor period it would have been brightly painted and gilded.
Weddings
Five centuries after the royal love story between Elizabeth and Dudley, modern lovers are still inspired by this romantic castle and its tranquil surroundings.
The Dining Room and the Oak Room are available to hire for wedding ceremonies and receptions, or couples can choose to hold their reception in a marquee in the grounds.
See more things to see and do at Kenilworth Castle and Elizabethan Garden. Plan your visit today.